W. David Baird Distinguished Lecture Series: James West
Mr. James West
"Spirituality and Religion: A Cheyenne Family Story"
Tuesday, October 21, 2008, 7 p.m.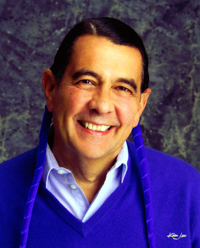 Born and raised in Oklahoma, Mr. West is a member of the Cheyenne & Arapaho Tribes of Oklahoma. He took his BA degree at the University of Redlands and his M. Div. from Andover Newton Theological School. He also studied medicine and business at the University of New Mexico. Nationally recognized for his expertise in economic and business development, Mr. West has owned his own businesses, served as Vice President of the American Indian National Bank in Albuquerque, and is past Chairman of the Consumer Advisory Council of the Board of Governors of the Federal Reserve System. Since 1970 he has worked with over 130 American Indian tribal nations and communities on economic development issues. He has also written significant essays on American Indian spirituality. Currently, he is President of Futures for Children based in Albuquerque, New Mexico, an organization dedicated to enhancing the educational experiences of American Indian students who live on reservations in the American Southwest.