W. David Baird Distinguished Lecture Series: Jonathan Wiener
"The Beak of Finch: A Story of Evolution in Our Time"

Monday, September 15, 2008, 7 p.m.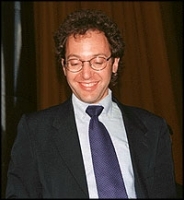 Professor Wiener majored in English at Harvard. He learned to write about science while working at the magazine, The Sciences. As an independent writer, he wrote his first book, Planet Earth (1986), which was the companion volume to the seven-part PBS television series of the same title. Mr. Wiener's other books include the Pulitzer Price winner, The Beak of the Finch: Story of Evolution in Our Time (1995); Time, Love, Memory: A Great Biologist and his Quest for the Origins of Behavior (2000), winner of the National Book Critics Award, and His Brother's Keeper: One Family's Journey to the Edge of Medicine (2005), a finalist for Los Angeles Times Book Prize. Before joining the journalism department at Columbia University in 2005, his current academic position, Professor Wiener taught at Princeton University, Rockefeller University, and Arizona State University.