Distinguished Lecture Series
Condoleezza Rice
"Remarks by Condoleezza Rice"

Wednesday, February 9, 2011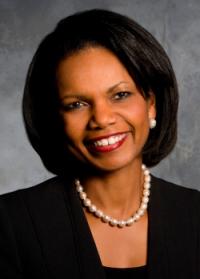 Condoleezza Rice is Professor of Political Economy in the Graduate School of Business, Thomas and Barbara Stephenson Senior Fellow on Public Policy at the Hoover Institution and Professor of Political Science at Stanford University. From January 2005 to 2009, she served as the 66th secretary of state of the United States. Before serving as America's chief diplomat, she served as assistant to the president for national security affairs (national security advisor) from January 2001 to 2005. Rice joined the Stanford University faculty as a professor of political science in 1981. As a professor, Rice won two of the highest teaching honors: the 1984 Walter J. Gores Award for Excellence in Teaching and the 1993 School of Humanities and Sciences Dean's Award for Distinguished Teaching.
She is the author of the upcoming Extraordinary, Ordinary People: A Memoir of Family (October 2010), which shares how her upbringing in segregated Birmingham, Alabama—along with her strong, caring family and parents—helped to shape the course of her life. She has also has authored and co-authored several other books, including Germany Unified and Europe Transformed: A Study in Statecraft (1995), with Philip Zelikow; The Gorbachev Era (1986), with Alexander Dallin and Uncertain Allegiance: The Soviet Union and the Czechoslovak Army (1984).
Rice has been involved in a number of humanitarian pursuits, most notably with PEPFAR (The President's Emergency Plan for Aids Relief) and in creating and serving on the board of the Millennium Challenge Corporation. Rice earned her bachelor's degree in political science, cum laude and Phi Beta Kappa, from the University of Denver in 1974; her master's from the University of Notre Dame in 1975; and her Ph.D. from the Graduate School of International Studies at the University of Denver in 1981.