Keck Scholars Program
Incoming First-Year Students
What is a Keck First-Year Seminar?
The Keck Scholars Program (KSP), funded by the W. M.Keck Foundation, engages students in original research and scholarship beginning in their first year at Pepperdine with the overarching goal of developing students as scholars. This program fulfills the first-year seminar requirement and prepares students for further research opportunities.
What should I expect from the seminar?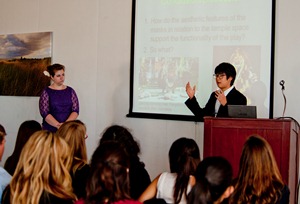 Unlike other first-year seminar courses offered at Pepperdine University, the KSP seminars are research intensive and students should be prepared to generate original research ideas. Research is conducted in teams and all student present at the end of the term. Final projects for these courses involve individually developing an original research proposal. Other course expectations are outlined in your professor's course syllabus. In addition, to your first-year seminar coursework the following programmatic elements are required as a participant in the KSP.
Southern California Conferences for Undergraduate Research (SCCUR)
In preparation for the final presentations, students enrolled in KSP seminars are required to attend the SCCUR. The one-day, regional conference welcomes all disciplines, provides a professional yet congenial atmosphere of intellectual inquiry and exchange of new discoveries, is appropriate for entry-level presentations and first-year students, and provides peer-reviewed feedback on abstract submissions prior to final abstract acceptance. By attending, KSP students are exposed to academic conference culture and witness their peer disseminating products of research. In the subsequent fall semester, KSP alumni are encouraged to present their research at SCCUR either in the form of an oral seminar, poster presentation, artistic performance, or artistic display.
Mini-Grant Information
As a final intellectual exercise in the course you are required to individually propose a hypothetical research project. In addition, you have the opportunity to receive funding to carry out your project over the Spring or Summer terms under the guidance of a faculty mentor.
What are the benefits?
The experience gained in the KSP seminars prepares students for highly engaged undergraduate academic careers. Research experience is often a prerequisite for graduate school and competitive fellowships. In addition, group assignments will enable students to develop skills that will benefit them professionally. The post-term opportunities will give KSP alumni exclusive funding access to explore their own original research ideas/interests which could potentially result in publication or presentation at academic conferences.