Keck Scholars Program | Alumni
KSP Alumni
Mini-Grant awards
If you have received a Keck Mini-Grant you may find the following resources helpful as you complete your research project.
Important note: Remember that to receive your 1-unit scholarship award you must submit a 1-2 page report about your research project/experience to Katy Carr .
Submit to the Southern California Conference for Undergraduate Research (SCCUR)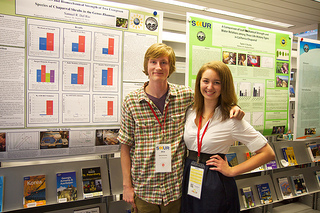 This one-day, regional conference welcomes all disciplines, provides a professional yet congenial atmosphere of intellectual inquiry and exchange of new discoveries, is appropriate for entry-level presentations and first-year students, and provides peer-reviewed feedback on abstract submissions prior to final abstract acceptance. KSP alumni are encouraged to present their research at SCCUR either in the form of an oral seminar, poster presentation, artistic performance, or artistic display. Click here to
Travel funding for conferences
Once you have completed your mini-grant project you may be eligible to receive further funding to present your research outcomes at an academic conference. Please contact Katy Carr for details.
Join us on Facebook