Memorandum
TO:
Seaver College Full-Time Faculty
FROM:
Kendra Killpatrick, Associate Dean of Seaver College
DATE:
March 2018
RE:
Deadline for Sabbatical Applications for 2019-2020:

noon, June 1, 2018

CC:
Faculty Development Committee
This announcement concerns all tenure/tenure-track faculty of Seaver College who will have achieved at a minimum seven years of continuous service to the University at the conclusion of the 2018-2019 school year.
A decision tree to determine eligibility for all sabbatical leave in the 2019-2020 academic year follows and is attached.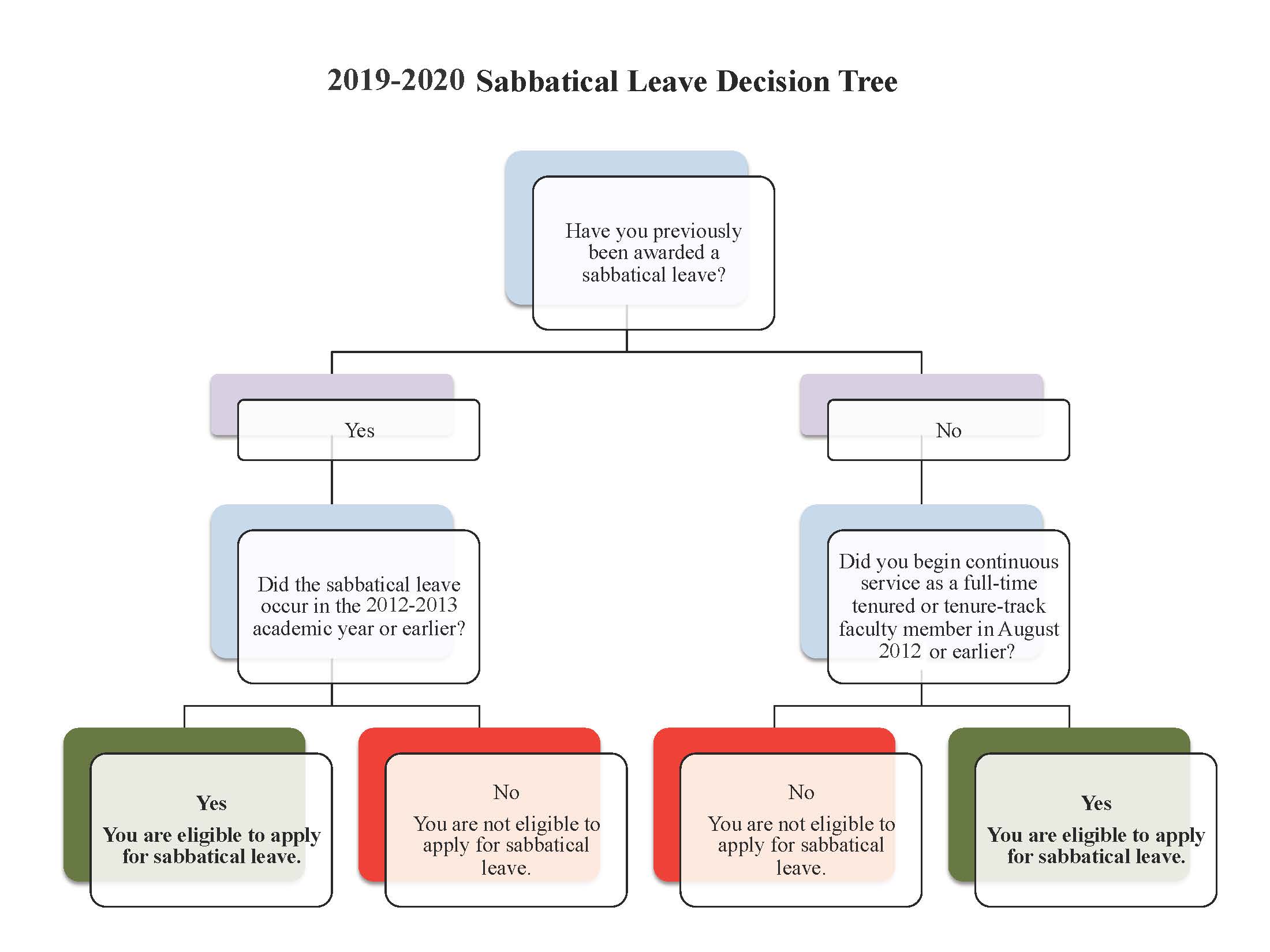 If you are interested in a sabbatical, I strongly encourage you to discuss this process and your proposal with your division chairperson as soon as possible. His or her support is vital, and he or she may be able to advise you on the components of a successful proposal.
The deadline for receipt of applications is noon, June 1, 2018. Please submit the attached application and a current copy of your curriculum vitae to kendra.killpatrick@pepperdine.edu. Please submit all materials via email. I will forward all materials to the Faculty Development Committee.
The Faculty Development Committee, with the administration's encouragement, especially invites applications from faculty members who are interested in curriculum improvement, course development, and professional re-tooling.
The criteria for evaluating sabbatical leave proposals include:
A. Direct benefit to the faculty member as a teacher and scholar.
B. Contribution to the Seaver College student and Seaver College.
C. Quality of the proposal.
D. The faculty member's years of service to the University.
E. Effect of the person's absence on teaching load in the division.
In your application, you should clearly state the value of your proposed activity relative to:
A. Your own professional development as a teacher and scholar at Seaver College.
B. Benefit to Seaver college students and Seaver College.
C. Expected products (book, articles, exhibitions, performances, syllabus revision, curriculum development, etc.)
D. Long-term benefits.
If you are planning a two-semester sabbatical leave where the second semester of leave is contingent on external funding, it is imperative that you apply for a full year (two-semester) sabbatical. In your application, please note that the second semester of leave is contingent upon external funding and identify the granting agency. Please also provide as much detail as possible concerning the external funding request and indicate the likely decision date for the award. Lastly, please indicate the desired semester of leave if the external funding request is denied and the sabbatical leave is shortened to a single semester.
Please attempt to provide your chairperson a draft of the proposal in advance of the submission deadline. As chairpersons are asked to submit their required evaluation of the sabbatical proposal by June 1, 2018, it is imperative that they have sufficient time to review the proposal and prepare their evaluation.
Sabbaticals are designed to enhance the quality of the work of faculty members in the variety of interconnected roles in which we serve. Many of your colleagues who have recently taken a sabbatical leave can attest to the renewal that this "creativity contract" has brought to them. Faculty members who have recently been granted sabbatical leave are:
Fall or Spring 2011-2012
Cynthia Colburn, Ron Cox, Levon Goukasian, Kevin Iga, Brian Newman, Candice Ortbals, Robert Sexton, Darlene Rivas, Julianne Smith, James Thomas
Fall or Spring 2012-2013
Bryan Givens, David Holmes, Gary Selby, Joseph Piasentin, Juanie Walker, Karen Martin, Melanie Emelio, Paul Begin, Priscilla MacRae, Regan Schaffer, Tom Reilly, Michael Sugimoto
Fall or Spring 2013-2014
Marilyn Misch, Michael Summers, John Jones, Henry Price, Stella Erbes, Joseph Fritsch, Cooker Perkins, Dan Rodriguez, Gary Galles
Fall or Spring 2014-2015
Jonathan Burke, Carolyn Galantine, Loretta Hunnicutt, John Struloeff, Jeff Jasperse, Dyron Daughrity, Kindalee DeLong, Chris Doran, Cindy Miller-Perrin, Robin Perrin, Robert Williams
Fall or Spring 2015-2016
Cyndia Clegg, Carrie Birmingham, Joi Carr, Frank Novak, Lila Carlsen, Joel Fetzer, Andrew Yuengert, Timothy Lucas, Susan Helm, Sarah Stone- Watt, Mason Marshall
Fall or Spring 2016-2017
Ronald Batchelder, Dan Caldwell, Paul Contino, Michael Folkerts, Bradley Griffin, Jennifer Harriger, Rebecca Kim, Elizabeth Krumrei Mancuso, Ginger Rosenkrans
Fall or Spring 2017-2018
George Carlsen, Randy Chesnutt, Stewart Davenport, Craig Detweiler, Ron Highfield, Don Thompson
Fall or Spring 2018-2019
Bert Ballard, Ryan Board, Cynthia Colburn, Levon Goukasian, Matt Joyner, Loan Kim, Kelle Marshall, Brian Newman, Candice Ortbals, Garrett Pendergraft, Robert Sexton, Julianne Smith, and James Thomas
Please feel free to consult with these individuals regarding their experience with the application and sabbatical leave process. In addition, please feel free to consult with the members of the Faculty Development Committee regarding this opportunity.
Faculty Development Committee Members:
Hollace Starr (Fine Arts Division)
Dr. Dan Rodriguez (Religion Division)
Dr. Kevin Iga (Natural Science Division)
Dr. Roshawnda Derrick (International Studies and Languages Division)
Dr. Charles Choi (Communication Division)
Dr. Robin Perrin (Social Science Division)
Jon Burke (Business Division)
Dr. Carrie Birmingham (Humanities and Teacher Education Division)