Economics Major and Minor
Our economics degree program teaches students to apply deductive reasoning to analyze, question, and explain how humans interact with each other in a dynamic world. Economics majors use this foundation of theoretical models and empirical knowledge to gain a greater understanding of a wide variety of topics.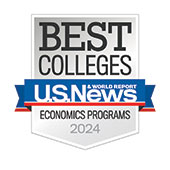 Economics Degree
The economics major teaches students about economic theory and the backbone of "the economic way of thinking." Once students have an understanding of the theory, they apply techniques to systematically assess private and social decisions. In addition to sharpening analytical skills, students refine their writing, research, and oral presentation skills.
Economics Minor
Students may combine a minor in economics with majors in any field. This valuable minor prepares students for graduate programs in public policy or business administration, and may help students secure employment in business-related areas. A total of 30 units in the area of economics is required for the economics minor.
What Social Science Division Grads Are Doing
Data collected from the 2022 class within six months of graduation.
53%
Employed Full-Time or Part-Time
23%
Admitted to Graduate School
77%
Total Settled Graduates
Why Pepperdine
Pepperdine Seaver College is consistently recognized among the top-ranked universities in California and the United States. We are a Christian university where students grow in knowledge and character. As a liberal arts institution, we focus on providing rich opportunities for intellectual and spiritual exploration for students with a diverse community.
13:1 Student-to-Faculty Ratio
80% of Students Participate in an International Program
Student Opportunities
Double-Majoring
Our major curriculum requirements allow for a great deal of flexibility for those interested in the major, including those who wish to double major. In the past, many students have double majored in economics/political science, economics/Business administration, economics/history, economics/journalism, and economics/mathematics. In addition, most upper division courses have a low student/faculty ratio.
Flexibility
The economics major provides several options pertaining to career goals. This allows the flexibility to change career plans without adverse consequences. There are sufficient opportunities within the major so that changing majors "mid stream" would not cost time or units. Again, it is the power of the economic way of thinking applied over a wide spectrum of topics that allows this amount of flexibility in career choices.
Our Student Organizations
The following organizations are open to students: California College Republicans, Young Democrats, Delta Phi Epsilon (national professional foreign service fraternity), Pre-Law Society, Psi Chi (honorary psychology society), Economics Club, and Psychology Club.





PEP Talks Research Seminar
Rooted in a gathering of faculty and students, PEP Talks Research Seminar calls for an interdisciplinary exploration between the fields of philosophy, economics, and political science (PEP) . This type of program is centered around the view that, in order to understand social phenomena, it is prudent to employ several analytical frameworks and various disciplinary methods.
Preparation for Law School
Those economics majors who choose to go on to graduate school (roughly 50 percent) are equally divided between MBA programs and law schools. This is not surprising since the analytical training in economics courses offers excellent preparation for law as well as for business. Law school deans have consistently regarded economics as one of the best undergraduate majors for those considering law school. Recently, economics has gained even greater popularity in legal circles because of path-breaking work being done in the field of "law and economics."
Preparation for Careers in Government and Public Administration
The analytical skills of an economics major are useful in both the public and private sectors. Training in public finance, labor economics, public choice, industrial organization, and urban and regional economics are all useful areas of study to those pursuing careers in the government sector. The economics major also provides excellent preparation for those pursuing a master's degree in public administration.
Preparation for MBA Degree
An undergraduate economics degree is excellent preparation for those considering pursuing an MBA. Rather than duplicating graduate business courses as an undergraduate, many business schools seek students who have a broader analytical background, such as that provided in economics major program. It is also true that many of the MBA courses will also assume at least some familiarity with economic concepts. For example, the area of finance is, for the most part, applied microeconomics.
Preparation for Graduate Work
Only three percent of economics majors enter graduate programs in economics. Nonetheless, the top graduate economics degree programs in the country are highly competitive and very quantitative. We encourage students considering an advanced degree in economics to supplement their coursework with MATH 150, 151, 250, 260, and 340. Economists with master's degrees and doctorates are hired in three areas: research, teaching, and consulting in either the private or public sector.
What is Economics?
A good working definition of economics is the study of individuals and societies allocating scarce resources to satisfy unlimited wants. Economists do not attempt to establish society's goals, but rather examine the consequences of trying to achieve them. The goal of economists is similar to those of the social scientists explaining how humans interact with each other in a dynamic world. However, the major distinction between economics and the other social sciences is the economics approach usually emphasizes deductive reasoning.
This foundation of theoretical models and empirical knowledge is used to gain a greater understanding of a wide variety of topics. In fact, this economic way of thinking also gives students the analytical training and tools to grapple with many issues generally considered to lie outside the confines of economics, such as those usually studied in law, sociology, political science, history and philosophy. Economics is a problem-based social science that deals with some of the most serious issues confronting society (e.g., deficits, poverty, inflation, unemployment, economic growth, energy, pollution, military spending, etc.) as well as individual problems (e.g., wages, cost of living, taxes, voting, etc.).
The discipline of economics draws upon the traditional liberal arts, such as history and philosophy; natural sciences, such as mathematics and physics; and social sciences, such as political science, sociology, and psychology. The interdisciplinary nature of economics lies at the heart of an institution that stresses the liberal arts. In the last few years, economics programs have seen enrollments grow steadily. The economics major is now almost two percent of the national total. The popular attraction may be due to the flexibility the major offers in career options or it might be the perception that majoring in economics will improve a graduate's job prospects.











Career Opportunities
Since the major stresses methodology and problem-solving techniques rather than rote memorization, job recruiters are especially attracted to economics graduates. The broad analytical training received by undergraduate economics majors is desired by many large corporations.
Individuals with training in economics have become problem solvers. They have learned how to identify particular problems and provide alternative solutions. Economics majors have also learned specific skills that will enhance their performance in managerial decision making; for example: demand theory and estimation, production, and cost theory, analysis of market structure, antitrust policy, government regulation of business, capital budgeting, inflation, unemployment, determination of interest rates, and international economics.
Many economics majors go into business. A Marquette University survey concluded that 41 percent of economics majors were working in business six months after graduation, while another 18 percent went into business after going to graduate school. A person with a bachelor's degree in economics (depending on minor fields) would be "marketable" in a wide range of areas, including: public administration, management training and internships, sales, real estate and property appraisals, financial analysis, insurance, and product management. The diversity of occupational areas demonstrates the broad applicability of the analytical skills developed in the economics major.
A wide variety of career opportunities exists for individuals with training in the social sciences. Some of these are available to persons who have a bachelor's degree, but many others require graduate study. The Social Science Division attempts to educate students for careers at the bachelor's degree level and prepare students for graduate education. Careers in the social sciences are usually found in the following areas:
Service professions (psychology, social work, etc.)
Education (teaching, administration, etc.)
Law (legal counseling, corrections and enforcement, etc.)
Government (service, diplomacy, public administration, etc.)
Business (industrial psychology, public relations, etc.)
Basic research (university, research foundations, governmental research, etc.)
Economics Student Testimonials
Take the Next Step
Reach out to us to learn more about Pepperdine's undergraduate programs.
Get In Touch
Learn more about how you can join the Pepperdine community.
Visit Our Campus
Explore Seaver College and connect with an admission counselor.
Start Your Application
Submit an application and be one step closer to becoming a Wave.
Contact Us
Social Science Division
Pepperdine University
24255 Pacific Coast Highway
Malibu, CA 90263
Office: AC 201