Ministry Internships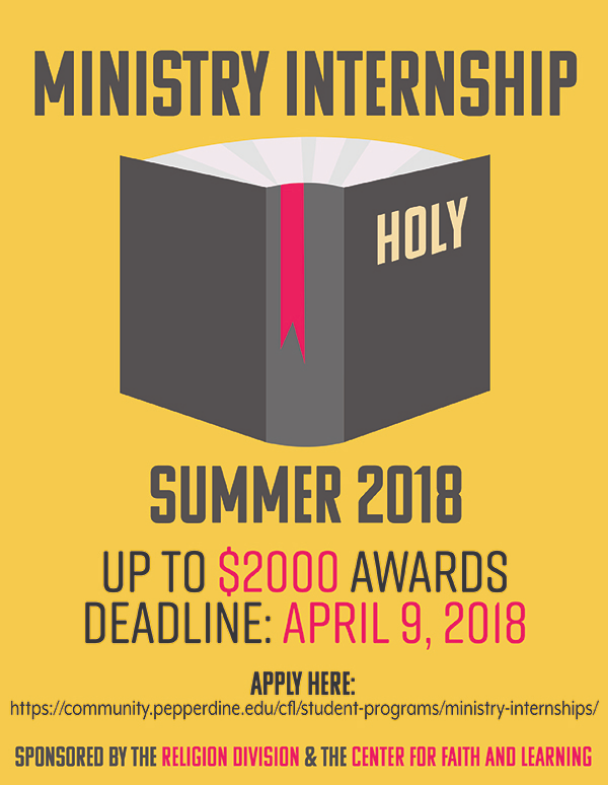 Summer 2018
The Center for Faith and Learning and the Religion Division are pleased to announce the availability of funding for ministry-related internships for Seaver College students desiring to pursue a calling in religion/ministry. First preference for funding is given to Religion Division majors, minors, and graduate students, however all are encouraged to apply. Each awardee will receive a stipend of UP TO $2,000.
Internships can be done with approved churches of Christian organizations under the supervision of full-time ministers and ministry professionals. Areas of service may include preaching, youth ministry, children's ministry, worship leading, or counseling/pastoral care. This program is designed for students to gain valuable experience by participating in ministry activities under the direct supervision and support of a ministry mentor. In turn, it is our desire that this experience will enable students to better discern their giftedness and calling for vocational ministry. If you do not know where you want to intern but you know you would like to, we can help also! Contact Dr. David Lemley (david.lemley@pepperdine.edu) and he can assist you in finding ministry internships, both local and nationwide.
Priority for funding will be given in this order:
1st priority: Religion Division students seeking a supervised ministry internship
2nd priority: Non-Religion Division students seeking a supervised ministry internship
3rd priority: Any student (Religion Division or not) seeking to do summer mission work – all students must have a mentor/supervisor in order to receive funding.
The application deadline for Summer 2018 is April 9th.
https://community.pepperdine.edu/cfl/student-programs/ministry-internships/