Ministry Internships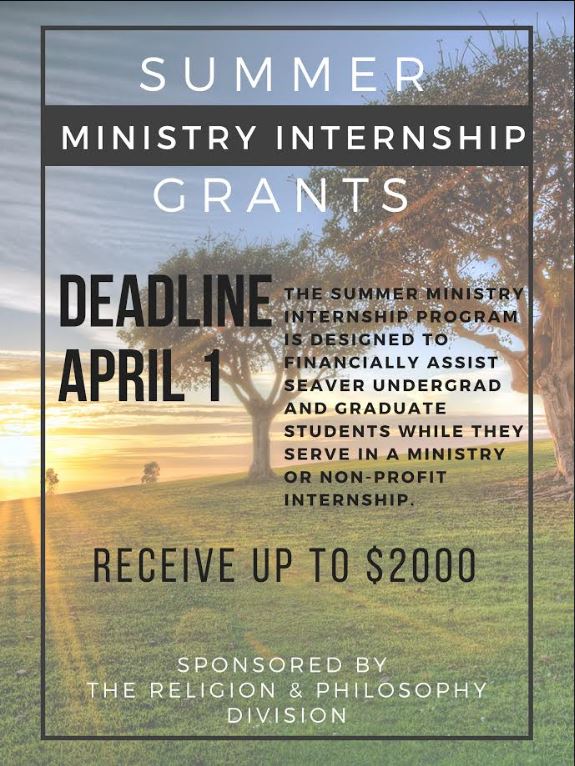 The Religion and Philosophy Division is pleased to announce the availability of funding for ministry-related internships for Seaver College students exploring a calling in ministry. Priority will be given to religion majors, minors and graduate students. However, all interested Seaver College students are encouraged to apply. Each awardee will receive a stipend of UP TO $2,000.
Internships must be arranged with a local church, or para-church organization with a ministry focus. Internships must be supervised by full-time ministers and/or ministry professionals. Examples of approved church internships include preaching, youth ministry, children's ministry, worship leading, counseling/pastoral care. Examples of para-church ministry internships include ministries to urban homeless youth, providing companionship for people with severe disabilities, or legal services supporting Christian non-profits.
The goal of the ministry internship grant program is for students to gain ministry experience through experiential learning under the direct supervision and support of a ministry mentor. It is our desire that this funding creates opportunities for vocational discernment as students test their gifts and calling in service, reflection, and pastoral supervision.
How to find an Internship
How to find an internship
● It is the responsibility of the student to apply to and secure an internship.
● It is recommended that students do this prior to applying for the ministry internship grant
● If students need assistance finding an internship they should  visit the Seaver College Career Center or arrange a meeting with the Ministry Internship Faculty Advisor Dr. Dave Lemley.
How to apply to the Ministry Internship Grant
1. Complete the application.
2. Ask your on-site supervisor of your internship to fill out the Supervisor Information Form
The application deadline is April 1st. Please contact Tiffany Ferguson in the Religion and Philosophy Division if you have any questions about the application process.
How to get academic credit for your internship
Religion students may substitute internship units taken for academic credit for elective units for their major or minor, at the discretion of the RELP Division Dean. Students in other disciplines should ask their division about academic credit before registering. In order to receive academic credit for an internship, the internship must be approved by the Seaver Dean's Office.
● Students must register prior to starting their internship and before the Internship registration deadline for summer.
● Students must work 45 hours for every 1 unit of academic credit in accordance with the Seaver College Credit Hour Policy.
● COST- Students will be charged tuition at the per unit rate for the internship course. The Ministry Internship Grant may not be used for these tuition expenses.
● Prior to registering the student should meet with both the Religion Internship Faculty Advisor and Religion and Philosophy Division Office Manager. The student will need to know the following information before they can apply for academic credit.
○ How many units they can register for
○ Student Learning Outcomes for the Internship
○ Dates, and times they will be working the internship
○ Name, email and telephone number for their On-Site Internship Supervisor/ Employer.
● To register for academic credit for your ministry internship please submit the Internship Registration Form found here