Great Books Curriculum
Assigned readings encompass literature, philosophy, politics, psychology, science, and religion. Authors range from Plato to Nietzsche, from Homer to Dostoevsky, from Augustine to Freud.
Issues addressed include:
justice
the grounds of moral choice
maintaining humanity in the midst of conflict and war
the nature of conscience
political leadership
private property and economic justice
the nature of science and the tensions and convergences between science and religion
the joy of true love and the pain of betrayal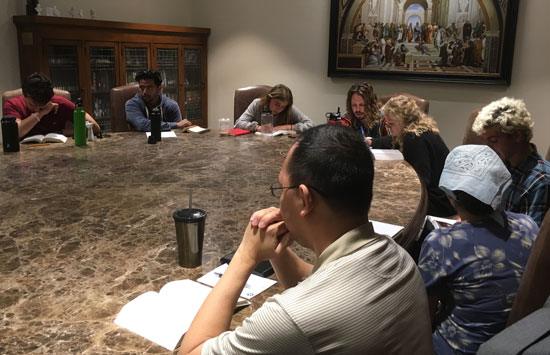 Students see the Trojan War come to life in Homer's vivid words, follow Aeneas from exile to the battles that founded Rome, tour the afterlife from Hell to Heaven with Dante, share Augustine's and Kierkegaard's struggle for faith, survive with Robinson Crusoe on his island and track the adventures of Candide or Gulliver, strive with Darwin to understand the natural world and with Freud to chart the human psyche.
The books we read are comic, tragic, profound, challenging, unsettling. Students use them to engage ideas and to join in the lively conversation and continuing debate that are the life of our culture. Our goal is not for students to think like the authors we read, but for students to build on the reading to think for themselves.