Shari Raynor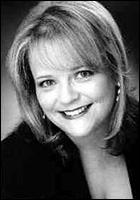 Email: Shari.Raynor@pepperdine.edu

Pianist SHARI RAYNOR made her debut at the age of eleven with the Florida Gulf Coast Symphony, proceeding to win many national competitions, culminating with her receipt of the Presidential Medallion in the Arts at the White House. After playing a command performance for the President, Miss Raynor was chosen as one of only ten pianists to represent the United States in the prestigious, world renowned International Van Cliburn Piano Competition. Performing in the competition to universal acclaim, Miss Raynor launched a major series of national and international chamber music concerts and solo performances that continue to the present day.
A veteran of NPR, Shari Raynor's masterful interpretations can be heard on classical radio stations across the world-- having released several recordings as a founding member and primary arranger for the highly praised Vista Trio. She is touring extensively across the United States as a soloist and chamber artist including a recent performance at Carnegie's Weill Recital Hall. Miss Raynor is also on several music festival faculties including the Fairbanks Summer Arts Festival and the Gold Coast Chamber Music Festival. She holds a Bachelor's degree from the Peabody Conservatory and a Master's degree from the University of Southern California.