About Christopher Parkening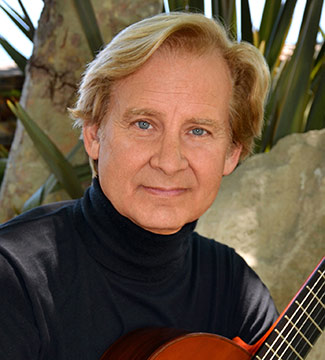 Christopher Parkening is ranked as one of the world's preeminent virtuosos of the classical guitar. The Washington Post cited, he is "the leading guitar virtuoso of our day combining profound musical insight with complete technical mastery of his instrument," and the Los Angeles Times wrote, "Parkening is considered America's reigning classical guitarist, carrying the torch of his mentor, the late Andrés Segovia."
Christopher has performed around the world, including such prestigious places as Carnegie Hall and the White House. His television appearances include the Grammy® Awards, The Tonight Show, The Today Show, Good Morning America, and 20/20. He has recorded over 20 albums, and earned two Grammy® nominations in the category of "Best Classical Recording." His autobiography, Grace Like a River, was published in 2006 by Tyndale House Publishers, Chicago, IL..
Christopher is Distinguished Professor of Music at Pepperdine University and has chaired the Christopher Parkening Chair in Classical Guitar since the fall of 2002. The Parkening International Guitar Competition, honoring Parkening's lifetime commitment to fostering musical excellence in young artists, is held every three years on the campus of Pepperdine University in Malibu, California.
Christopher is also a world class fly fishing and casting champion who has won the International Gold Cup Tarpon Tournament (the "Wimbledon" of fly fishing) in the Florida Keys. At the heart of his dedication to performance, recording and teaching is a deep commitment to the Christian faith.
Information on applying as a music major in applied guitar may be found here.