Susan Greenberg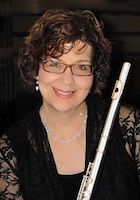 Email: Susan.Greenberg@pepperdine.edu
Flutist Susan Greenberg enjoys a versatile career as soloist, chamber musician, symphony player, and recording artist. The Los Angeles Times has described her playing as "brilliant," "elegant," and "supple," and has lauded her "panache" and "musical projection." During her 36 years with the LA Chamber Orchestra, Greenberg was a frequent soloist on both flute and piccolo, premiering a concerto for piccolo by Bruce Broughton and performing a concerto for flute, alto flute, and piccolo written for her by Gernot Wolfgang.
She has also appeared as guest soloist with the San Francisco and Oakland Symphonies, the Santa Monica Symphony, the Napa Valley Symphony, and at the Hollywood Bowl. Presently she is the principal flutist with the Santa Monica Symphony and the Vicente Chamber Orchestra. Greenberg has performed with the Los Angeles Philharmonic, L.A. Opera, New York City Opera, American Ballet Theater, as well as at the Casals, Ojai and Martha's Vineyard Music Festivals. She was the principal flutist for the Hollywood Bowl Orchestra's tour of Japan, and has received the "Most Valuable Player" award on the flute from the National Association of Recording Arts and Sciences.
Greenberg holds both BA (cum laude) and MA degrees from University of California, Los Angeles. She won a scholarship to the Academy of the West and to Tanglewood. Greenberg is presently the flute professor at Pepperdine University and Santa Monica College. She has also taught at California Institute of the Arts, Occidental College. She is the co-artistic director of Chamber Music Palisades, now celebrating its 22nd season. Greenberg has recorded for over 500 motion pictures and many television television shows, including The Simpsons for 25 years.