Anastasios Comanescu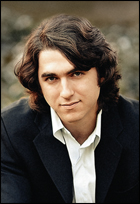 Anastasios Comanescu is a promising, young guitarist in the Los Angeles area. As a soloist he has given recitals across the western United States with much success. He was a finalist at the 2009 California A.S.T.A. competition and grand prizewinner at the 2011 Pacific Guitar Festival. His debut solo classical record, "Epitaphios" (2011), features the music of Narvaez, Tansman, Barrios and Theodorakis.
In 2010 Comanescu began a new musical project with internationally acclaimed lyric tenor, Charles Castronovo. He performs folk guitar and arranges music for the ensemble. Their program, entitled "Charles Castronovo's Italian Songbook," consists of popular Neapolitan, Sicilian and Italian folk songs. Past performances, including a debut at the famous Zipper Hall in Los Angeles, have been received with much critical acclaim. Performing Arts Live writes of an "extraordinary performance…. A grand program of famous arias and Neapolitan Songs…(Castronovo) was accompanied by an impressive five piece musical ensemble." Upcoming concerts under the "Nights in Napule" label have been booked for the 2011-2012 season throughout the United States.
Comanescu is a founding member of the "Gi-táhr Duo", a successful collaboration with guitarist Austin Grant (2009). Their eclectic programming has garnered praise from guitar virtuoso Christopher Parkening as "an exciting, young, American guitar duo of this generation". Past Performances include concerts at the Thousand Oaks Philharmonic, the American Guitar Society, the Ventura Classical Guitar Society and San Jose State University amongst others.
Originally from Northern California, he studied flamenco guitar with Charles Sedlak and classical guitar with David Dueñas. Comanescu earned a bachelor's degree in 2010 from Pepperdine University where he studied classical guitar with Christopher Parkening. He is currently pursuing a master's degree in classical guitar at the University of Southern California under the instruction of Scott Tennant (LAGQ).
In addition to classical guitar, Comanescu has a strong background in contemporary forms of guitar. Past teachers include Kenton Youngstrom of the De Falla Trio and he currently studies with acclaimed electric guitar virtuoso Steve Trovato.
This fall Comanescu will perform concerts in support of his "Epitaphios" recording throughout California. He joins the faculty at Pepperdine University as an ensemble coach and guitar instructor.