Facilities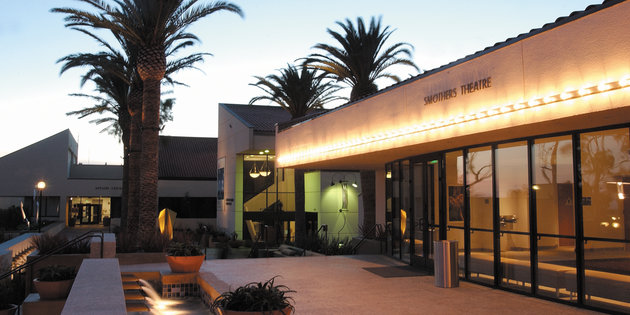 Each year the Pepperdine University Center for the Arts is host to over 250 public events, including performances by international touring stars and visual artists, student productions, and exhibitions.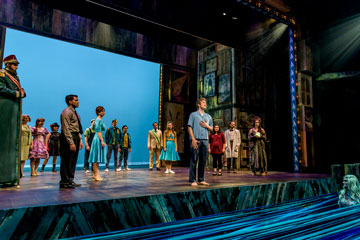 Smothers Theatre
Smothers Theatre, completed in 1980 and named for a friend of Pepperdine's, Frances Smothers, is host to hundreds of events each season. With its raked seating and superior sight-line, it is considered to be one of the finest theatres of its size in Los Angeles.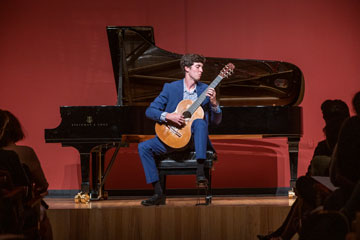 Raitt Recital Hall
Raitt Recital Hall is a lavish facility given to the University by Rosemary and John Raitt (the legendary Broadway star), who also founded the Center for the Arts Guild. With a capacity of 118 in nine rows on one floor, this acoustically superior and intimate hall is home to the critically-acclaimed Stotsenberg Recital Series, funded by Mrs. Edward Stotsenberg of Malibu.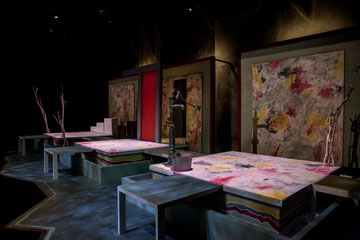 Helen E. Lindhurst Theatre
Helen E. Lindhurst Theatre is a "flexible black box" space, seating anywhere from 50 to 100 people and the venue for some of our most innovative student productions.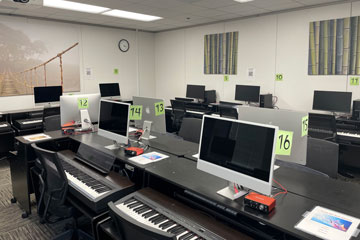 Kwong Music Technology Lab
Technology is an integral component of all areas in today's music industry including composition, performance, education, production, and business. The music program at Pepperdine University provides opportunities for students to learn certain technical skills that are pertinent to the success of the modern professional musician.
The Music Technology Lab (MTL), located in the Music Building (MB126), provides the necessary tools for students to acquire skills in music notation, MIDI sequencing, digital audio, sound design, and computer music. The lab houses seventeen workstations, each outfitted with a computer, keyboard controller, and Audio/MIDI interface, as well as the appropriate software. Courses in Music Technology are offered each semester in the MTL as are courses in Music Theory, Ear Training, and Class Piano.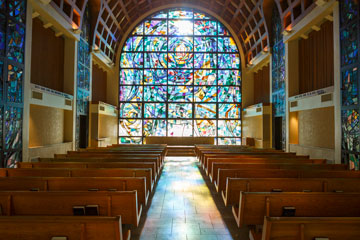 Stauffer Chapel
Seating approximately 180 people in pews made of white ash wood, Stauffer Chapel is one of the most beautiful places for music on the Pepperdine campus. Acoustically redesigned in 2004, the chapel houses an exceptional three-manual Rogers organ, allowing the venue to be a perfect choice for a variety of vocal and instrumental chamber concerts. Underneath vaulted coffered ceilings, the interior is as stunning visually as it acoustically. The giant stained glass window facing out to the Pacific Ocean was designed as a colorful tree of life, a flow and swirl of abstract shapes designed and set by glass artist, Robert Donovan. This unique landmark on the Pepperdine campus is truly a special location for music as well as a space for congregational worship or individual meditation and prayer.