Art Major and Minor
The Seaver College art department at Pepperdine University offers a bachelor of arts degree in art, as well as minors in art and multimedia design. We also provide students the option of earning a secondary teaching credential in art through additional electives.
Art Degree
Our studio art curriculum is designed to foster our art majors' creative ability and art appreciation. There are many opportunities for creative artists and scholars, including careers as art teachers, professional artists, animators, craftspersons, and designers. Some of these fields require advanced training beyond the undergraduate art degree.
Art Minors
Art Minor (20 Units)
Our art minor encourages students who love painting, sculpting, and digital arts to move into the studio to create art. Highly marketable, our art minor pairs well with any major at Pepperdine and demonstrates that a student is well rounded and can think outside of the box.
Multimedia Design Minor (23 - 24 Units)
Our multimedia design minor emphasizes advanced work in graphic design and multimedia production, including web page construction and evaluation.




What Fine Arts Division Grads Are Doing
Data collected from the 2022 class within six months of graduation.
62%
Employed Full-Time or Part-Time
15%
Admitted to Graduate School
77%
Total Settled Graduates
Student Opportunities
Art Club
The Art Club is an active, student led group made up of art majors and non-art majors alike. Every year the club puts on numerous events including a student art exhibition in the fall.
Service Learning in Art
As part of their coursework, students work with special needs teenagers from local schools to mentor a group of high school students while fostering an appreciation of studio art. Service projects provide valuable opportunities for students to apply their knowledge of art while engaging and collaborating with our community.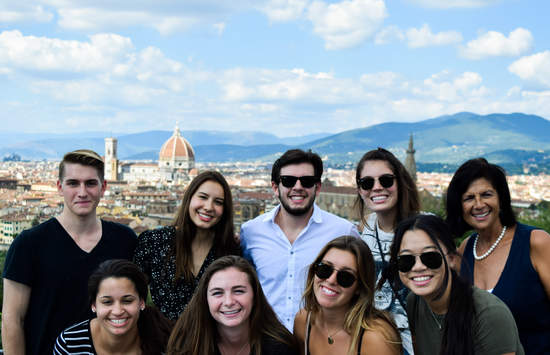 Recommended International Study
Complete your fine arts requirement and obtain valuable experience for your art and art history major while taking courses in Florence through our partnership with Studio Art Centers International (SACI).
Why Study Art at Pepperdine
Pepperdine Seaver College is consistently recognized among the top-ranked universities in California and the United States. We are a Christian university where students grow in knowledge and character. As a liberal arts institution, we focus on providing rich opportunities for intellectual and spiritual exploration for students with a diverse community.
10:1 Student-to-Faculty Ratio
Florence Summer Art Program
Take the Next Step
Reach out to us to learn more about Pepperdine's undergraduate programs.
Get In Touch
Learn more about how you can join the Pepperdine community.
Visit Our Campus
Explore Seaver College and connect with an admission counselor.
Start Your Application
Submit an application and be one step closer to becoming a Wave.
Contact Us
Fine Arts Division
Pepperdine University
24255 Pacific Coast Highway
Malibu, CA 90263
Office: CAC 200
Fine Arts Recruitment Office
310.506.4111
fineartsrecruit@pepperdine.edu
FA Recruitment Office: MB 301