The Parkening Young Artist Program
Thank you for your interest in the Parkening Young Artist Program.
The Parkening Young Artist Program is designed for college-aged international students who qualify to study with Christopher Parkening for one year at Pepperdine.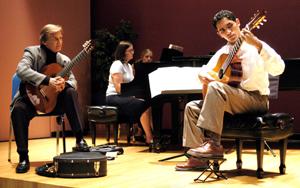 Photo by Mark Westling. Used by permission.
This program provides instruction for classical guitar students who are not qualified for the traditional academic degree-seeking track at Seaver College.

The cost to participate is $1,200 (USD) per semester. Enrolled students will receive a certificate upon satisfactory completion of the Parkening Young Artist Program.
Each semester, a student in the Young Artist Program will participate in:
seven one-hour private lessons with Christopher Parkening.
weekly private lessons with Adjunct Professor Kevin Enstrom (optional).
one 30- or 60-minute recording session at a professional studio in Los Angeles.
Group activities include:
one four-hour Christopher Parkening Master Class
weekly studio classes with Christopher Parkening
MUS 145 Performance Skills for Classical Guitar
MUS 150 or 350 Guitar Ensemble
two one-hour Group Guitar Classes (open to all Pepperdine students)
Pepperdine Student-led Guitar Concert Series
Additional opportunities may include:
on-campus performances at special University events.
off-campus performances at venues in Malibu and neighboring cities.
Students enrolled in the Young Artist Program study specific works that provide them with a balance of technical and musical challenges and which create a diverse and rich répertoire suitable for performance.
If you have any questions about the Parkening Young Artist Program, please contact Adjunct Professor of Guitar, Kevin Enstrom.