Composition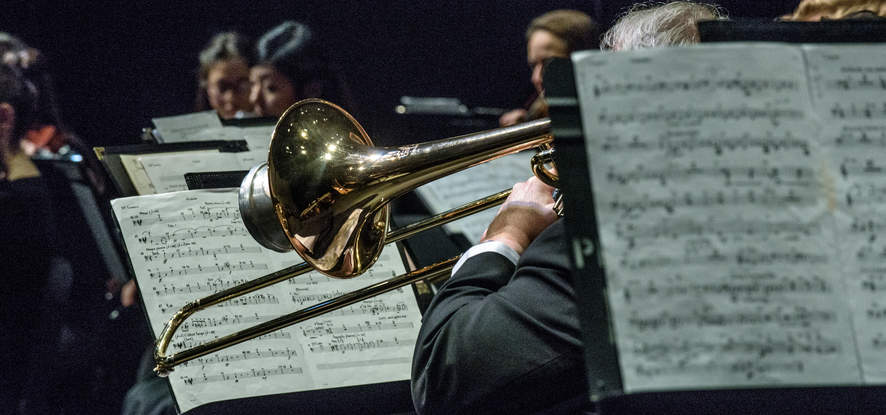 Cultivate your creative spirit through personal instruction and mentorship with a master composer
Gain practical experience with music technology such as Finale®, Logic®, Sibelius®,
and Pro Tools®
Immerse yourself in our intensive music and liberal arts curricula
Discover Los Angeles and its exciting new music scene
Get a first-class education on one of America's most beautiful campuses
The Music Composition Curriculum
Fostering unique creative musical talent, the composition program provides student composers with opportunities to learn techniques and current trends associated with the creation of new music. At the core of the emphasis are private composition lessons in which each student is guided in the studio through the creative process, culminating in a portfolio of original music performed on the composition and senior recitals.
Weekly seminars are also conducted where students study, discuss and listen to seminal twentieth-century and contemporary works of music. Students are also given training in important tool subjects such as counterpoint, orchestration and electronic music.
New Music Performances
A culture of support for new music is fostered throughout the music department, providing composition students with the valuable experience of organizing and directing their own rehearsals and concerts. Students become advocates of new music, supporting each other as performers and partners in new music endeavors, and many composers collaborate with student film and theater directors in a variety of cross disciplinary projects involving live players and multimedia. All concerts are recorded.
Our new music group, The Pickford Ensemble, is comprised of some of Pepperdine's finest student musicians. The ensemble is dedicated to the performance of new music for film as part of the biennial Up Against the Screen projects.
Facilities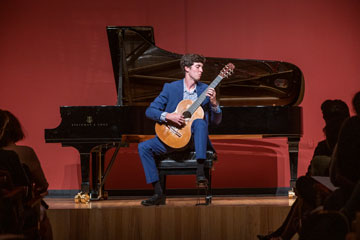 The Raitt Recital Hall (left) is a beautiful facility where many of our composition students hear their music realized in concert. Donated to the university by Rosemary and John Raitt, this hall offers an intimate and acoustically superb environment for chamber music. The acoustics of the room can be changed by a variety of curtain settings on the sides or above the auditorium giving students the ability to utilize all of the room's acoustic possibilities as needed by the music.
Equally impressive is Stauffer Chapel (right), a unique and beautiful location for music concerts. With its contemporary stained glass artistry, the setting is particularly appropriate for choral and sacred music. In the choir loft, the chapel houses an impressive three-manual Rodgers organ.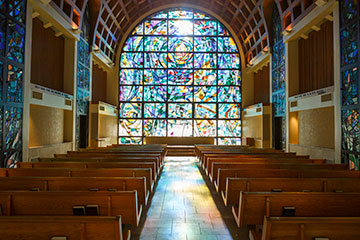 The music department's practice facility provides students with rooms for private study, each with its own upright piano. Grand pianos are also available in larger rooms and are also available for small and large ensemble rehearsals.
Providing our composition students with the essential tools in music technology, the Peggy and Alan Kwong Music Technology Lab is a sixteen-workstation state-of-the art facility where students learn the foundations of music synthesis, sequencing, notation and digital editing.
Our Composition Graduates
After receiving the B.A. in Music with an emphasis in Composition, many of our students have gone on to excellent graduate programs in composition. With their training in analysis, composition, notation, orchestration, electronic music, students who complete this emphasis are well equipped for the challenges of graduate school and a life in new music.
Composition Faculty

Professor of Music
Director of Composition
The Pickford Ensemble

Lincoln.Hanks@pepperdine.edu
310.506.7644
Application and Audition Information
All prospective students must apply for acceptance to Pepperdine University. Click here to begin the general university admission process.
To be considered for acceptance into the music program, all prospective students, regardless of desired emphasis, must audition on their primary instrument or as a singer. Auditions are held in November and January of each year. Click here to begin the music application process.