Art and Art History Lecture Series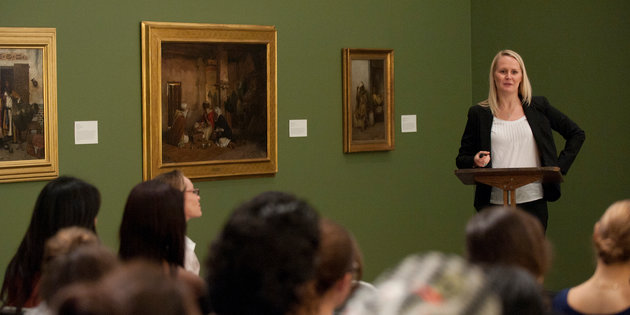 Our Art and Art History Departments bring internationally renowned scholars, artists, gallerists, and curators to campus to discuss their research, scholarship, work, and the process.
Past Lectures
 

2022
Nancy Baker Cahill is an award-winning interdisciplinary artist whose hybrid practice focuses on systemic power, consciousness, and the human body. She creates research-based immersive experiences, video installations, and conceptual blockchain projects rooted in the history of drawing. Her monumental augmented reality (AR) artworks extend and subvert the lineage of land art, often highlighting the climate crisis, civics, and a desire for more equitable futures. She is the founder and artistic director of 4th Wall, a free AR public art platform exploring site interventions, resistance and inclusive creative expression. 
Dr. Mya Chau (Instructor in Asian & Pacific Studies, Loyola Marymount University), lectured on, "The Chams of Southern Vietnam: Luxurious Metalworks in Southeast Asia." (Spring 2022). Precious bowls, dishes, and vases discovered in Southeast Asia feature shared styles with art found in South Asia and the West, particularly Greco-Bactrian, Parthian, and Indian cultures. While some studies of metalworks have been published, most questions about them have not been answered, including where they were made, by whom, and why were they valued so widely? Furthermore, how did they relate to Cham stone sculpture and could they carry artistic and cultural influences? In this lecture, lesser-known metalworks discovered in Malaysia and Vietnam are examined in the larger context of decorated metalworks in the 9th-10th centuries. I explore the role of the Chams in Southern Vietnam as superior sculptors and seafarers, who contributed to the acquisition and circulation of prestigious objects for global exchange. This lecture complicates our understanding of imported metalworks that travel across physical geography and modern borders of Southeast Asia.
Manu Garcia is a Mexican, LA-based artist/chemist working across art + science + enviornment. Her methodology combines laboratory and fieldwork tools from her background in plant chemistry and the pharmaceutical industry. Her use of media includes research, installations, performance, sculpture, and video, usually with the presence of organic matter to help understand the biological processes occurring in complex systems. Her work highlights the importance of eco-aesthetics, in which relations are proposed as ways of building cultures of regeneration. At the same time, she questions the ways science and technology have influenced humans and more-than-humans within the natural world. Currently, she is a Getty Foundation grant recipient for the exhibition "Sink: places we call home" with Self Help Graphics & Art, to be presented in the Pacific Standard Time Art x Science x LA in 2024. 
Dr. Maura K. Heyn (Professor of Classical Studies, University of North Carolina), lectured on, "The Facebook of Antiquity: the Funerary Portraits from Palmyra, Syria." (Spring 2022). This lecture focuses on the fascinating limestone portraits from the tombs of Palmyra, a city in the eastern Roman Empire that flourished in the first few centuries CE because of its role in the caravan trade. Funerary portraits can seem to be such straightforward expressions of identity, preserving the image of the deceased for posterity. However, the funerary portraits of Palmyra are much more than commemorative artifacts: choices of clothing, jewelry, attributes, and even body position make it clear that these portraits can also be powerful tools in the demonstration of a family's wealth, connections, and status in the community.
Julie Weitz is a Los Angeles-based visual artist whose performance art practice responds to local surroundings with an attuned sensory awareness of ecological and historical contexts. Since 2017, Weitz has been focused on a multipart performance series that centers on a feminist embodiment of a mystical creature drawn from Yiddish folklore. That project, My Golem, reimagines the mythological golem as a sacred clown who guides humanity toward reparative ways of relating to one another and to the more-than-human world. 
Alice Zhang is an artist, designer, and program organizer working across the IRL and URL. Her projects often take on a playful and collaborative approach, using mixed reality technologies to invite public empathy into ecological and social futuring. She is the co-organizer of virtual care lab, a series of experiments in remote togetherness. Alice holds a BS in business administration from University of California, Berkeley and is influenced by object-oriented ontology, interspecies collaborations, Eastern philosophy, and magical realism.
 

2021
Dr. Lynn Gamble (Professor Emerita of Anthropology, University of California), lectured on, "Origins of Social Inequality: Examples From Southern California." (Fall 2021)
Dr. Kristen Seaman (Associate Professor of History of Art and Architecture, University of Oregon), lectured on, "Women Artists in Ancient Greece & Rome." (Fall 2021). In this lecture, Dr. Seaman reconstructs the roles of women artists in ancient Greece and Rome by assembling evidence in literature, epigraphy, and visual culture. She considers how and why ancient and modern scholars have included or omitted them in their art-historical writing, and she traces the women's places in schools of painting, retrieves their styles, and finds historical comparanda for their artistic, educational, and economic circumstances.
Dr. Vincent Pham (Adjunct Professor of Art History, University of California San Diego), lectured on, "Baroque and Rococo Portraiture in England." (Fall 2021). Portraiture's role and access changed significantly over the course of the seventeenth to eighteenth centuries. In this lecture, Dr. Pham provides a comprehensive overview of portrait pictures in England and establishes a thematic connection to pictorial and institutional developments in the Dutch, Flemish, and French traditions.
 

2019
Visiting scholar, Dr. John Berninghausen, Professor Emeritus of Chinese at Middlebury College, lectured on "Building Strong Asian Studies at Liberal Arts Colleges: Challenges Past and Present" and "Adventures in Collecting: Paintings by New Literati Artists in Contemporary China."
 

2018
Gender, Grief, and the History of Emotions in Italian Renaissance Art Dr. Heather Graham California State University, Long Beach This presentation explores how images of lamentation over the dead Christ created in 15th– and 16th– century Italy reflected and reinforced contemporaneous ideas about gender and emotional experience. While modeling ideal public mourning, these scenes of collective grief also visually articulate Renaissance medical understanding of the emotions as materially based and gender-specific—that is, they confirm the early modern notion that men and women were psycho-biologically predisposed to different emotional experiences. Lamentation images provide unique insight into the spectrum of emotions that Italian Renaissance people considered appropriate, on the one hand, for men and, on the other, for women.
Dr. Thomas Folland (Associate Professor of Art History, Los Angeles Mission College), lectured on, "Readymade Primitivism: Duchamp, Dada, and African Art." (Spring 2018)
Dr. Elizabeth Marlowe (Associate Professor of Art History, Colgate University), lectured on, "Why Museums Sometimes Lie." (Fall 2018)
 

2017
Dr. Kim Richter (Getty Research Institute), lectured on, "Golden Kingdoms: Luxury and Legacy in the Ancient Americas." (Fall 2017)
Dr. Elena Fitzpatrick Sifford (Art History, LSU-Baton Rouge), lectured on, "Black Africans in Renaissance Mexico." (Fall 2017)
Prof. Ellen Caldwell, Assistant Professor of American Art History, Mt. San Antonio College, lectured on, "Native (Re)presentations: Discussing Colonial Portraits and Contemporary Indigenous Self-Portraits." (Spring 2017)
Dr. John Berninghausen, Truscott Professor Emeritus, Middlebury College, lectured on, "Building Strong Asian Studies at Liberal Arts Colleges: Challenges Past and Present." (Fall 2017)
Dr. Elena Fitzpatrick Sifford (Assistant Professor of Art History, Louisiana State University), lectured on, "First Africans in the Americas." (Spring 2017)
Dr. Heghnar Watenpaugh (Co-Chair Department of Art and Art History, UC Davis), lectured on, "The Zaytun Gospels and the 13th Century Middle East." (Fall 2017). Toros Roslin completed a luxurious illuminated copy of the Gospels for his patron, the Catholicos of the Armenian Church. Today, Roslin is recognized as one of the greatest medieval Armenian painters. This lecture uses the Roslin manuscript (with some pages preserved at the J. Paul Getty Museum) as an entry point into the complex cultural world of the mid-thirteenth century Middle East, which included such players as the Byzantine Emperors, the Seljuk Sultans, the Mamluk Sultans, the Armenian Kings of Cilicia, the various Crusader states, as well as numerous smaller principalities. THe Mongols had just arrived onto the scene, and were to transform it thoroughly. This world was characterized by artistic exchange as well as cultural contests. Rulers, priests, nobles and merchants sponsored luxurious works of art, architecture, and other visual productions. Artists were tasked with glorifying their patrons within established artistic traditions, but they also selected ideas and motifs from other traditions and made them their own. 
 

2016
Dr. John Berninghausen, Truscott Professor Emeritus, Middlebury College, lectured on, "Adventures in Collecting: Paintings by New Literati Artists in Contemporary China." (Spring 2016)
Dr. Carolyn Dean (Art History, UCSD), "'We Eat Gold!': Incommensurability in Colonial Spanish American Visual Culture." (Fall 2016)
 

2015
Dr. Lisa Boutin Vitela, Instructor of Art History at Cerritos College, lectured on "Making 'White Gold': Alchemy and Medici Porcelain Production under Francesco I de' Medici." She will explore porcelain production under the Grand Duke of Tuscany as a reflection of his interests in alchemy and his desire for global knowledge.
Dr. Nassar Mansour, master calligrapher, lectured on "The Historical Role of the Muhaqqaq Script in Copying Qur'an Manuscripts." (Fall 2015)
Dr. Kenneth Lapatin, Associate Curator of Antiquities, J. Paul Getty Museum, Los Angeles, discussed the exhibition, Power and Pathos: Bronze Sculpture of the Hellenistic World, on view at the Getty Center this fall. (Fall 2015)
 

2014
Dr. Lauren Kilroy-Ewbank, Assistant Professor of Latin American Art, City College of New York, Brooklyn (Spring 2014)
Ellen C. Caldwell, Arts Writer for New American Paintings and JSTOR Daily, "From Bali to Cali: Writing on Contemporary Balinese Art" (Spring 2014)
 

2013
Dr. Julie Romain, Assistant Curator of South and Southeast Asian Art, Los Angeles County Museum of Art, "Hindu Temple Art and Architecture: An In-depth Look at a Medieval Indian Royal City" (Fall 2013)
J. Patrice Marandel, The Robert H. Ahmanson Chief Curator of European Art, Los Angeles County Museum of Art, "Caravaggio and His Legacy: from Conception, through Realization, to Reception" (Fall 2013)
Dr. Meredith Martin, Associate Professor of Eighteenth and Nineteenth-Century European Art, New York University, "History Repeats Itself in Jean-Léon Gérôme's Reception of the Siamese Ambassadors at Fontainebleau" (Fall 2013)
Dr. Amanda Herring, Assistant Professor of Classical Art, Loyola Marymount University (Fall 2013)
Catlin Moore and Matthew Gardocki, Mark Moore Gallery, Culver City, "A Conversation on Contemporary Art with Catlin Moore and Matthew Gardocki" (Fall 2013)
 

2012
Dr. Bruce Robertson, Professor of Art History, UC Santa Barbara, "Georgia O'Keeffe and Nature" (Spring 2012)
Dr. Kim Richter, Research Specialist to the Director, Getty Research Institute, "The Ancient Huastec; or, the Northern Children of the Plumed Serpent" (Spring 2012)
 

2011
Dr. Nancy Um, Professor of Art History, SUNY Binghamton, "The Legacy of Ottoman Architecture in Yemen: Strategies of Monumentality and Invisibility at the Southern Edge of the Empire" (Fall 2011)
Dr. Melody Rod-ari, Assistant Curator South and Southeast Asian Art, Norton Simon Museum, "Origins of the Emerald Buddha and the Legitimation of the Chakravartin" (Fall 2011)
Bryan Keene, J. Paul Getty Museum, "Agony in the Garden: Locating Christ's Prayer in Italian Renaissance Painting" (Spring 2011)
 

2010
Dr. Nicholas Hudson, Assistant Professor of Art, UNC Wilmington, "Eat, Drink, and Be Roman: The Changing Identity of Dining in the Roman World" (Fall 2010)
Dr. Victoria Lyall, Assistant Curator, Art of the Ancient Americas, Los Angeles County Museum of Art, "Olmec: Rediscovering Mexico's Earliest Civilization" (Fall 2010)
Dr. Lauren Grace Kilroy, "Art and Censorship in Colonial Mexico: The Case of the Sacred Heart" (Spring 2010)
 

2009
Dr. Robert Englund, Professor of Assyriology and Sumerology, UCLA, "Tracking and Capturing Ancient Cuneiform Texts: Digital Capture and Permanent Electronic Archiving of Shared World Cultural Heritage" (Fall 2009)
Hyonjeong Kim Han, Associate Curator Chinese and Korean Art, Los Angeles County Museum of Art, "Women, Politics and Art in the Joseon Dynasty" (Fall 2009)
Simon Toparovsky, Artist, Our Lady of the Angels Cathedral Crucifix, "Portraying Jesus" (Spring 2009)
Dr. Kate Mondloch, Professor, University of Oregon, "Screen Subjects: Thinking Through Screen-Reliant Installation Art" (Spring 2009)
 

2008
Dr. Michael Fuller, Professor of Anthropology, St. Louis Community College at Meramec, "Sacred Symbols and Martyrs at Tell Tuneinir, Syria"
Dr. Donald Preziosi, Emeritus Professor of Art History and Critical Theory, UCLA; History Faculty, University of Oxford, "Plato's Dilemma: Art, Religion, and Amnesia"
Dr. Maura K. Heyn, Assistant Professor of Classical Studies, UNC Greensboro, "Multifaceted Identities in Roman Syria: The Funerary Sculpture of Palmyra"
 

2007
Dr. Anne Woollett, Associate Curator, Department of Paintings, J. Paul Getty Museum, "A Nimble Hand: Rubens and His Working Method" (Fall 2007)
Dr. Marian Feldman, Associate Professor, Department of Near Eastern Studies, UC Berkeley, "Art as a Mediator of International Relations in the Eastern Mediterranean and Near East, 1400 – 1200 BCE" (Fall 2007)
Dr. Damon Willick, Assistant Professor of Art History, Loyola Marymount University, "In Search of the Miraculous: Rethinking Contemporary Art Through Spirituality" (Spring 2007)
Dr. Jan Bremmer, Professor of Science of Religion and Comparative Religious Studies, Rijksuniversiteit Groningen, Holland, "The Mysterious Eleusinian Mysteries" (Spring 2007)
Dr. Constance Glenn, Director Emeritus of the University Art Museum, California State University, Long Beach, in conversation with Dr. Michael Zakian, Director of the Frederick R. Weisman Museum of Art, "Jim Dine: Some Drawings Some Talk – Observations from Four Decades" (Spring 2007)
 

2006
Dr. Joan Aruz, Curator in Charge, Department of Ancient Near Eastern Art, Metropolitan Museum of Art, New York, "The Aegean or the Near East: Another Look at the 'Aigina Master of Animals'" (Fall 2006)
Dr. Linda Komaroff, Curator of Islamic Art, Department Head Ancient and Islamic Art, Los Angeles County Museum of Art, "Collecting and Exhibiting the Middle East in a Post-9/11 World" (Fall 2006)
Dr. Jessica Todd Smith, Virginia Steele Scott Curator of American Art, The Huntington Library, Art Collections, and Botanical Gardens, "Beyond the Hudson River: Landscape Paintings by Frederic Church" (Fall 2006)