Master of Fine Arts in Cinematic Media Production
The faculty has recommended the closing of the MA in Strategic Communication and the MFA in Cinematic Media Productions. The college will not be accepting applications for the 2017-2018 academic year while the university goes through the program closure process.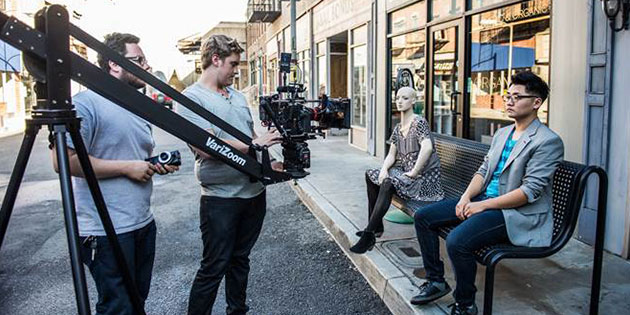 Small cohorts,
Access to media professionals,
A reputation for creative entrepreneurship, and
A short timeline to completion ––
this is the Pepperdine advantage.
The Master of Fine Arts (MFA) in Cinematic Media Production is a rigorous professional degree in cinematic storytelling. It is designed for producers, directors, cinematographers, editors, production designers, sound designers, and others creating products such as theatrical releases, documentaries, television, web series, and other forms of narrative cinematic media.
The program introduces small cohorts of 12-15 students to the access that comes from its ideal location in Malibu, surrounded by the media moguls who shaped the industry's past. These industry insiders educate our students to shape the industry's future. In association with the Institute for Entertainment, Media, and Culture, faculty mentors guide students to integrate personal values, ethics, and diversity in the creative and practical process.
Rooted in Pepperdine's commitment to purpose, service, and leadership, the mission of the program is to educate cinematic storytellers as cultural leaders in a diverse world. In addition to creative productivity, all students take a producing sequence focused on the business half of "show business." Regularly ranked among Forbes most entrepreneurial universities, our alumni are more than mere entertainers. They are creative entrepreneurs.
For specific questions about the MFA in Production, please contact Dr. Michael Smith.