Seaver College's Unique Course Offerings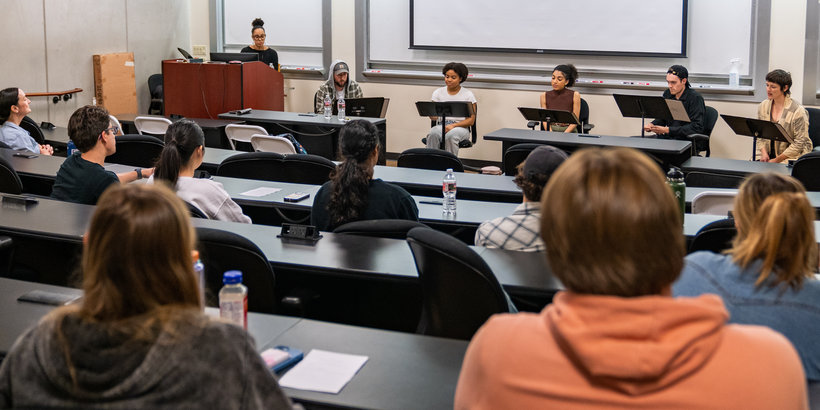 In the pursuit of higher education, it's easy to become tunnel-visioned on the courses directly related to your major. While mastering your chosen field is undoubtedly crucial, there's a world of knowledge waiting just beyond your academic comfort zone. Exploring courses outside your major can be a transformative experience, broadening your perspective, enhancing your skills, and providing you with a more enriching education overall.
Courses at Seaver College are designed to help ignite curiosity, foster innovation, and empower students to serve a life of purpose, service, and leadership. Explore some of our unique and compelling course offerings that may fall outside of your major's requirements.


First-Year Seminar
Incoming Seaver College students are required to take a first-year seminar course. A variety of seminar topics are offered; all are designed to introduce students to both the college experience and academic inquiry. Students are challenged to sharpen their critical-thinking and problem-solving skills, hone life-management skills, build learning communities, and enhance effective communication.
TikTok, Tech, and Teaching challenges students to look beyond the entertainment aspect of technology, and explore its educational power. At their core, social media videos serve to teach viewers something; whether it be how to prepare a recipe or about a true-crime case or current events. In this seminar course, students examine the relationship between teaching, learning, and technology through social media such as Instagram, TikTok, and YouTube.
Civil Rights Soundtrack: Jazz and the Debates of the 1960s explores how mid-20th-century jazz functioned as an important soundtrack for the civil rights movement. Students learn how jazz provided Black Americans a way to express their critique of American social structures and history in the pursuit of transformation.
Hard-hitting Songs for Hard-Hit People studies the political power of song from the civil rights movement through the current gun violence epidemic in the United States. Through the work of the Freedom Singers, Bruce Springsteen, John Legend, and Childish Gambino, to name a few, the course explores the social power of song and our own abilities to incite activism and engagement through art.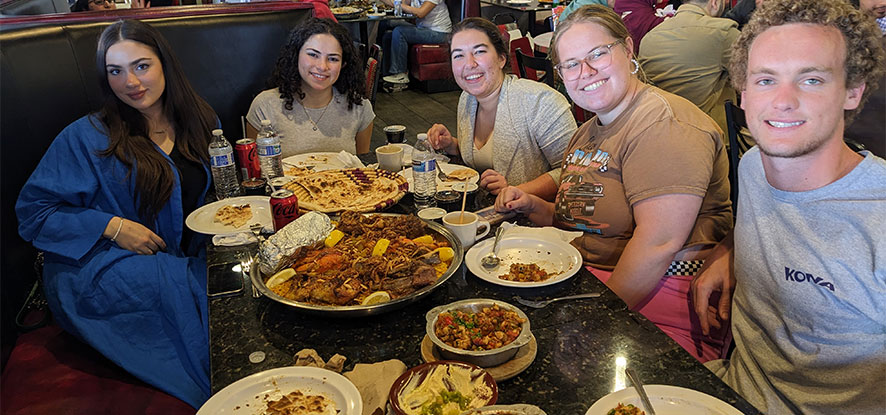 Languages
Studying a foreign language in college has many advantages. It provides students with a unique opportunity to broaden their horizons by immersing themselves in the cultures, histories, and nuances of diverse societies. Language courses foster cross-cultural understanding, enabling students to communicate with people from different backgrounds.
Seaver College offers a variety of language courses that fulfill the general education language requirements, including Arabic, Chinese, French, German, New Testament Greek, Biblical Hebrew, Italian, Japanese, and Spanish.
To help students better understand not only the language they are studying but also the culture that employs it, courses often include opportunities outside of the classroom. Students taking a second semester of Arabic, for example, participate in a day dedicated to visiting Middle Eastern restaurants, bookstores, dessert shops, and mosques.
The engaging style of learning helps the material stay with students long after the course is done. Former Arabic student Chloe Sousa reflects "I was able to broaden my horizons in ways I didn't think were possible in a language course; taking Arabic challenged my abilities to grasp concepts completely alien to the English language. It was easy to stay engaged with the material with the smaller class size and an interactive teaching style."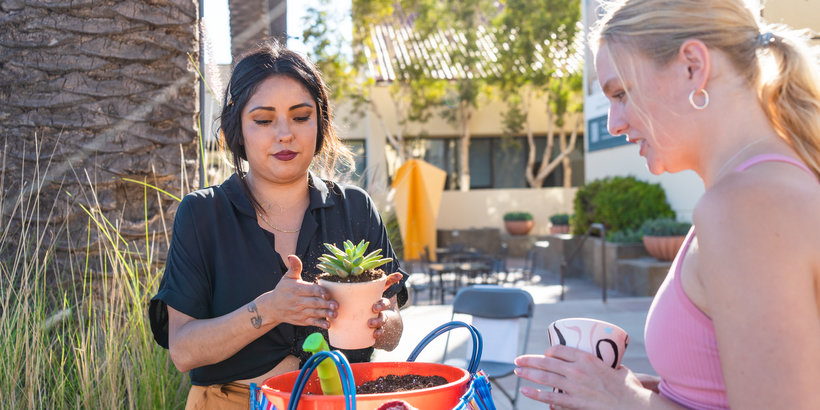 Topical Issues
At its core, sustainability focuses on envisioning a world where human activities and systems coexist in balance, preserving the planet's resources, and ensuring a high quality of life. Sustainability courses at Seaver College can be taken in pursuit of a major or minor degree as well as independently.
The sustainability course curricula addresses scientific, policy, ethical, and communication challenges associated with food security, energy production, climate change, population growth, production and consumption, economic growth, human security and health, and access to clean water at local, national, and global levels.
Social action and justice generally concerns issues pertaining to human rights, wealth and poverty, the environment, the interplay of religion and culture, and the role of media in shaping social movements. The Social Action and Justice Colloquium at Seaver College is a four-course interdisciplinary sequence that examines each of the aforementioned.
During the first three semesters of the colloquium, students engage in service-learning activities that correspond to the issues they are studying and provide opportunities for them to be active in their community. In addition, and based on their interests, students read, discuss, research, and write papers about primary texts related to social justice issues.
While the courses you take in your major field will provide you with a strong foundation, consider supplementing them with courses that push you outside of its boundaries. Explore unique course offerings to be challenged, cultivate a diverse skill set, and ignite your intellectual curiosity. For additional course offerings, explore Seaver College's academic catalog.