Studying in Los Angeles
Because I grew up in Los Angeles, I've always been aware of Pepperdine University. As it is less than an hour from Downtown L.A., my family was excited (not to mention proud), to learn that I would begin my career in higher education at Pepperdine. My mom told all of her friends and sometimes even strangers how happy she was. Phone, text, Facebook, you name it, anyone that could hear the message definitely heard about it . . . yeah, she's one of those moms.
I currently serve as an admission counselor and co-chair of the diversity and access committee for the Office of Admission. I have the privilege to help students and families across the country with the application process. While I enjoy working with all of my potential students and families, I feel particularly proud to have the opportunity to serve students from our local L.A. area. Los Angeles is home to me, and I'm excited to share some of the benefits that come from attending a university that is so closely tied to the City of Angels.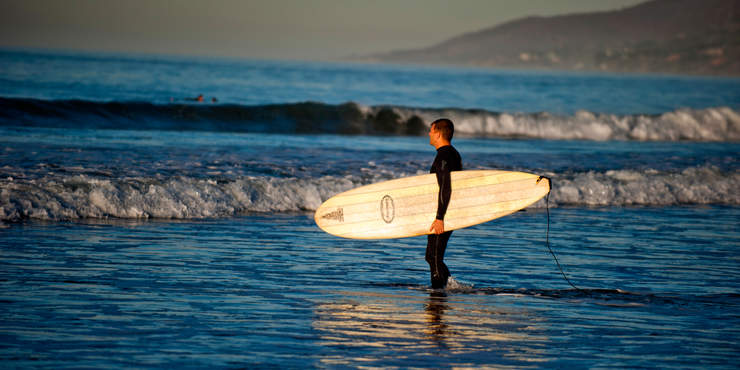 Things to Do in Los Angeles
Prospective college students often ask "Where's the school located? What is there to do outside of campus?" I love these questions and I get excited talking about Pepperdine's location and how it impacts the college experience for students on campus. Pepperdine University is in the city of Malibu and is home to some of the best views this state can offer. With the Santa Monica mountains as your backyard and the Pacific Ocean as your front yard, it's pretty safe to say you have your pick of fun excursions.
The Pepperdine experience doesn't stop in Malibu, though. Take a drive down Pacific Coast Highway to explore the rich tapestry of food and cultures that L.A. has to offer. Some of my best memories include going to Sunset Beach with friends and playing until the sun went down, spending time by the bonfire, attending LAFC soccer games with family, marveling at the beautiful Los Angeles skyline while driving home, and exploring different restaurants with friends. These are just a few of my experiences, but you can create many of your own while attending Pepperdine with other students. Whether it's exploring the stars in the sky at Griffith Observatory, going to Echo Park to support the Dodgers, or grabbing a bite at the Grand Central Market, which always reflects the diverse cuisines of Los Angeles, you'll always encounter new things to do.
Working in Los Angeles
The city of Los Angeles is globally recognized as one of the biggest business centers in the world. Not letting its close proximity go to waste, Pepperdine has created lots of local opportunities for its students. For example, Pepperdine has an exclusive partnership with AEG that resulted in a brand new classroom in the STAPLES Center where students can learn from some of the leaders in sports and entertainment.
Upon graduation, Pepperdine students are offered employment at world-renowned companies like Disney, Morgan Stanley, and Northrop Grumman, which all have offices in Los Angeles. Los Angeles creates an environment of opportunity, growth, and success, and Pepperdine does a wonderful job tapping into these resources so its students can succeed after they graduate. The University continually finds ways to create connections with different companies in L.A. and across the country, so students can use the passions and skills they've cultivated at Pepperdine.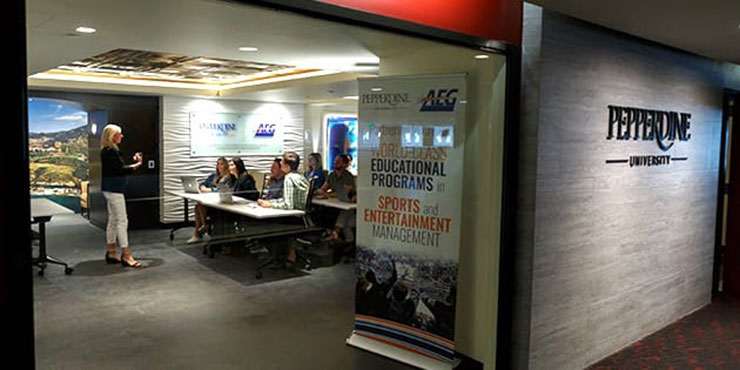 Celebrating L.A.'s Diversity
Just as L.A. welcomes all to bring their cultures and experiences, the Pepperdine community does the same by accepting students from all walks of life on campus. Pepperdine students, faculty, and staff embrace each individual that walks through its doors and helps them become the best version of themselves.
One of my personal goals has always been to help students along their higher education journey because I know how impactful my own was. Both of my parents were immigrants who worked hard so that my sister and I could have our choice of opportunities. Thirty years later, she and I are the first in our family to be college graduates, and I currently work at one of the best universities in the country. Working at an institution like Pepperdine University, that fosters an atmosphere of academic, social, professional, and spiritual growth, is important to me. And to do this in a city that I call home makes it even more gratifying.