Preparing for a Life of Purpose, Service, and Leadership
Recent alumna Morgan Bedford ('19) was no stranger to getting involved around campus, but as she reflected on the activities that were most fruitful for her professionally, she could not forget her time participating in and leading Pepperdine's Model United Nations (Model UN) team.
Getting Involved On Campus
Bedford first participated in Model UN as a first-year student; it was then that she traveled to her first National Model United Nations Conference (NMUN) in New York City. For her sophomore year, she studied abroad in Lausanne, Switzerland where her passion for international relations grew. Upon returning to the Malibu campus her junior year, she received valuable mentoring from the team's executive board and was ultimately encouraged to step into the role of president her senior year.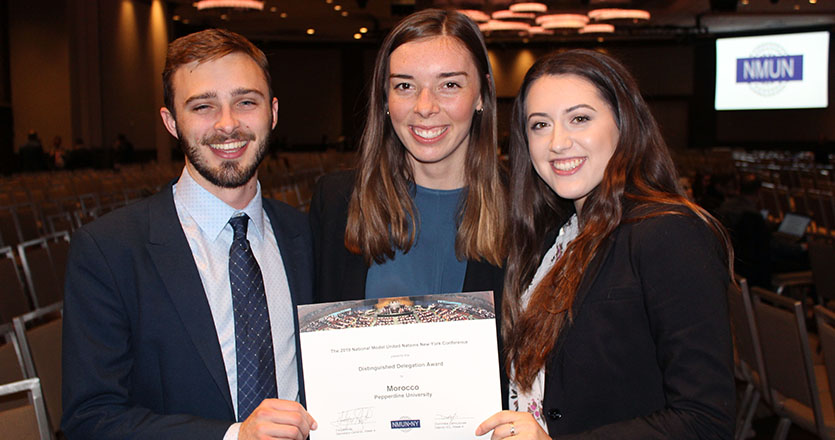 Succeeding Internationally
With a vibrant executive board including fellow alumni Steve Kerr ('19) and Amy Roth ('19), Bedford was determined to grow Model UN in ways Pepperdine had never seen. The team—described by Bedford as so "energetic, innovative, daring, and committed," would spend on average two hours every week developing key skills related to public speaking, research, negotiation, and diplomacy. Kerr and Roth felt the diverse Model UN community at Pepperdine cultivated tolerance in each of the participants and empowered them with the confidence to share their perspectives in broader platforms.
After Roth developed a budget and Bedford received approval for participation in their first-ever international NMUN Conference, the team traveled to Xi'an, China, in fall 2018. The trip marked an independent and student-run accomplishment for Pepperdine's Model UN. In spring 2019 their contingent to NMUN in New York City consisted of twenty-six members and was the largest group Pepperdine's Model UN had taken to an NMUN conference. The exemplary team was recognized as a Distinguished Delegation, an award given to less than ten percent of participating colleges and universities. Additionally, four members—alumna Brianna Beiler ('19); and current students Valentina Crespo, Caroline Sisson, and Jessie B. Bolton—won Outstanding Position Paper awards for written positions they prepared before the conference.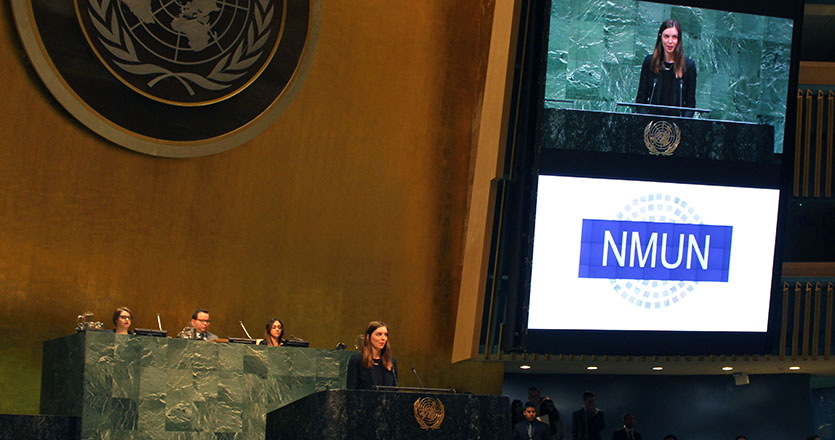 Preparing for Service
Now, halfway through her internship with the Foreign Disaster Assistance office of the United States Agency for International Development (USAID), Bedford realizes that the opportunity to speak in front of the United Nations General Assembly room was not the only way in which she benefited from her Pepperdine experience. Model UN provided a space to apply her knowledge base and concepts from her coursework. After having earned her bachelor's degree in international studies and a concentration in political science, Bedford will pursue a master's in public policy from the University of Virginia. She hopes to eventually live and work overseas for a life of service.
Bedford "encourage[s] the Pepperdine community to continue engaging with foreign relations" through the Model UN programs. With the budget for an international conference already developed, Pepperdine's Model UN team will be traveling to Erfurt, Germany, in November 2019. If you are interested in supporting or getting involved with Model UN, you may contact them at peppmodelun@gmail.com or find them on their Instagram or Facebook.