Pepperdine Portrait Series: A Conversation with Christine Deng
The Genesis Lab is a digital makerspace for Pepperdine students, faculty, and staff. Virtual reality gear and 3D printers are available to the Pepperdine community, inviting creative minds to use the tools in this innovative space. Seaver College senior Christine Deng reflects on her involvement in the lab, and how she helps students transform their ideas into reality.
Why did you get involved with the Genesis Lab?
Being from the Bay Area, I grew up around technology, creation, and innovation. Prior to the opening of the Genesis Lab, I felt like there was something missing at Pepperdine. The campus felt like it was lacking a gathering space where people could innovatively create things freely in a supportive group.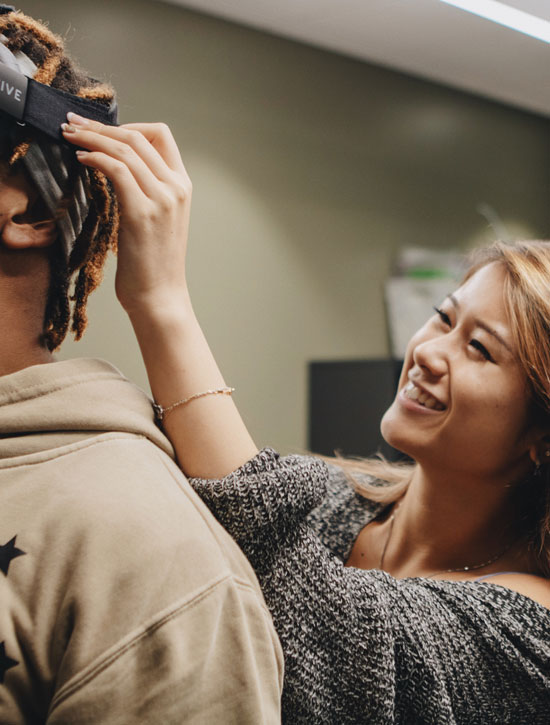 Following the completion of the library renovation last year, I walked inside Payson Library, saw 3D printers, and thought, "No way, I can't believe Pepperdine finally has all this." As I entered the lab, I was flabbergasted by what I saw. I met Landon, my current supervisor, and was told that the lab was hiring student workers. I immediately knew I needed to work in this makerspace that would surround me with people to push me to create new things.
Do you have any past experience working with technology like this?
Over the summer, I worked at a company called Autodesk. They make 3D printers like those in the Genesis Lab. At Autodesk, I learned to love being a part of the engineering community and the idea of creating, and I've found that same feeling in the Genesis Lab.
What do you like about working in the lab?
I come to the Genesis Lab to go to work but at the same time, my friends are here, I do my homework here, I come here to get creative projects done, and it has quickly become my safe space. Working at the Genesis Lab allows me the opportunity to hone my creativity.
Seeing the faces of people walk by really shocked and curious––that's what motivates me to continue making this place thrive. There are a lot of creative people on this campus that want to be inspired but didn't have the tools or the community to dive into. Now they do.
What can people find at the Genesis Lab?
The Genesis Lab is entirely free and available for students. If you have any kind of project or idea that you want to make happen, from virtual reality to 3D printing, come talk to someone in the lab, and we'll help you formulate it. Whether it's woodshop, art, adobe illustrator, or something else entirely, there are talented and skilled workers in the lab that can help you create anything you can imagine.