Affording College: Exploring Your Options
While the knowledge you gain from attending college is priceless, the actual education isn't. From tuition, to room and board, to books, and everything in between, attending college can create a significant dent in your bank account.
The good news? An abundance of financial aid options are available to help cover the cost of your schooling.Resources like scholarships, grants, work-study programs, and student loans each help make your dream of attending college more possible.
Scholarships and Grants
People often go to extreme measures in the hopes of receiving something free. From waiting in long lines, to dressing ridiculously, to performing an embarrassing act, the satisfying feeling of receiving something free is powerful. Luckily, with the help of scholarships and grants, you can receive free money for college without having to do anything embarrassing.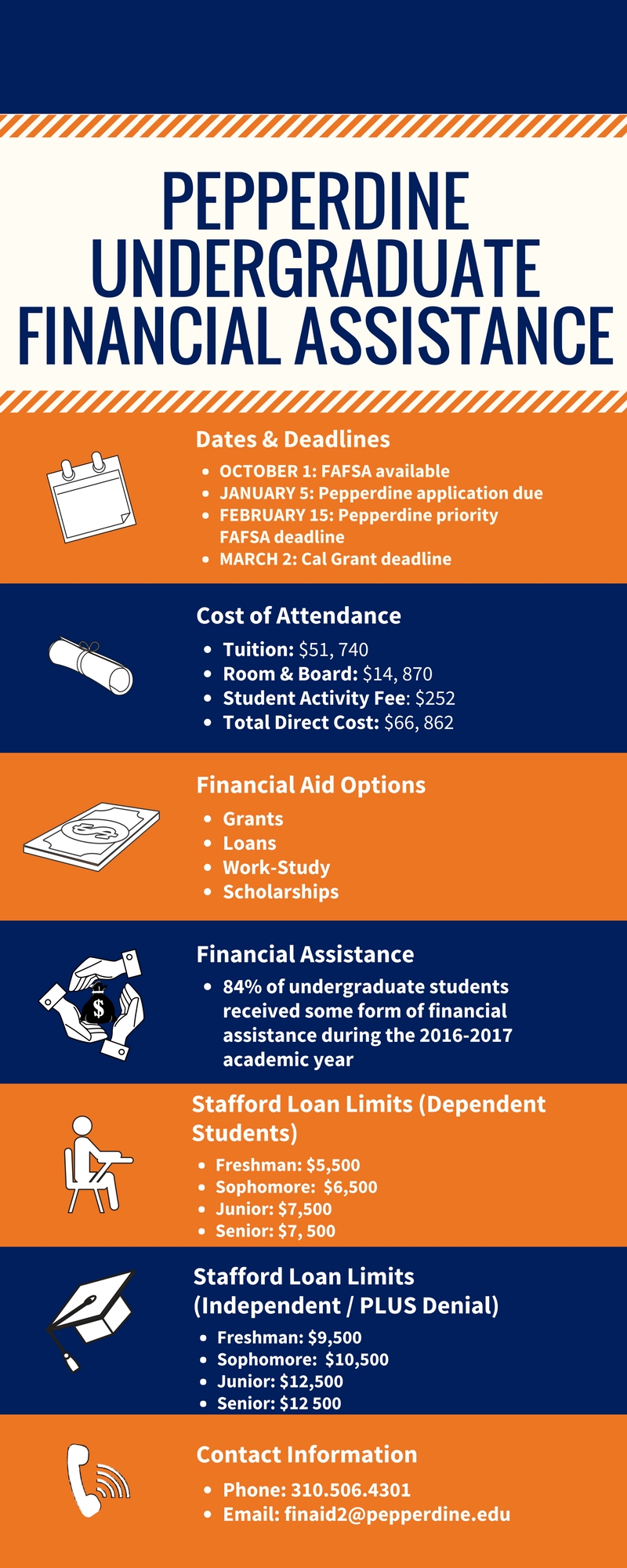 The amount of scholarships available to incoming undergraduate students is impressive. A simple Google search of "college scholarships" produces over 2 million results. To help narrow down your list, Pepperdine has compiled a list of university and private scholarships and outside scholarship opportunities.
As you read through the list of available scholarships, you'll want to pay careful attention to the application requirements. Scholarships are generally awarded based on merit with some requiring a minimum gpa and others referencing a particular interest or activity.
Grants, conversely, are generally need-based. Federal and state grant consideration is determined off of your FAFSA. Additionally, they are generally awarded on a first-come, first-serve basis. The application season for FAFSA opened October 1 so if you haven't yet completed it, be sure to submit your application soon.
Work-Study and Student Loans
Depending on your university's tuition costs, awarded scholarships and grants might not be enough to cover the total cost. But that doesn't mean college is out of the question; you just have to look into additional options.
Work-study programs are a great place to start. Your eligibility for federal work-study will be based off your FAFSA. The priority FAFSA deadline for Pepperdine is February 15, so be sure to submit it soon.
While students who qualify for the federal work-study program are not guaranteed employment on campus, all students, regardless of their financial awards, are encouraged to apply for positions in which they qualify. Students in the work-study program can also apply for off-campus positions with a community partner of the University. Community partners include America Reads, The Boys and Girls Club of Malibu, and others.
Beyond the work-study program, loans represent another option to help cover the remaining balance on your college expenses. Federal and private loans are options you will have no matter what university you choose. Should you decide to become a fellow Wave, though, you will also be able to apply for institutional loans provided by the University. Federal loans offer a competitive fixed interest rate, which is why universities recommend that you exhaust your federal loan eligibility prior to taking out a personal loan.
When you apply for financial aid, you will be in good company. In fact, in the 2016-2017 academic year, 84 percent of Seaver College undergraduate students received some form of financial aid. So, submit your FAFSA and start researching scholarships and grants you qualify for. With a little work, affording the college of your dreams, including Pepperdine, can be your reality.