Sustainability Alumni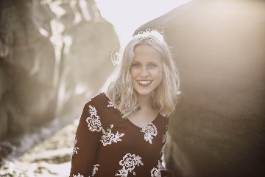 Chloe Fagin ('21)
"The sustainability program at Pepperdine not only broadened my ways of thinking about the overlap of both environmental and human topics, but it also helped me hone in on my passions and learn to be attentive to detail in the world around us. I learned how to better become a part of something greater than myself by studying sustainability at Pepperdine through learning about the food we eat, how our human habits affect other plants, people, and animals around the globe, and about phenomenons that happen in both our backyards and across the globe. After conducting research on climate change migration under Dr. Chris Doran, I found my niche in sustainability studying the impacts of climate change on mental health in our ever-changing world. I am passionate about helping people grow and flourish their mental health and believe everyone has the ability to heal and thrive when given the right tools and support, despite circumstances and difficulties that will inevitably arise."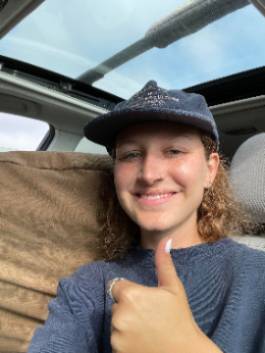 Lexi Scanlon ('21)
"The sustainability program has created an environment for me to engage with the multifaceted and intersectional nature of climate change. A big part of my love for this program is the people who invest their intellect, creativity, and passion to have challenging conversations and question the systemic issues that have shaped the climate crisis. I found an excitement for the way that sociology intersects with sustainability — whether that is the way that we design the cities that people live in or how we choose to communicate the intricacies of environmentalism. The minor gave me the opportunity to work on a sustainable farm, bring a unique perspective to my other courses, and prioritize the pursuit of equity and environmental justice within activism."
Lexi will begin an MA in Climate and Society at Columbia University in New York in Fall 2021.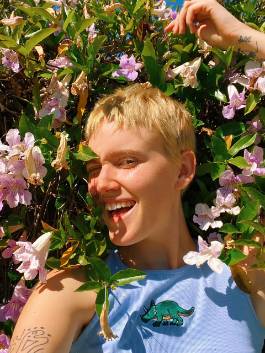 Ella Erwin ('21)
"The sustainability program gave me a reason to continuing studying at Pepperdine. The individuals earning this minor are innovative, inclusionary, and above all asking the questions that not many other students even consider in their coursework. This minor motivated me to question the systems we have in place that work counter to the planet's prosperity and seek solutions that are to the benefit of all humans and nonhuman creatures alike. There is an unapologetic honesty in the discussions had in our sustainability courses because to not tackle the questions many are fearful to ask would uphold the oppressive structures that thrive off such dismissal. This minor not only set me up to thrive in an environmentally focused career, it empowered me to live motivated by the justice all deserve."
Ella will begin an MS in Design and Urban Ecologies at The New School in New York in Fall 2021.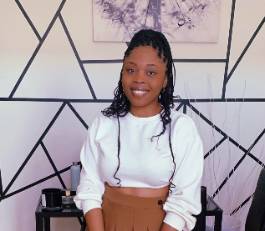 Amani McCalleb ('21)
"From learning about environmental racism to climate migrants, the sustainability program allowed me to learn about an issue that is troubling nearly every being on the planet. My absolute favorite component of the program is, by far, the welcoming discussion-based courses. Having such open and honest dialogue amongst my peers really allowed me to learn about the environment through others while being able to ask and answer tough questions."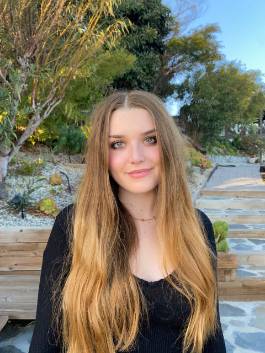 Tara Larkin ('21)
"Pepperdine's Sustainability Program is valuable because it takes an interdisciplinary approach in order to give students the necessary theoretical and practical skills to thoughtfully identify and solve environmental challenges. My interest in the Sustainability Program began when I attended the Climate Calling lecture during my freshman year, which showed how climate solutions can be implemented in our local and global communities. The program gave me the opportunity to pursue academic studies in an area that is important to me and many students at Pepperdine. I particularly enjoyed learning from the insights of the program's graduates who have translated their sustainability education into creative and meaningful actions that are making a difference in the world today. I am inspired by their successes and look forward to making my own contributions."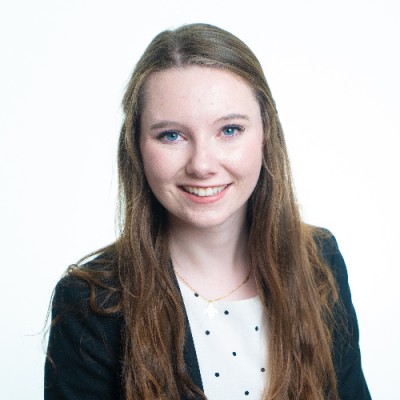 Erin Stratton ('21)
"The sustainability minor at Pepperdine was one of my favorite parts of studying at Pepperdine. I was able to travel to New Zealand with Dr. Doran and other students during the program's first summer, and the experience was life-changing. I loved learning about the local environment from Kaikoura locals and then being able to attend church alongside them at a tiny chapel each Sunday. To this day I tell anyone who will listen about my obsession with Queenstown! I also loved having the opportunity to spend a long weekend at Baylor learning from sustainability students and experts from around the country. For me, the most valuable part of the sustainability minor was its firm foundation in the religion department. As a religion major, it was so important for me to be able to integrate my two passions and understand how they work together. As I move forward and start my master's degree at Duke Divinity, I feel empowered to call upon and educate church leaders and congregants about sustainability and its powerful relationship with the gospel!"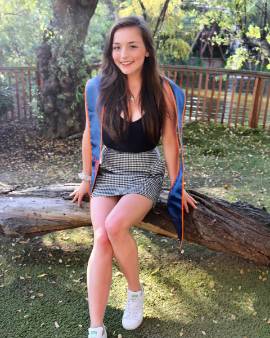 Kayley Butler ('20)
"The Sustainability program at Pepperdine allowed me to explore the nexus of my passion for the environment and vocation to help others. Experiences like living in Kaikoura, New Zealand, attending an environmental conference, and taking courses from a variety of disciplines helped to expand and enrich my understanding of our place and role in the world. Through courses like Environmental Literature, I was exposed to the beauty in the possibility of living in harmony with nature, even in urban places like Los Angeles. I cultivated a deeper appreciation for the environment and how to live responsibly in my time at Pepperdine thanks to this program. The Sustainability program bridged the gap between my love for the environment and my proclivity for the sciences, offering me the tools to pursue my education further through a doctoral program in a field that merged the two, Environmental Engineering, focusing on urban settings. I owe this success to the program and professors who gave me the knowledge and confidence to move forward with a holistic and interdisciplinary view of the environment as well as a strong dedication to making a difference."
Kayley will begin a Ph.D. program at USC in Environmental Engineering in fall 2020. She will primarily be studying interactions between climate, land cover, and air pollution in order to mitigate the effects of climate change on urban areas with increasing populations.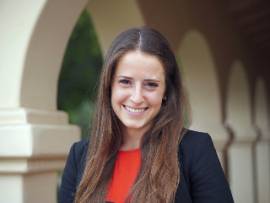 Grace Palmer ('20)
"Participating in the Sustainability program has been a highlight of my time at Pepperdine, as it has changed my outlook on the world for the better and has left me with dear friendships with other passionate activists. The program has afforded me with incredible opportunities to study in Kaikoura, New Zealand and have been greatly supported in my efforts with Food Recovery Network. I especially loved the diversity of courses in the program, connecting sustainability to communication, politics and policy, ecology, Christianity, philosophy, and history. Few other programs offer such a holistic approach to a subject and fewer still offer a distinctly Christian perspective on climate change. I look forward to applying what I've learned to my career in sustainable healthcare and to growing as a more environmentally responsible citizen. " Since the summer of 2020, Grace has been working with Ethos Primary Care- an organization that seeks to improve agricultural practices to enhance both the health of those with chronic illness through whole foods diets and the health of the environment through sustainable farming.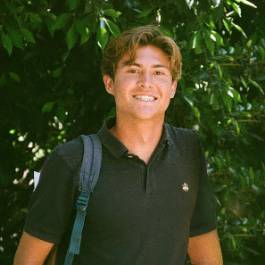 Joshua Ortega ('20)
"Pepperdine's Sustainability Program made my undergraduate experience extremely enjoyable and added lots of value to my education. I joined the sustainability program at the beginning of my junior year. After joining, I felt a renewed passion for my studies. My readings were engrossing, my essays felt relevant, and I became increasingly excited to apply my learning in the real world. Adding the sustainability minor not only made my schooling more interesting, but it also made it more valuable as well. I believe the interdisciplinary nature of my degree–one that combines the practicality of economics with the pertinence of sustainability–sets me apart from other graduates in my field, and will, therefore, serve me immensely in my future endeavors."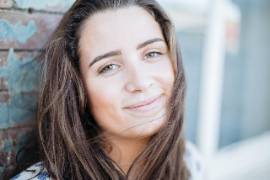 Lizzy LeBleu ('20)
"Sustainability is a broad subject and thus requires students to analyze and understand it from all angles. I found incredible value in Pepperdine's Sustainability Program and the way it was designed to approach the idea of sustainability scientifically, socially, theologically, and philosophically. Nowhere else have I found such a breadth of courses offered. I am confident that the depth of knowledge I now have about sustainability will reach far beyond my time at Pepperdine, where I was fortunate to participate in and lead the Green Team, community garden, and more. I know that a sustainable existence means far more to me than taking out the recycling or understanding the ecosystem. Thanks to Pepperdine, it is vitally important to me as a Christian and a soon-to-be professional that I lead a life of environmental consciousness and make informed decisions, as I know the economic, social, and moral impacts it has on society."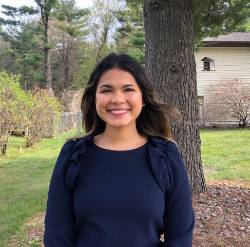 Channa Steinmetz ('20)
"The real value I took from Pepperdine's Sustainability program was in the relationships formed with students and faculty outside my major. This minor attracts students from various studies — journalism, economics, biology, etc — and allows us to come together to pursue a common passion while also sharing personal perspectives. As a journalism student, I was able to take my love for communicating and combine that with the knowledge gained from the Sustainability program and its other students, which resulted in publishing articles surrounding Pepperdine's environmental efforts and areas for growth. I will also cherish the opportunity to travel to Kaikoura, New Zealand with the Sustainability program, where we studied religion, food justice, and human rights — all through a sustainable lens. For anyone who is looking to learn more about our ecosystems and everyday decisions, I highly recommend joining this program!"

Spencer Gorman ('20)
"The Sustainability Minor provides a unique opportunity for undergraduate students to pursue their passion for sustainability. Though the program I was given the chance to travel to Kaikoura, New Zealand where I learned a different perspective on consumption and environmental care, to present research on climate migration to leaders in the field on Baylor's Symposium on Faith & Culture, and to participate in Pepperdine's own Climate Calling event. These experiences connected me with a like-minded community of peers who are all eager to work toward contemporary solutions to climate change. The minor focuses on facilitating dialogue and collaboration between students and professors from a range of academic backgrounds and offers many different lenses through which to view the "wicked" problem of climate change. Importantly, the program provoked a meaningful change in my personal life as I grew to understand how my day-to-day decisions regarding what to eat and how to travel are causing injustice and violence around the planet. Over the summer I worked as an ESG Analyst for an asset management company and hope to continue my career in finance with a Masters in Sustainability Management."
Spencer will be attending Tufts University in Fall 2020 to earn a joint MS degree in Environmental Economics and Urban Planning, as he will learn to help cities address complex environmental and climate change problems.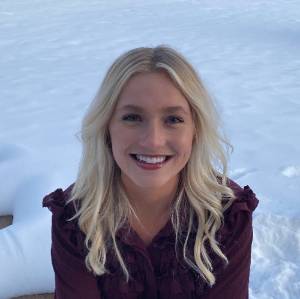 Petra Sikorski ('20)
"Pepperdine's Sustainability program is unique because it takes an interdisciplinary approach to an area of study that is traditionally science-based at other universities. This is a strong sustainability program for a student to pursue because it begins with the "why," which is what compels individuals, corporations and governments to make meaningful change. The skills I honed in this program are invaluable: argumentation, ethical leadership, analytical problem solving, and strong written communication. Not only are these transferable skills to other disciplines upon graduation, but together, they create the story of sustainability. The Green Industry is rapidly growing and will only become more integral as the global community addresses climate change. During my studies, I became focused on Sustainable Food Systems and am now working at a tech start-up that is changing the way food is produced through data insights."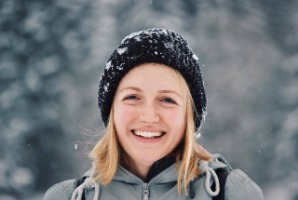 Natalie Freeman ('19)
"The Sustainability Minor has been monumentally important in my development into a thoughtful global citizen, successful young professional, and passionate follower of Christ. Each course built into the interdisciplinary curriculum provided a unique lens to look at the complex issues tied up in climate change. My professors patiently walked me through the academic challenges and triumphs of large-scale environmental politics, economics, and communication. The Minor also contributed to my transformation into a Christian that understands how choosing sustainability in day-to-day decisions brings justice to the Earth and all creatures on it. My participation in the Sustainability Minor plugged me into a vibrant community of students and staff who were passionate about environmental issues and eager to collaborate on Pepperdine-specific solutions. This network allowed me to develop powerful leadership skills and practice creative problem-solving, both of which are critically important in my career in the renewable energy sector. Of all of my time at Pepperdine, the Sustainability Minor has played one of the most important roles in my liberal arts education, preparation for the working world, and spiritual transformation."
In fall 2020, Natalie will begin the M.S. in Environmental Management at Columbia's School of Professional Studies. As she makes her way through the interdisciplinary coursework, she will concentrate on value creation through long-run sustainability strategies for apparel companies.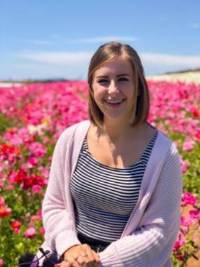 Elise Froebe ('19)
"I am so grateful for the Sustainability minor at Pepperdine. I discovered my interest for environmental sustainability part of the way through my time at Pepperdine. Thanks to the Sustainability program, I was able to nurture my interest in sustainability into a strong passion for the environment and a desire to pursue intentional care for God's creation. Through the process, I felt supported and encouraged by my professors in each class I took. Also, I was able to incorporate the things I was learning into the club Food Recovery Network. Taking what I was learning in class and putting it into action through Food Recovery Network gave me a well rounded and enriching experience where I was able to actively promote change within the Pepperdine community. I am hoping to incorporate all I have learned through this program into my future career endeavors."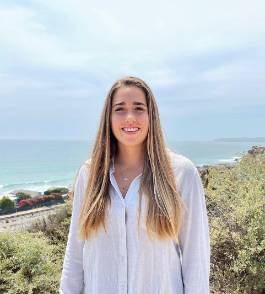 Brinna Lee ('19)
"The Sustainability minor was one of the most instrumental aspects of my time at Pepperdine. As a biology major, with no interest in practicing medicine, the sustainability program offered a well-rounded minor to aid in my career development. The interdisciplinary nature of the Sustainability minor emphasizes the increasing need for cooperation and community in order to achieve a more sustainable future. Not only do the required courses broaden intellectual understanding of sustainability, but they also attract students from very different backgrounds. Diverse coursework and student relationships furthered my ability to communicate with different groups of people. Effective communication is an incredibly important skill for the advancement of sustainability. Additionally, the people I met through this program are some of the most passionate individuals I have ever known. Their desire to strive for a better future continues to inspire me. I am incredibly thankful to all the students, faculty, and especially Dr. Doran for encouraging me to work towards a career in habitat restoration where I can fully live out the sustainable practices I learned in this program."
Brinna is currently a Habitat Restoration Specialist for Glen Lukos Associates.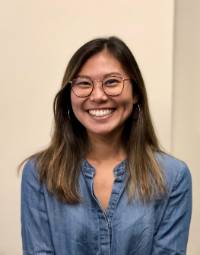 Emily Tanaka ('18)
"The Sustainability minor is a versatile degree that is increasingly relevant to contemporary issues around the world. Sustainability is a global topic that continues to show promising opportunity for our generation. The sustainability minor at Pepperdine honed many of my reading, writing, and analytical skills through the challenging interdisciplinary classes ranging from communications to natural science. I feel confident in my knowledge of the environment, contemporary sustainability, and my own academic abilities. However, the greatest attribute of the sustainability minor is the moral perspective it provides to all of its students. Pepperdine's sustainability minor holds students to a high moral standard. It is the passion of Dr. Doran and all of the professors involved in the minor that is truly inspiring and makes this degree so special."
Elise Doan ('18)
"The Sustainability Minor Program was an important aspect of my Pepperdine experience because of my interest in various environmental issues impacting local and global communities around the world. The interdisciplinary approach allowed me the opportunity to understand complex issues from multiple perspectives and world views. Additionally, Pepperdine's annual Climate Calling event allowed me to learn from highly credited and renowned sustainability thinkers such as Dr. Katherine Hayhoe, Dr. Sylvia Earle, and Paul Hawkin. Furthermore, my involvement with the on-campus environmental club, Green Team, has allowed me to share my sustainability knowledge and organize activities for change. Participating in the Sustainability Minor as a Business Administration Major has benefitted me greatly and has prepared me for my future endeavors as I look to incorporate Sustainability into my career."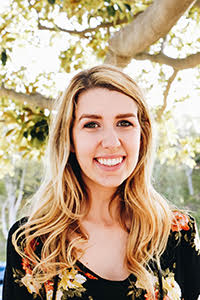 Lauren Young ('18)
"Participating in the Sustainability Minor was by far one of my favorite experiences at Pepperdine. I am truly honored to attend a Christian university where the importance of God's creation is emphasized, and where faculty members are passionate about educating future generations on these meaningful topics. Taking courses that encourage students to openly discuss climate-related issues, the responsibility we have to the earth as humans and as Christians, and ways we can create meaningful change in our daily lives has inspired me to use my voice to share these issues with the public. I hope to use the knowledge I have gained as a Sustainability Minor in combination with my Media Production Major to create informative and inspiring documentaries on the various environmental issues that our planet currently faces to educate the public and create a positive difference in this world."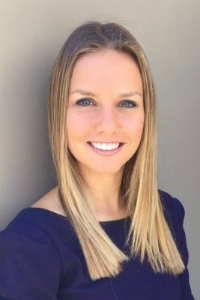 Amberly Gil ('17)
"The Sustainability Minor broadened my understanding of sustainability, providing me with the opportunity to consider the issues involved from a variety of disciplinary perspectives. As a result, I am more educated and passionate about a topic that is quickly becoming more urgent for businesses, governments, and both local and global communities. As the effects of climate change increase and the amount of non-renewable resources decrease, there is a need for more sustainable businesses and business practices. Adding this minor to my business-oriented major, helped me identify that need and enabled me to pursue, participate in, and advocate for sustainable business and a sustainable future."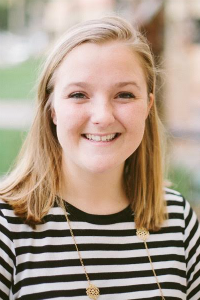 Elizabeth Teklits ('17)
"Participating in the Sustainability Minor has been an integral part of my Pepperdine experience. Engaging with students and faculty outside of my major provided me with a network of individuals with differing skills and backgrounds who are similarly interested in positive interaction with our planet. Additionally, the program expanded my knowledge and understanding of environmental issues, introducing me to various perspectives while developing my own. I appreciate the opportunity to dialogue openly about the ethical implications of our choices, and to apply the Christian faith to planetary responsibility and will take this foundation of knowledge with me far beyond graduation."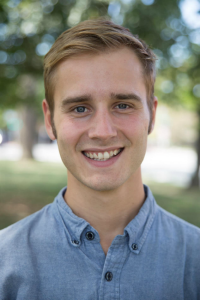 Avery Davis ('16)
"The Sustainability Minor was a program unlike anything else at Pepperdine. The dialogue-centered classes and seminars provided an interdisciplinary portrait of the social and environmental problems facing our world, and a holistic discussion about the ethics and future prospects for issues like climate change. These experiences were particularly enriched by the faith perspective of the classes, which allowed us to engage the subjects through a Christian ethical lens. This amazing program prepared me for the working world, where knowledge of sustainability is increasingly important, as well as the public world, where I can serve my community with skill and awareness about social, environmental, and economic issues."