Chemistry Major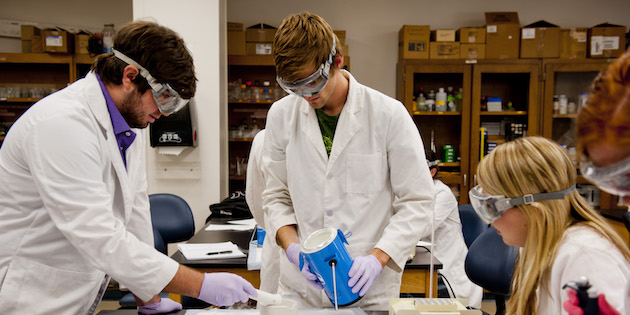 The chemistry degree at Pepperdine University is a rigorous program characterized by flexible degree options and small class sizes. As excellent students progress through the major, emphasis is placed on service to the Pepperdine chemistry community in the form of graders, tutors, and teaching assistants and the chemistry community at large through undergraduate research. We have an excellent array of instrumentation and students are introduced to modern instrumentation early in the program.
The Pepperdine University chemistry program is approved by the American Chemistry Society (ACS) and is one of less than 50 certified programs in the state of California. An ACS-approved degree plan offers a broadly based and rigorous intellectual training in chemistry that is nationally recognized. Students completing a baccalaureate degree that meets the ACS Guidelines will receive an "ACS-certified degree." The bachelor of science degree (both standard and biochemistry sequences) include the course work and experiences necessary to satisfy requirements for the ACS certified degree. For example, a student completing the Bachelor of Science degree with biochemistry sequence could say that he/she was awarded an "ACS-certified chemistry degree with a biochemistry emphasis."
Chemistry Degrees
Bachelor of Science or Bachelor of Arts with Standard Sequence or Biochemistry Sequence
Pepperdine University offers two degrees in chemistry: bachelor of science and bachelor of arts for which students can select either the standard sequence or a sequence with a biochemistry emphasis.
| | |
| --- | --- |
| Bachelor of science – standard sequence | Bachelor of arts – standard sequence |
| Bachelor of science – biochemistry sequence | Bachelor of arts – biochemistry sequence |
Any one of the four degree paths may be a good fit for students depending on their career goals and abilities.
Bachelor of science in chemistry: Students seeking this degree receive more in-depth exposure in chemistry, mathematics, and physics. This option is often selected by students seeking immediate entry into the chemistry workforce, individuals interested in graduate programs in chemistry or related fields, or those pursuing careers in the health professions. Many of the chemistry majors in this program actively participate in undergraduate research.
Bachelor of arts in chemistry: Students pursuing this degree (with either the standard or biochemistry sequence) are provided more flexibility as they seek their degree. Students seeking either a double major or admission to a health-related program are accommodated with this major program. The defining characteristic of the bachelor of arts compared to the bachelor of science sequences is the flexibility in the math and physics requirements.
Chemistry Minor
Pepperdine offers a chemistry minor for students seeking to bolster their physical sciences studies.
Meet the Faculty
Get to know the Seaver College chemistry faculty.