International Studies Major
The international studies major at Seaver College encourages students to learn about and consider pressing international, political, economic, and cultural questions. Core faculty members specialize in topics ranging from international institutions and global economic development to post-civil war election theory, comparative politics, visual culture, literature, and film of the Middle East and North Africa—among other regions. Some students have opportunities to participate with faculty members in their research and co-author and publish with them as well.
International Studies Degree
International Studies is a multidisciplinary program that merges language skills with substantive training in international political economy and intercultural studies with an opportunity to gain regional expertise. The major is designed for students who may enter fields such as diplomacy, government service, multinational organizations, NGOs, and international religious and humanitarian service.


International Studies Specializations
Regional Studies
This specialization draws on disciplines such as political science, history, geography, linguistics, literature and cultural studies. This specialization is designed to provide students with an opportunity to develop deep knowledge of a particular region: Asia, Latin America, Europe, or the Middle East and North Africa. Students will choose one region in which to specialize and work with their major advisor to develop a plan for specializing in a particular region.




Global Politics
This specialization is designed for students who are interested in the study of government and governing procedures, whether these "governments" are sovereign states, international organizations, multinational corporations, or sub-units of political systems. Students who complete this specialization will be prepared for further graduate study in international studies or entry-level positions in the public or private sectors, such as the State Department, Foreign Service, or non-governmental organizations. The program is particularly suited for students with an interest in issues of global justice.
For questions about our International Studies program, please contact professor George Carlsen, divisional dean of International Studies & Languages, professor of Hispanic studies.
What International Studies Division Grads Are Doing
69.8%
Employed Full-Time or Part-Time
16.3%
Admitted to Graduate School
6.9%
Full-Time Volunteer or Other Activity
7%
Seeking Employment or Grad School
Why Pepperdine
Pepperdine Seaver College is consistently recognized among the top-ranked universities in California and the United States. We are a Christian university where students grow in knowledge and character. As a liberal arts institution, we focus on providing rich opportunities for intellectual and spiritual exploration for students with a diverse community.
13:1 Student-to-Faculty Ratio
80% of Students Participate in an International Program
Our Program
Why International Studies?
Technological developments over the past century have allowed scarcely imagined advances in communication, transportation, and production. Economic interdependence, migration flows, urbanization, climate change, and pandemics have made the world a smaller place. These developments remind us that solutions to contemporary global challenges will require collaboration and cooperation across physical and cultural borders. However, social identities such as religion, nationality, ethnicity, and race, far from disappearing, remain influential in structuring political and economic life.
We live in a century where change has become a constant. In this volatile, diverse and interdependent world, a renewed understanding of ourselves as global citizens is critical for fostering political stability, promoting economic growth, pursuing social justice, and understanding the cultural perspectives of those with markedly different attitudes, assumptions, and goals. Students of international studies will leave the major with a keen grasp of the interrelated political, economic, and cultural forces that shape our world, equipping them to make positive change both locally and globally.
Our Mission
Seaver College offers a bachelor of arts degree in international studies, which is an interdisciplinary major that merges language skills with substantive training in international political economy and intercultural studies with an opportunity to gain regional expertise. Students further specialize in either Regional Studies or Global Politics.
The international studies major is designed for students who may enter such fields such as diplomacy, government service, multinational organizations, NGOs, and international religious and humanitarian service. It also provides a solid foundation for students wishing to pursue graduate degrees or engage in post-graduate experience and training in multicultural contexts.
The international studies program is overseen by the International Studies Council, which draws experts from across the various academic divisions at Seaver College. The primary aim of the international studies major is to:
Provide undergraduates with the technical skills and conceptual ability to understand, appreciate, and interact productively with communities outside American society
Demonstrate an understanding of the ethical implications of cross-cultural and global issues, including Christian perspectives
Prepare students for careers in international affairs with government, private sector, and not-for-profit organizations either upon graduation or through further study at graduate school
Advanced Foreign Language Requirement
International studies majors must establish competency in two languages through the 252 level, or complete two upper-division courses in one language.
Internship Opportunities
Students are encouraged to gain practical experience in some area of international studies through internships. The Pepperdine Career Center offers local internship opportunities, and International Programs' Washington, D.C. Program also offers study and internship opportunities in the nation's capital. In addition to the federal government, a number of international organizations are based, or have major branches, in the city.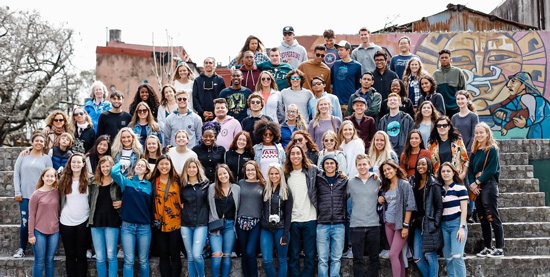 Recommended International Study
The International Studies and Language Division strongly encourages students to study abroad through the Pepperdine University's International Programs. These programs are an excellent way to gain overseas experience and make rapid progress in fulfilling the language requirement for the major.
International Studies Student Testimonials
Take the Next Step
Reach out to us to learn more about Pepperdine's undergraduate programs.
Get In Touch
Learn more about how you can join the Pepperdine community.
Visit Our Campus
Explore Seaver College and connect with an admission counselor.
Start Your Application
Submit an application and be one step closer to becoming a Wave.
Contact Us
International Studies & Languages Division
Pepperdine University
24255 Pacific Coast Highway
Malibu, CA 90263
Office: PLC 101