Haus meines Herzens
The Campaign to Renovate Moore Haus
From Ebene Ein to Rooftop Freizeitzimmer!
Pepperdine's century-old Moore Haus in Heidelberg, Germany, cherished by thousands of Waves as "Haus meines Herzens" (House of my Heart), will undergo a much-needed multimillion-dollar renovation in 2014-2015 that seeks to rally the support of all whose lives were changed at Graimbergweg 10.
The grand manse overlooking Old Town and the beautiful Neckar River Valley is over 100 years old and in desperate need of restoration, renewal, and reconfiguration. Beginning in summer 2014, Pepperdine University will underwrite a substantial portion of the anticipated $5 million project cost, addressing the most urgent infrastructure issues that must be addressed in order to keep the Haus operational.
Alumni and friends are invited to rally around a $1 million challenge campaign to help see this vital project to completion for generations of Waves to come.
The Moore Haus project will:
Renovate and upgrade infrastructure, including electrical and plumbing, to ensure safety and city code compliance.
Upgrade technologies for academic, residential, and personal use.
Redefine and remodel residential, study, and recreational spaces with improved traffic patterns while increasing student capacity by 4-6 beds.
Relocate and expand accommodations of the resident-faculty family to the tower, providing more privacy for the family and bringing all students into the main Haus.
Preserve the historic stature and facade of Moore Haus.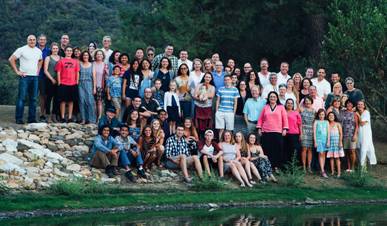 The Heidelberg Class Challenge
Many Heidelberg classes are working toward 100% class participation! All donations, regardless of size, are an investment in the preservation of your memories at Moore Haus. This is an opportunity to pay it forward for future generations of "Heidelbergers."
The Heidelberg Class of 1984-1985 is the first class to reach 100% class participation, paying it forward to future generations living in Moore Haus!
The classes with the highest participation will be recognized at the celebration in Heidelberg in summer 2016!

Danke! Thank you for leaving your mark on Moore Haus! Join this growing group of Moore Haus supporters whose collective gifts and pledges total $905,207!
Jacqueline Anderson
Claudia Arnold Preston
Jamie Arvizu
Lauren Baldwin
Danielle Ball
Kim Barkis
Michele Barona
Julia Barr
Paul Bayne
Chet Beiler
Megan Beimer
Greg and Kelly Bennett
Andrew K. Benton
Heidi Bernard
Jane Biel
Colleen Blankenship
Victoria Blunt
Emily Bost-Baxter
Paul and Alyssa Bost
Nikki Bouchein
Bruce Bradberry
Kathryn Brock
Matthew Broms
Heather Bruce
Erika Burgess
Pearl Burns
Chris Cannon
Jason Castro
Robert Clark
Paisley Clowe
Mario Colitti
Brian Cordova-Brookey
Marco and Lauren Cosentino
Michelle Crews
Mallory Cummins
Kimberly Dahm
Jill Daniels
Judith Davis-Brook
Debbie DeHaven
Kindy DeLong
Cynthia Diaz
Natalia Diez
Inga Dolezar
David Dowdey
Lou Drobnick
Matthew and Kimberly Ebeling
Angela Ellis
Sonya Erickson
Nate Ethell
Maggie Ethridge-Ureno
Ryan Falkner
Christine Fanous
Ranada Fergerson
Christine Fisher
Robyn Geis
Laura Geist
Laura Gerard
Julie Gibson
Jennifer Gray
David Greer
Brett Gregor
James Haberstock
Alan Hall
Jared and Natalie Hankins
Ken and Ashley Hanscom
Allen Haren
Melissa Hart
Victoria Harvey
Amy Bost-Henegar
Kristin Hill
Keith Hinkle
Connie Horton
Melanie Hunter
Katherine Hubbard
Stephanie Husband
John Hutto
Patty Ige-Lui
Sara Jackson
Kristina James
David Johnson
Sabrina Jones
Robert and Loretta Katch
Gustavo Karakey
Ron Keller
Carol Kevorkian
Denis Kilgore
Donald and Elizabeth King
Mary Konow
Don and Lisa Koontz
Jeffrey La Val
Keith Labnow
Kim Lambert
Hung and Corinne Le
Jaimeson Le
Steven Lemley
John and Deanne Lewis
Ronald Lopez
Matthew and Sarah MacDonald
Katherine Magenheimer
Jeffrey Maloney
Carolyn Marshall
Angela Martins
David Marvin
Kathy Mattmiller-Roberts
Carri McBride
Judith McKee
Alec and Katie McNayr
Deborah McNeil
Richmond and Janet McPherson
Robert and Sandra Meadows
Jayme (Fleming) Medd
Michael Menichetti
Traci Miles
Kevin and Eryn Mills
Julie Minges
Cynthia Muckjian
Andrew Myers
Tracey Myers
Sheila Naab
Lillian Nall
Michael Neff
Dean and Margaret Noble
Cynthia Novak
Frank Novak
Mark Nunneley
Taylor Ohlsen
John O'Reily
Zakary Ostertag
Akon Otoyo
LaVara and Eno Otoyo
Troy Paddock
Jason Palmer
Heather Pardee
Kimberly Pardue
Dawn Pettersen
Ronald Phillips
Sean Michael Phillips
Staci Pies
Curt Portzel
Jutta Portzel
Kimberly Prothero
Jeffrey Roberts
Teresa Roberts
May Ross
Beverley Royster
Jerry Rushford
Cara Saldajeno
Lolo Saldana
Laila Santana
Mitch Saruwatari
Mindi Sauter
Art Serote
Justin Schneider
David Shannon
Derek Sharp
Sandra Sherman
Sandra Shields
Neil and Christian Socquet
April Spicer
Jeannine Spiller-Hisey
Amy Surdacki
Eric Stoen
Rhona Taylor
Amanda Tipton
Theodore Thomas
Patricia Tudor
Emily Tuma
Megan Tynan
Margaret Ureno
Lori Valdivia
Scott Van Atta
J.W. Van Dyke
Tyler Vernon
Jason Vessey
Robert Wakefield-Carl
Carrie Wall
John Waltz
Andy and Sandy Weigel
Jay and Judy Welker
James Wilburn
Thea Wilshire
Eric and Jennifer Wolford
Melanie Wong Dodge
Pamela Woods
Tadd Wooton
Timothy Young
Leslie Zuller