Adjunct Professors of Art
---
---
Monica Chapon, Explorations in Ceramics
---
Yvette Gellis, Art Fundamentals
American artist Yvette Gellis lives and works in Los Angeles, California. She received her M.F.A. in 2008 from Claremont Graduate University. Ms. Gellis was born and raised in the Chicago area, where she discovered profound inspiration in the contrast between the expansive pastoral vistas of her Midwestern upbringing and the urban landscapes of Chicago and other metropolitan sprawls.
Selected Solo exhibitions include the Dival Historical Church and exhibition space, Villenaux la Grande, France, The East / Gate Museum with The Licence Gallery, Cao Shan Dong Men Art Museum, Yangmingshan, Taipei, Taiwan, Toomey-Tourell in SanFrancisco, Patz &Hall in Sonoma, California, The Brunnhofer Galerie in Austria, Paint House in Tainan, Taiwan, The Kim Light, LIGHTBOX, Gallery in Los Angeles, The 18th Street Arts Center in Santa Monica, and Conflux City festival in New York City.
Selected group shows include Brunnhofer Gallerie, Austria, "Pretty Vacant," Westwood, Los Angeles, Fellows of Contemporary Art Los Angeles, The Torrance Art Museum, Toomey-Tourell, San Francisco, MBA Art Museum Dallas Texas, The Cerritos College Art Gallery, CA, CIVA, USA traveling exhibition. Her public art installations in Taiwan, NYC, Los Angeles, France and Austria are a continued outgrowth of her practice as a painter. Upcoming exhibitions include The Pasadena Museum of California Art, 2016, Soulangh Artist Village, Tainan, Taiwan, and a solo exhibition at Brunnhofer Galerie, Linz, Austria January 2016.
Among her many reviews, most notable are; The Huffington Post Arts, Art in America magazine, LA Weekly, Art LTD- Artist Profile, the Huffington Post, Taipei Times, China Post, and ART Week LA. Ms. Gellis has been awarded artist residencies in Taiwan, Austria, Arizona, and at the 18th Street Arts Center in Santa Monica. She is the recipient of a Foundation Ténot and UNESCO award for her participation at CAMAC artist residency program in France.
Most recently Ms. Gellis Curated "Pretty Vacant," an exhibition in Westwood, that garnered accolades and praise from LA's art community.
---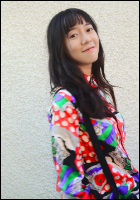 The work of Jessica Kao, or 許瀚文, includes graphic design, research, teaching and advocacy for human rights and social justice. Through her practice, she explores the intersection of politics, theory and speculation in belief of 'praxis' by Zygmunt Bauman. One of the major subjects Jessica's work focuses on is building methodologies and reinventing cultural and political identities for Taiwan and other post-colonial states.
Jessica holds a LLB and a BA in Sociology from National Taiwan University. She received an MFA in Graphic Design from California Institute of the Arts. Her work has been featured in exhibitions including "We Love to Design in the Sun" at Common Center, Seoul. Jessica's work was also selected as one of The STA 100, 2016 by The Society of Typographic Arts.
Please visit Jessica-Kao.com for projects and more information, and email her at Hello@Jessica-Kao.com to share a conversation.
---