Pepperdine Portrait Series: A Conversation with Cameron Lowenfield
Like two-thirds of Pepperdine's undergraduate students, Cameron Lowenfield, a sophomore at Seaver College, is participating in one of Pepperdine's international programs. Spending her sophomore year abroad in Florence, Italy, Lowenfield shares how interning at a local Italian shoe company helped her get the most out of her time abroad.
Why did you choose to study abroad in Florence?
I chose to study in Florence for a variety of reasons. As art is one of my biggest passions, I loved that it is a hub of art history in Europe. It was also important to me to be immersed in a culture that contrasted with what I have experienced living in Texas and California. Florence offered a different lifestyle and yet was not so foreign that the idea of living there was uncomfortable. Lastly, I wanted to learn Italian. I love languages. I learned Spanish when I was younger, and my major is international business so learning how to interact with people globally is important to me.
Can you share a bit about the company you work for and your role there?
I'm interning at VIAJIYU, which is a custom leather shoe company founded and run by a couple with roots in Australia and California. I think their contrasting backgrounds are part of the reason the business has been so successful (even though they like to call it a retirement job). The name VIAJIYU is a combination of Italian and Japanese words. The Italian word "via" means road and "jiyu," is Japanese for freedom; they combine to form VIAJIYU or "freedom road."
The idea for the business is to make women's shoes that are both forgiving and stylish, giving women an alternative option to uncomfortable heels when they want to dress up.
Last semester, I worked two days a week on various marketing projects. This semester, my role has changed a bit because the owners are currently in the United States. Referred to as the "fixer," I do whatever needs to be done, such as visit the storefront, collect their mail, pick up leather samples needed by the design team, and the like.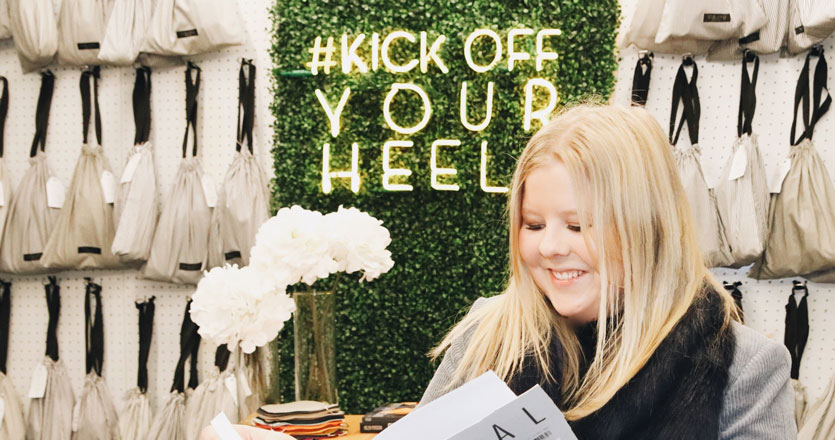 How did you find the position at VIAJIYU?
I knew I wanted to make the most of my international experience by interning so I contacted the director of the Florence program. She told me about VIAJIYU, a company that has employed previous Pepperdine students participating in the Florence program.
Before leaving for Florence, I emailed VIAJIYU and shared my interest in gaining international work experience, particularly as an international business major. During my first week in Florence, I interviewed, was hired, and started working. Last semester, I worked alongside other US interns from Kent State and several fashion schools.
How has interning for a local business impacted your abroad experience?
Interning at VIAJIYU has given me a unique way to get out and explore Florence, and has shown me first-hand a variety of cultural differences that characterize the Italian way of life. For example, next to VIAJIYU is a rug store where the owner closes his shop every day from 2 to 4 PM so that he can take a nap. It's a very laid-back work environment compared with that in the US; I've been exposed to the business side of Italian culture and what is important here.
I've not only been immersed in local customs and culture––the products are made in Italy, from Italian leather, and promoted by Italian marketing materials–– but I've had to rely on Italian as the primary method of communication.. However, it has also been a global experience as my bosses are American and Australian, my closest coworker is Korean, and the company is Italian. I'm fortunate to have been given the opportunity to work and learn from a variety of cultures.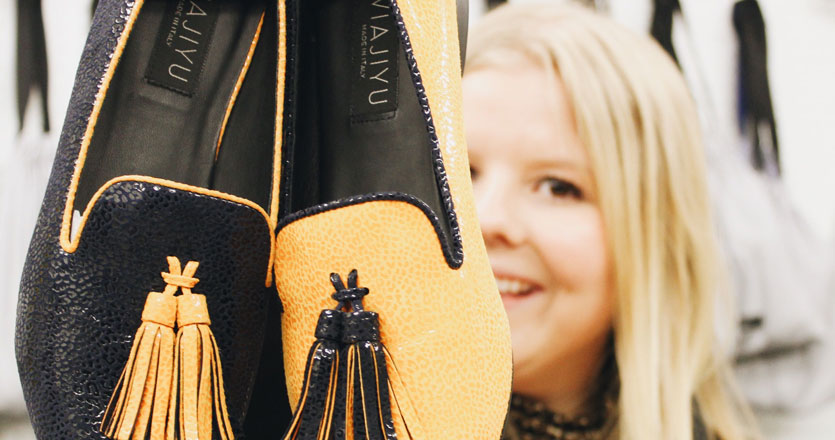 What do you hope to gain from your experience at VIAJIYU?
I feel like I have already gained so much of what I was looking for in this internship. My boss is an amazing example of an entrepreneurial woman and has taught me invaluable lessons about the business world. She wants to make sure I am getting something out of the experience every single day, whether I'm doing small tasks or something that will have a long-term impact..
Often she will give me the freedom to brainstorm and offer new ideas. For example, I once researched purses and showed her some silhouettes I thought would be successful in today's global market. Within weeks, she had design interns develop and execute my idea until the purse was actually there in the store.
What is it like to balance school work with working abroad?
On my first day at the internship, my boss told me she wanted me to think about the order in which my commitments should be prioritized. In her eyes, school work came first, followed by family, travel, and lastly by my internship.
I really appreciated her awareness of my commitments, and it made me feel comfortable with a realistic schedule. As a result, I committed to just two days a week as opposed to trying to squeeze in an extra hour here or there. I think it helps that she is so considerate, not only of my schedule but also of me, for example, she always makes sure I am never walking home in the dark.
I've really enjoyed working while being abroad because there have definitely been times where I am ready for a break from the villa life. In the villa I am constantly thinking about school or travel plans, so it has been a really great opportunity to get my mind off both those things and do something else.
What is something you have learned in this internship that you will carry with you into future experiences?
On my first day I noticed that my boss was wearing two different shoes and I complimented her on the choice. She told me that they start a conversation––which they had! This moment has stuck with me and has taught me to feel comfortable initiating a conversation. By complimenting her shoes I was able to break the ice and connect with her, and this awareness is definitely something I will take with me.