Exploring Seaver International Programs: New Zealand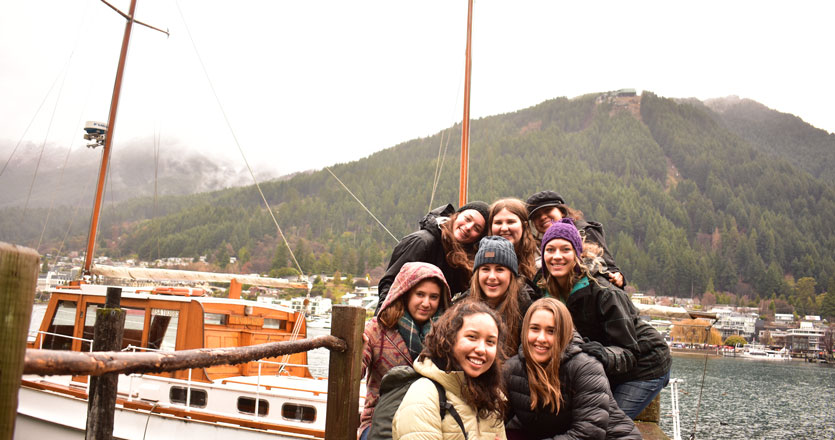 Pepperdine partners with the Christian nonprofit Creation Care Study Program to offer students a unique study abroad experience focused on living more sustainable lives. Students participating in the New Zealand international program travel to Kaikoura, a coastal town with 3,500 residents, to examine the ways in which Christianity can inform the issue of climate change.
Unique Learning Environment
Kaikoura is nestled between the mountains and the ocean, making it the perfect place to explore the beauty of God's creation and study the relationship between Christianity and sustainability.
Student housing is a one-minute walk away from the beach, and the town overlooks a 4,000-foot mountain peak. While students can ski in the mountains and relax at the beach in the same day, the diverse ecosystem of Kaikoura plays an integral role in the program.
Surrounded by low-lying Southern Pacific islands, coastlines and some complete islands in New Zealand have begun to disappear as a consequence of climate change, turning affected residents into "climate refugees." New Zealand is the first country in the world to enact a climate refugee plan and Seaver College students are fortunate to learn about it while participating in the program.
In addition to studying New Zealand's unique ecosystem, students have the opportunity to learn from local officials dedicated to rehabilitating the country's flightless bird populations including the kakapo and nocturnal kiwi. Students are also encouraged to learn about the conservation efforts the country has made with penguins, dolphins, native trees, and more.
Becoming Responsible Citizens
While participating in the four-week program, students explore three diverse topics, including: sacramental contemplation, food and its production, and climate refugees. Taught in a Socratic style in the living room of the "Dolphin Lounge," the house where students and faculty stay, students are encouraged to discuss and debate complex questions surrounding climate change.
New Zealand program participant Channa Steinmetz notes that Christopher Doran, associate professor of religion, encourages students to engage in class discussion, urging them to be open and honest about their opinions. Although the studies are academically rigorous, Steinmetz recalls gaining far more than just academic knowledge. The program gave her the chance to identify her own values and find practical strategies to support the implementation of these values in everyday life and become a more responsible citizen of the earth.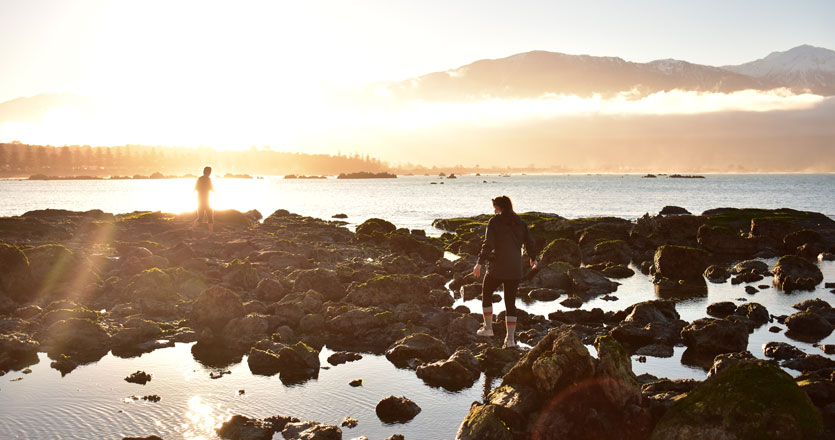 Climate Change Impact
Pepperdine's New Zealand international program offers one of the only courses taught with an emphasis on how people eat, the way food is produced, and the moral questions that surround both. The class compares how different populations eat in various regions of the world and considers why eating lower on the food pyramid is important environmentally.
Food is not simply an element discussed in the classroom; it plays a role in every aspect of life and is a means of experiencing culture and building community. While in New Zealand, students stick to a plant-based diet and eat almost entirely vegetarian. Through this component of the program, students have the opportunity to discuss how diet impacts or does not impact climate change, reinforcing what they are learning on a day-to-day basis.
Since returning home, Steinmetz has become significantly more conscious about her food consumption—both what she wastes and where she buys her food. She is also more consciously thankful for the world around her. Through this once-in-a-lifetime opportunity, she explains, "We learned how to be effective communicators, to go out and share what we learned in a way that people will be receptive to. People are not going to respond positively to fear. I think that the media spreads a lot of fear when addressing these issues and it's something I want to avoid as a person and as a journalist. It's really about focusing on hope."
While all students at Pepperdine are encouraged to participate in the program, priority is given to those students minoring in sustainability. Steinmetz recalls gaining some of her best life experiences through the program, and she is confident that the program will impact any student who participates in it far beyond the four weeks spent there.
Photos by Elise Froebe.