Greek Life at Pepperdine
I remember taking a survey when I was a high school senior in which one of the questions was: "Are you planning to join a sorority?" My answer was no. I was envisioning the typical Greek lifestyles depicted in movies like Sydney White and Legally Blonde.
However, after talking with a student who was involved in the Greek community, I began to reconsider the idea. She assured me that Pepperdine Greek life was different; it would be one element of my college career rather than dominate my identity on campus. It turns out that she was right! Going Greek was one of the best decisions I've made since coming to Pepperdine.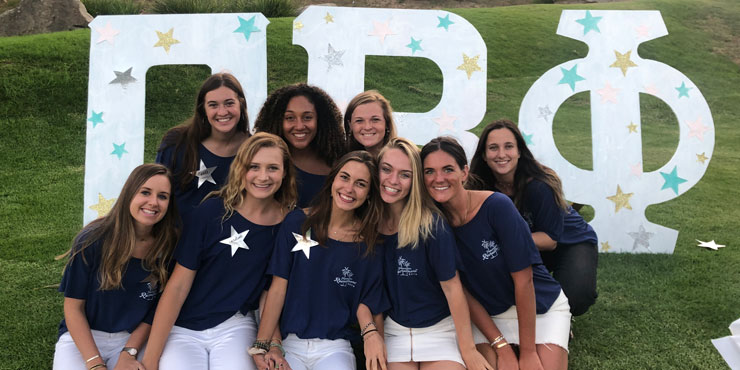 Becoming Greek
About 25 percent of undergraduate students are involved in one of Pepperdine's eight sororities and five fraternities, all of which are affiliated with national organizations. Recruitment of both men and women occurs at the beginning of each academic year around mid-September. Be sure to visit the Greek life website for more details on recruitment. The website also has helpful FAQ pages for parents and students who want to learn more about the Greek community.
Greek life at Pepperdine is unique in that we have no official Greek-affiliated housing on or off campus. Not supporting a residence keeps our dues low and allows our Greek students to get involved in a number of different activities outside of Greek life! Prospective members should know that the level of involvement varies among members, as some serve on their chapter's executive council and attend every event, while others simply go to weekly meetings. That said, for all members, social events are a large part of the Greek experience. Most chapters will host a formal each semester, in addition to various date nights and mixers. Chapter-wide brotherhood/sisterhood retreats and events are also common, as well as smaller informal gatherings like beach bonfires and movie nights. Many Greek groups will also host club convos for their members.
There are other benefits too. Scholarship opportunities are offered by some chapters, and sorority and fraternity membership is contingent on keeping a certain level of academic standing, so it provides an incentive to maintain one's GPA.
Philanthropic Emphasis
Each chapter has its own philanthropic focus or cause, which is typically associated with a nonprofit organization. Once or twice a year, each Greek organization will host an event that supports its charity . Many charities will hold some type of competition between the chapters that work for them, such as shirts sales, coin wars, or other smaller events, as precursors to the main fundraising effort. The causes naturally become near and dear to the hearts of each chapter's members.
My chapter's national nonprofit group, for example, is Read>Lead>Achieve, which supports childhood literacy efforts across the US. In the fall, we fill the Waves Cafe with hundreds of baked goods and sell tickets for an all-you-can-eat dessert buffet. This event appeals to the entire Pepperdine community and is unique because it's not a competition. In the spring, we host a beach volleyball tournament at Zuma Beach. We also have the opportunity to read with kids at local elementary schools every week, an activity many of us cherish as a way to personally impact the Malibu community.
Our events last year were so successful that we were named among the top 10 giving chapters for our sorority nationally! Of course we're proud of this ranking for our chapter, but even better is the assurance that our work is making a difference in the lives of thousands of children through the money we raise. Every chapter is able to make a similar impact for their own charities, an integral part of Greek life as a whole.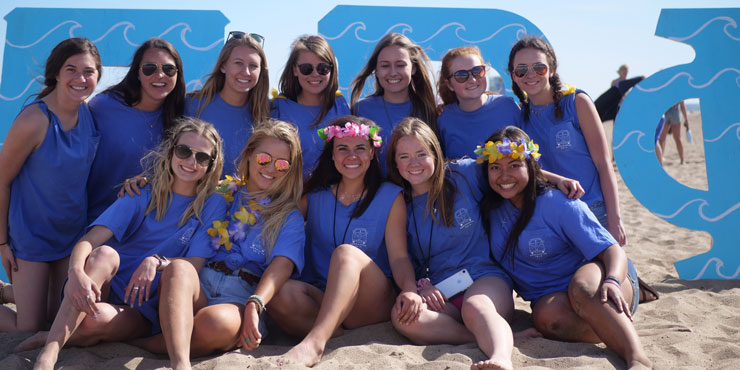 Greek Family
I have found that Greek organizations can provide valuable connections for their members. Sorority or fraternity membership provides individuals with an extensive alumni network that is eager to help them both personally and professionally.
I have cherished my time in Greek life and would absolutely consider my sorority experience a highlight of my time at Pepperdine. Joining a Greek group enriched my life by surrounding me with like-minded individuals who offer their endless love and support. More than anything, the relationships I've made through Greek life are invaluable, and I am excited to continue those relationships for years to come.