Five Reasons to Stay Connected During COVID-19
In a time when many of us feel like we're on autopilot with schedules and screens, everyone needs a time to take a break and socially connect. It may be difficult to imagine participating in club events in an online setting, but our Seaver clubs and organizations fully transformed their typical events and programs to be adaptable and engaging virtually.
In the fall semester's five hundred-plus virtual events, students learned postgraduate tips from alumni panels, participated in virtual conferences to further their academic reach, and learned new quarantine skills like cooking and painting.
Regardless of what year you're in, now is a great time to get involved and plugged into campus life through joining a fraternity, sorority, or a club!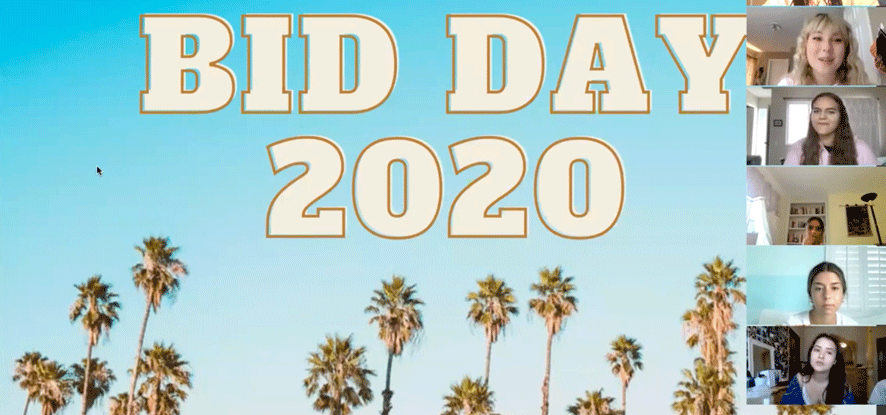 Share a Common Identity or Experience
Many students join organizations to meet people who share the same interests or come from similar walks of life. Whether students gather around a pastime, a career goal, or shared identities and experiences, joining an organization can help you get rooted. Seaver College junior Jerry Calderon shares how finding community helped him flourish at Pepperdine:
"Feeling homesick and the pressures of impostor syndrome, I remember attending my first Latinx Student Alliance meeting with hopes that I could meet fellow students who may have been experiencing similar obstacles. The group not only fulfilled my desire, but it became my home away from home."
Build Your Social and Professional Network
Many connections you make while at Pepperdine are "not just for four years, but for life," especially when connections are made through fraternities and sororities. The friends you make now may end up being future classmates, roommates, and maybe even professional colleagues! Alina Sanchez, a first-year student, is already developing her network since joining a Panhellenic sorority:
"I participated in recruitment to get to know older Pepperdine students and gain a community of wonderful people.There are so many great people in sororities, and they help you build networks for your future career!"
Feel Grounded
These past months have been lonely and ever changing. As new Waves, it may be particularly challenging to feel grounded or have a sense of belonging. If feeling lonesome is what you're experiencing, you are not alone! Junior Josh Leow provides words of encouragement to those who may feel a little lost or unsteady:
"Amidst these unprecedented times, it is normal to seek the familiar. For me, that has been the Greek life community that I have found at Pepperdine . . . Without my community, I would undoubtedly feel very lost in the middle of a rapidly changing world."
Follow Your Passions
Sometimes, we all just need to let loose, have fun, and just simply enjoy the company of others! Students can easily do this by joining a special-interest club—such as a recreational club or a language club—to learn new skills, play games, or share a unique hobby. Read how Jack Randall, a sophomore, turned one of his favorite activities into a club to share with others:
"My club is my passion: I fell in love with spikeball at Pepperdine, and I helped start the club because I wanted to introduce more people to the sport and grow the roundnet community on our campus. When I'm out with my club, that's when I feel most like myself—I feel alive, I feel competitive, I am with my friends, and I'm doing what I love."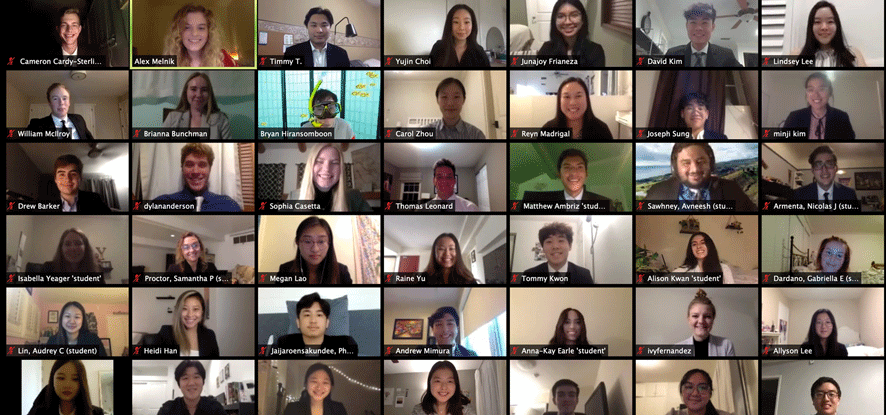 Step Outside of Your Comfort Zone
It takes a lot of courage to put oneself out there in a virtual setting. Some are intimidated by logging on all by themselves and interacting with strangers. It can be nerve-racking, but the reward is worthwhile! Read first-year Emmie Torrence's story of bravery as she leaned into online connections:
"One thing I would say to [students] who aren't sure if they want to go through [fraternity or sorority] recruitment is to try it out and meet as many chapters as you can and trust the process. At the beginning of my recruitment journey, I would have never expected to end up where I did,but I am so glad with the outcome. I found genuine friends in my organization."
Now that you're sold on the idea of getting plugged in, here are some easy ways to start exploring spring opportunities.
Join ICC "After Hours"
Even online, Inter-Club Council (ICC) can serve as the bridge between students to clubs. On February 17, 2021 from 5 to 7PM (PST) students can log onto Peppervine to participate in "Tide Pools: After Hours" (ICC's virtual club fair). ICC houses 95 student organizations within nine categories: academic/honor societies, arts/entertainment, identity-based clubs, fraternities and sororities, political clubs, recreational/fitness clubs, service and social action clubs, special-interest clubs, and student-led ministries. If you can't make it to Tide Pools, don't worry!
"Go Greek"
While so many other programs and events might be canceled or postponed, brotherhood and sisterhood are not! Joining a chapter and participating in recruitment is accessible to all thanks to virtual platforms. The Interfraternity Council (IFC) is hosting recruitment events this month and registration is open until Friday, February 19.
You can learn more about the fraternities, see the recruitment schedule, and register on the IFC website. Panhellenic sorority recruitment took place in the fall, but there are still informal ways to get to know sorority chapters. If you would like to submit your contact information so that chapters know that you're interested, fill out the interest form on the Panhellenic website. Still not sure if fraternity/sorority life is for you? Check out the general information on the Community Page[BROKEN LINK].
It may not feel natural at first to connect with others through screens, but it's a surefire way to get to know your fellow students outside of the classroom. Our hope is that students can build connections now through virtual means in order to have a preestablished community when we eventually meet safely in person.