Dorm-Friendly Microwave Meals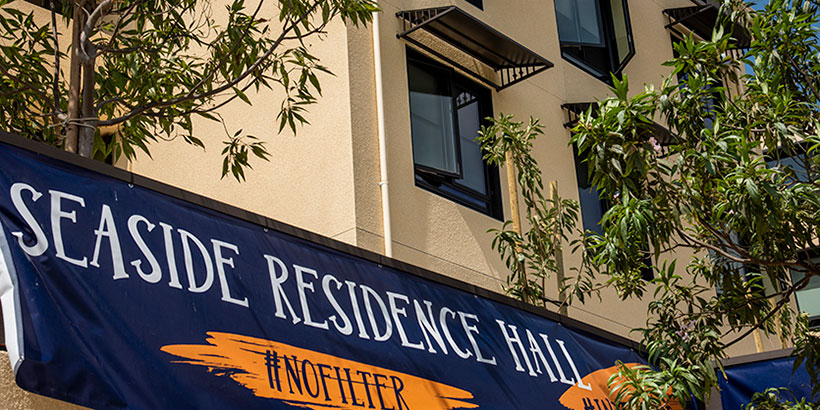 Move-in day is quickly approaching, which means it's time to stock up your pantry with snacks and treats. If you're at a campus like Pepperdine's, with steep hills everywhere, sometimes the thought of trudging to the cafeteria is unbearable. Whether you're budgeting your meal swipes or just want to stay cozy in your dorm room, these recipes are quick, easy, and satisfying alternatives that can be made in your microwave or in your community kitchen.
Quiche in a Mug
Nobody wants to eat instant oatmeal every day, and skipping breakfast altogether isn't recommended when you have a full day of classes, studying, and possibly a job to go to. If you have some eggs, whip one in a mug with a tablespoon of milk of your choice. To get the consistency of a quiche, tear off small pieces of a slice of bread and combine it with the egg mixture. Chop up a bit of bell pepper, and add in whatever spices you want. Mix it all together and microwave on high for a little over a minute. The energy from this meal should keep you alert through all your important assignments.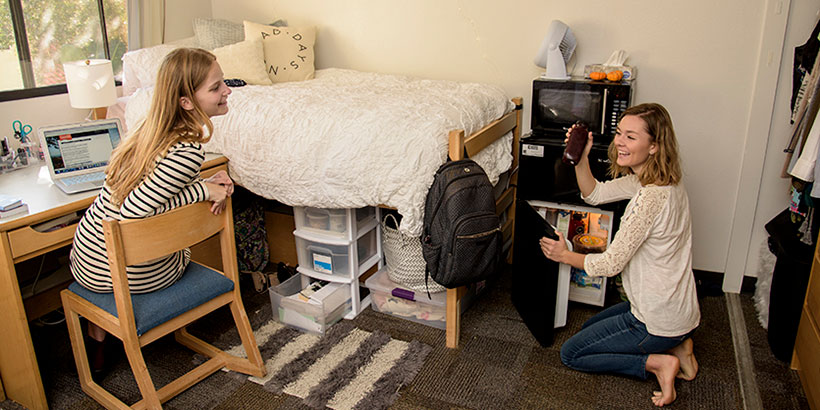 Protein-Packed Muffin
If you don't like eggs, but desperately need more protein in the morning, the following recipe might be the perfect muffin for you. Mix your favorite protein powder with flour, or if you have some protein waffle/pancake mix, just use that as your flour base—you'll need about two and a half tablespoons. Mix in a tablespoon of granulated sugar, a pinch of salt, and a quarter teaspoon of baking powder. Once you have combined all the dry ingredients, add a tablespoon of plain Greek yogurt, a tablespoon of milk or nut milk of your choice, and a dash of vanilla extract. Stir it all together until well mixed, and then top with brown sugar and cinnamon. Microwave for just under one minute, and your sweet yet powerful breakfast is ready!
Mac and Cheese in a Mug
Microwavable packs of mac and cheese are considerably more expensive than this mac and cheese in a mug. Pick out your favorite elbow pasta and pour half a cup into a mug then cover the pasta with water. Microwave on high for about eight minutes stopping occasionally to stir. Once the pasta is cooked how you like it, add cheese! Any type of shredded cheese you like will be fine. Add about half a cup of cheese and mix with the hot cooked pasta. If the cheese isn't quite melted enough, put it in the microwave for a quick 30 seconds. You can add a bit more flavors with some veggies, herbs, and spices of your choice.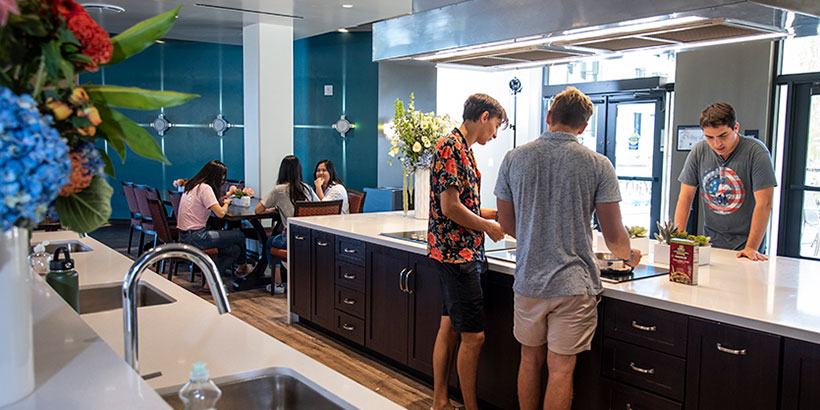 Spiced-Up Ramen
Yes, you're in college and joking about eating ramen noodles for every meal, but any instant ramen packet can be customized to make a satisfying meal. Head to your community kitchen and grab your favorite instant ramen. While mixing the noodles and the spice packet into the boiling water, add some other things like Thai curry spice, soy sauce, sriracha, or miso powder for an added kick Now that your broth is done, add some fresh vegetables such as baby spinach or bean sprouts. Top it off with a fresh slice of lime.
Chocolate Chip Cookie Cake
Making a cookie cake in a mug takes a little more attention to measurements than my other suggestions, but the final product is ready in just about two minutes. Mix a quarter cup of flour, a quarter teaspoon of baking powder, a pinch of baking soda, salt, and two and a half tablespoons of sugar of your choice together in a mug. Add one and a half tablespoons of milk, a tablespoon of oil, and a splash of vanilla to the dry ingredients. Add a tablespoon of chocolate chips, or more if you'd like, then microwave for one minute and 15 seconds. Let it cool for a bit, and then dive right in.