Dining on Campus
When Snickers premiered their "You're not you when you're hungry" campaign during the 2010 Super Bowl, a catchphrase for needing a nutrition boost was born.
To help curb hunger pains (and the difficulties concentrating--or even just getting around the Seaver campus that can come with them), Pepperdine offers a variety of dining options. Ranging from complete, well-balanced meals to grab-and-go snacks offered late through the night, numerous choices are available.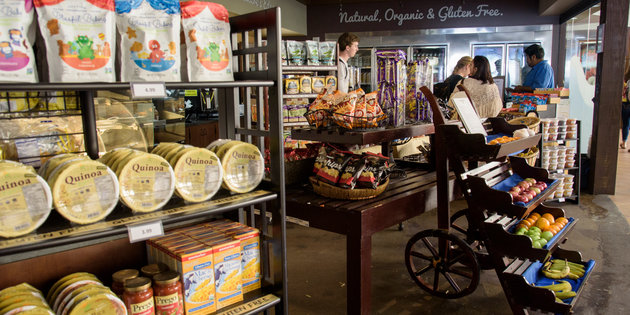 Grab-and-Go Snacks
Snack opportunities abound. For options that are vegetarian, vegan, gluten-free, or organic, visit Nature's Edge, a small market adjacent to Waves Café.
If you're looking for another way to get in your recommended fruit and vegetable servings, head over to Jamba Juice. Conveniently located near the mail room, you'll be able to check for packages from loved ones while your smoothie is being whipped up. On days when you need an extra jolt, make your way to Starbucks located near the redesigned Payson Library.
For a snack to get you through the afternoon lull, visit Cafe Fresca. Conveniently located up the hill at the Center for Communication and Business (CCB), you'll be able to enjoy a between-class salad, snack, or sandwich. Have a long night of studying ahead, or just need something to satisfy your late-night sweet tooth? Visit the HAWC Cafe and Store near the freshmen residence halls.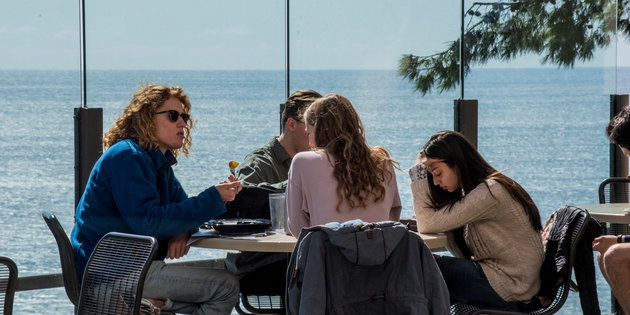 Meals with a View
When you have a bit more time on your hands and are looking for a complete meal, visit Waves Cafe, the main dining facility of Seaver College. Located at the heart of the campus, it offers two hot entrée stations as well as a deli bar, yogurt bar, soup and cornbread bar, and beverage stations.
Acting as a complement to your main meal, or serving as your main dish itself, the extensive salad bar features daily specialty salads. To round out your meal and give you a sweet treat before class, stop by the dessert station. Best of all, the cafe's outdoor patio features incredible views of the Pacific Ocean.
Just outside Waves Cafe, but within the main dining facility, is the newly opened Oasis Pizzeria and Noodle Bar offering customizable artisan pizza as well as a variety of noodle entrées.
Whether you're looking for a quick bite or a meal to share with friends, Pepperdine has you covered. For hours of operation at each dining location, browse the dining section within the Pepperdine mobile app[BROKEN LINK].