A Bigger Arena: Pepperdine and AEG's Global Partnership
Every year, millions of dreamers and tourists from all around the world make the trek to the city of Los Angeles. While some choose to try a career in acting or simply tour Hollywood, internationally recognized musicians and athletes frequently visit the heart of the city: STAPLES Center.
Home of the Los Angeles Lakers, Los Angeles Clippers, Los Angeles Kings, and Los Angeles Sparks, STAPLES Center hosts more than 250 events per year and is often regarded as the "sports and entertainment center of the world." Joining the exclusive club that calls the center home, Pepperdine University is now a proud member of the family serving as the official education partner of STAPLES Center, L.A. LIVE, and the LA Kings.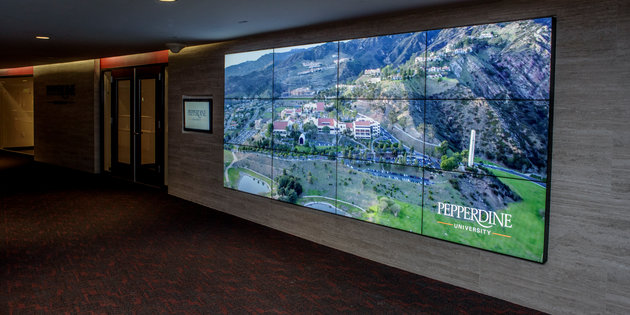 Real-World Experiences
As the exclusive education partner of STAPLES Center, Pepperdine proudly offers a world-class educational experience for undergraduate and graduate students pursuing careers in sports and entertainment. Participating students will have a one-of-a-kind opportunity to learn alongside top AEG executives and gain hands-on experience.
As partners, AEG and Pepperdine are committed to offering opportunities that will benefit students and AEG employees alike. AEG staff will have the ability to continue their educational efforts by participating in Pepperdine Graziadio's MBA program[BROKEN LINK] while students at both the undergraduate and graduate levels will have the opportunity to participate in AEG's competitive internship program.
Adding even more momentum to Pepperdine's presence within the Downtown Los Angeles business community, a state-of-the-art Pepperdine classroom recently opened inside STAPLES Center. Acting as a multi-purpose space, the classroom will host University gatherings as well as academic classes for students in sports and entertainment business programs.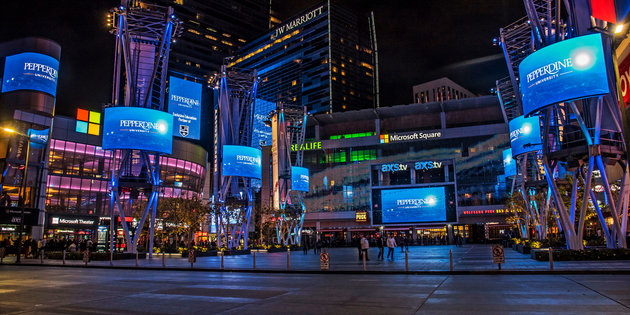 Behind-the-Scenes Glimpses
Current students and AEG staff members are not the only ones who will get to enjoy the partnership. In March Seaver Alumni Relations hosted an alumni event that included a special "on ice" experience where attendees were able to take shots before the game, enjoy a V.I.P. green room reception, and later cheer on the LA Kings during a home game.
Among several exciting partnership initiatives still in store, the University will have the opportunity to produce a conference hosted at L.A. LIVE. Designed to be produced in collaboration with AEG, the conference will be targeted to business leaders within sports, music, and entertainment. Additionally, Pepperdine will serve as the presenting partner of "LA Kings Business of Hockey" while AEG will host a networking event designed to connect University alumni with AEG executives.
As the partnership grows,the University will also look for exciting ways to fully encompass all of AEG's venues, sports properties and franchises, and live entertainment assets around the globe. If you are interested in learning more about the available programs, visit the academic programs and degree[BROKEN LINK] website.