Sergio Gallardo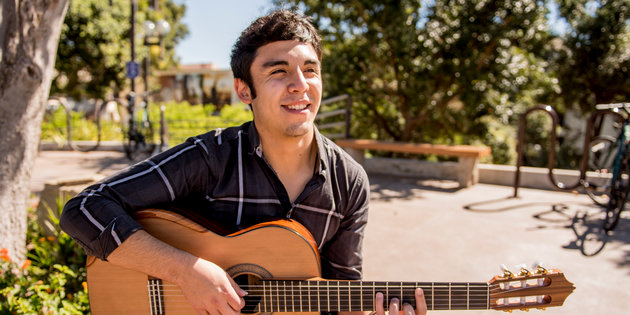 Hometown: La Paz, Bolivia
Status: Junior
Major: Applied Music with an emphasis on classical guitar performance

"Coming to the US as an international student has been an amazing experience so far. From making great friends, experiencing the culture and being away from home, to growing in my faith and studying classical guitar with a living legend, I've enjoyed every second of it. Everyone at Pepperdine has made me feel welcome since the first day of NSO. I have made friendships that I am sure will last a lifetime, and all the faculty and staff have made me feel like I am part of the Pepperdine community. I am proud to be a Wave, and I represent Pepperdine every time I get the chance. For example, last summer when I went back home to Bolivia, I gave presentations about Pepperdine in several Bolivian schools, to encourage students to apply to such a great university. Studying in the US at Pepperdine has been everything I expected and even more!"
Academic Accolades
Participating in the Parkening International Guitar Competition
Winner of the 2014 Pacific Guitar Festival Classical Guitar Competition
Studying under the renowned Christopher Parkening
Involvement
Classical guitar department concerts
Coffeehouse performances
Student Government Association
Resident Advisor
Service Projects
As a student Sergio has unparalleled access to the world-renowned Christopher Parkening, Chair of Classical Guitar at Pepperdine.