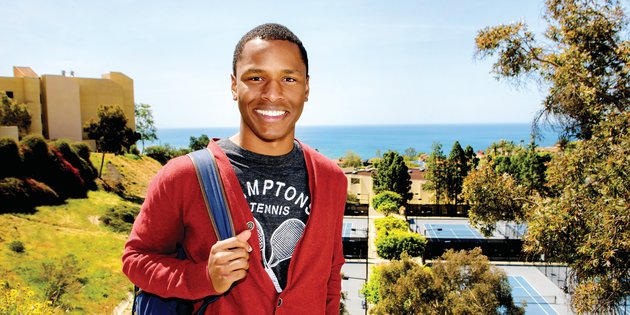 Omari Allen
Hometown: Tyrone, Georgia
Status: Junior
Major: Political Science and French
Minor: African American Studies
International Programs
Lausanne, Switzerland
Washington, D.C.
Academic Accolades
Intern at the White House, Washington, D.C.
Social Action and Justice Colloquium
Womack Speech Competition Winner
Involvement
Black Student Association
College Democrats
Student Government Association, Class President
Songfest
WORD Up Student Ministry
Service Projects
Koinonia Campus Mission
Pacific Coast Youth Lodge
Step Forward Day
"As a political science major I had the opportunity to live, study, and work in Washington, D.C., as part of my International Program experience. I personally think the D.C. program is the best because of all the ways in which it prepares you for life after Pepperdine; I worked full-time as an intern in the Office of Correspondence at the White House and then I attended class in the evenings. Being in that dynamic and fast-paced environment allowed me to make a lot of different connections that have helped me to grow as a person, student, and young professional."
Omari interned full-time at the White House and attended classes in the evening as part of the Washington, D.C. program.