Kimberly Gerling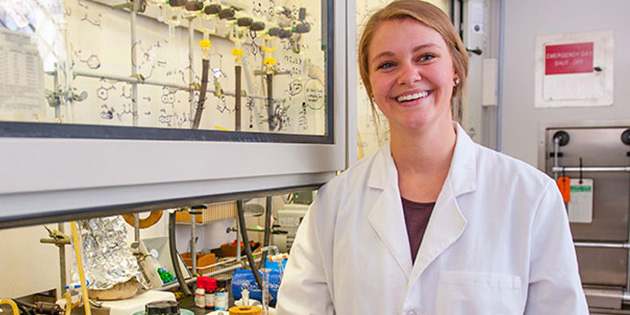 Hometown: Arlington Heights, IL
Status: Junior
Major: Chemistry
"One of the most important mentors I have at Pepperdine is my research advisor, Dr. Joe Fritsch with whom I have worked with since the second semester of my first year conducting research in the inorganic chemistry lab. I am especially proud of my accomplishments in chemistry research and I was recently published in the Dalton Transactions with Dr. Fritsch and a recent Pepperdine alumnus. I have also had the opportunity through the Natural Science Division to present my research at various national conferences. Dr. Fritsch has been a great person to talk to for academic advice and is willing to help with all the issues college has thrown at me. I don't think this type of mentorship would have been possible at any other school and it has really shaped my time at Pepperdine and helped to prepare me for medical school."
Academic Accolades
American Chemical Society Meeting Presenter
Research Published in the Dalton Transactions
Involvement
Army ROTC
Chemistry Researcher/Grader
Service Projects
Malibu Science Night
Science Lab Days with L.A. Public Elementary Schools
Kimberly has presented her inorganic chemistry research findings at national conferences and has been published in professional science journals.