Daniel Kibuuka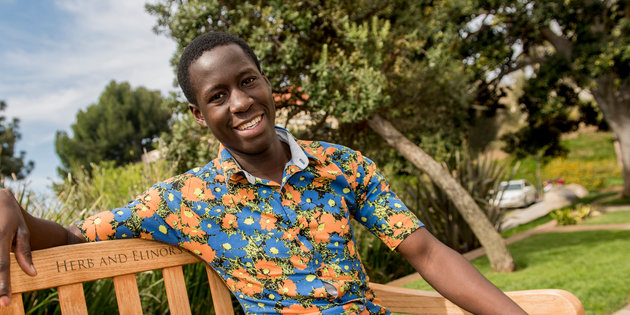 Hometown: Kampala-Uganda
Status: Sophomore
Major: Integrated Marketing Communications
"As an international student, coming to the US for college was an exciting opportunity improve my abilities, explore my interests, and discover new skills. Having participated in two education systems — Ugandan and American — I am able to compare and appreciate the unique qualities Pepperdine has to offer. In just my first year attending Pepperdine my worldview has really grown. I have always believed that political, social, and economic justice in the world is everyone's responsibility, and that fulfilling this requires great leadership skills and a spirit of service. Fortunately, Pepperdine is committed to strengthening its students to live lives of purpose, service, and leadership. Through Pepperdine's mission I have been able to live with purpose, explore service opportunities, and reach my goals, which has really helped my world view not only grow, but also broaden."
Academic Accolades
2014 Lydia Hayne Scholarship recipient
Involvement
Intercultural Club
Image Worship Ministries
Internship at Malibu Calvary Chapel
Internship in the Office of International Student Services
Service Projects
Volunteering at Malibu Jewish Center
Pepperdine Volunteer Center
Daniel is a proud and deserving recipient of the Lydia Hayne Scholarship, which is awarded to one African student every four years.