Olivia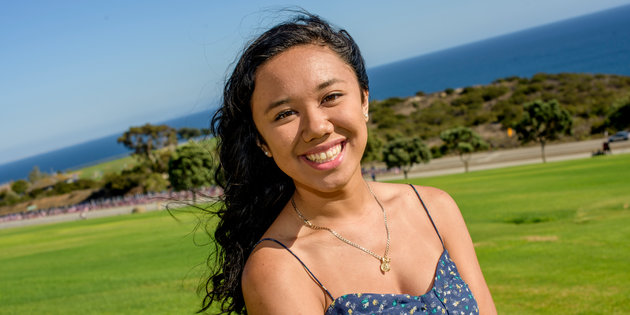 Learn More About Olivia
Hometown
Bakersfield, CA
Major
Integrated Marketing Communications
Minor
Rhetoric and Leadership, Nonprofit Management
Fun Fact About Me
My hair is curly because I electrocuted myself in the seventh grade for an awesome history project.
Student Involvement My Second Year at Pepperdine
Good Morning Malibu News Correspondent, Kappa Alpha Theta, Student Government Association Sophomore Class President and Seaver Diversity Council Rep, Chancellor of Delta Sigma Pi Business Fraternity, Office of Admission Tour Guide
What I'm Most Excited About My Second Year at Pepperdine
Making more friends! In just the first week of school I've already met so many juniors coming back from abroad, and even sophomores I've never seen before! Even though Pepperdine is such a small school, you always run into someone new to meet.
What I'm Most Nervous About My Second Year at Pepperdine
At first I was really nervous about not going abroad, especially while knowing that all my best friends from freshman year would be leaving. I kept asking myself if I made the right decision, or if I was missing out by staying. But then I realized that I'm just a sophomore, and I still have 2 summers to travel the world (if I want to)! And ALSO, Malibu is not that bad...I've heard the view is "all right" I guess! I might even try surfing even though I'm afraid of the ocean (probably not though lol)!
Are you traveling this year? If so, what places are you most interested in visiting?
I am not going abroad, but my current goal is to hopefully go to DC this upcoming summer, and Lausanne the summer after that. I would use this time to take some classes, get internships, and of course, have a pretty rad vacation. In the meantime, the Pepperdine Sophomore experience offers some opportunities that I would never get anywhere else. We're taking trips to Catalina/San Francisco as a class to indulge in the Malibu Year 2 lifestyle! During spring break I hope to participate in Project Externship to travel around the United States, or internationally.
My Greatest Hope for Rising Tide
With this docuseries, I hope current students, potential students, and even alumni, can feel the authenticity though this project. I want people to see that the college experience at Pepperdine is unlike anything ever before. I hope that through this series, the spirit of Pepperdine is reflected through our stories; the happy, nervous, sad, excited, confused, crazy, and real stories.