Incomplete Application
How to Resolve an Incomplete Application
STEP 1: Explanation & Instructions
Verify in the Dashboard section of the Common Application that all parts of the Pepperdine Common Application are listed as complete and verify that the submission date listed is correct. Reference the example image below.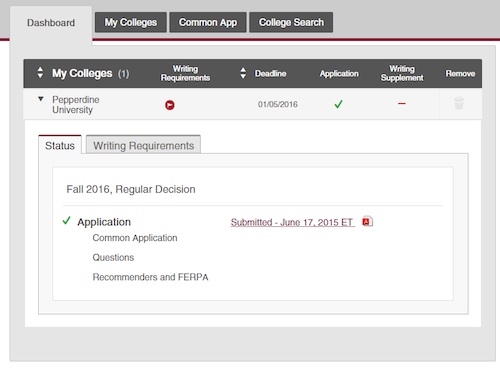 STEP 2: Submit Your Information via Email
If you have completed Step A and both items are marked as completed, follow the directions below. Please do not call the Office of Admission as we must have the written record from you via e-mail to process your case.
Include your Common Application ID (CAID). The CAID is a number that can be found in the upper right corner of the Common Application system.
Include your full name (legal first and last name).
Include the reason that you think you have received this in error. Please include screenshots and/or any confirmation e-mails you have received.
Send all of the above in an e-mail to admission-seaver2@pepperdine.edu