Meet the Faculty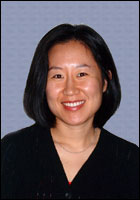 Rebecca Y. Kim
Professor of Sociology
Frank R. Seaver Chair in Social Science

Division: Social Science Division
Office: Appleby Center (APC) 219
Phone: (310) 506-7481
Fax: (310) 506-7271
E-mail: rebecca.y.kim@pepperdine.edu


Ph.D., Sociology, University of California, Los Angeles
M.A., Sociology, University of California, Los Angeles
B.A., Sociology, University of California, Los Angeles
Courses Taught:
Introduction to Sociology; Research Methods; Social Theory; Race and Ethnic Relations; Social Stratification
Research Areas:
Immigration (international migration; Korean Diaspora)
Missions ("reverse" missions; world Christianity)
Race and Ethnic Relations (interethnic relations; inter and intra group differences with an emphasis on Asian Americans)
Sociology of Religion (immigrant churches; immigrants and their children's religiosity; ethnic and multiethnic churches; campus evangelicalism; missionaries)
The New Second Generation (the education of immigrant and refugee children; intergenerational relations; Asian Americans' religious participation; Korean American Christians)
Selected Works:
The Spirit Moves West: Korean Missionaries in America (Oxford University Press 2015). Also available for pre-order from Amazon.

God's New Whiz Kids? Second-generation Korean American Evangelicals on Campus. (New York: New York University Press 2006). Also available from Amazon.

2013. "Korean Missionaries: Preaching the Gospel to "All Nations," including the United States," in Religion on the Move! New Dynamics of Religious Expansion in a Globalizing World, edited by Afe Adogame and Shobana Snankar. Lieden: Brill Publishers.
2012. "Revival and Renewal: Korean American Evangelicals beyond Immigrant Enclaves." Studies in World Christianity 18.3:291-232 (with Sharon Kim).
2012. "Second-generation Korean American Christians' Communities of Faith" in Sustaining Faith Traditions: Race, Ethnicity and Religion among the Latino and Asian American Second Generation, edited by Carolyn Chen and Russell Jeung. New York: New York University Press (with Sharon Kim)
2012. "The Transformation of Chinese America: New York v. Los Angeles." New York and Los Angeles: The Uncertain Future, edited by David Halle and Andrew A. Beveridge. New York: Oxford University Press (with Min Zhou and Margaret May Chin)
2011. "Religion and Ethnicity: Theoretical Connections" in Religions 2: 312-329.
2007. "Asian Americans for Jesus: Changing the Face of Campus Evangelicalism," in the Social Science Research Council's Online Forums and Essays.
2004. "Second-Generation Korean American Evangelicals: Ethnic, Multiethnic, or White Campus Ministries?" Sociology of Religion 65(1): 19-34.
2002. "Ethnic Differences in Academic Achievement Between Vietnamese and Cambodian Children: Cultural and Structural Explanations." The Sociological Quarterly 43(2): 213-235.
Curriculum Vitae