Psychology Major and Minor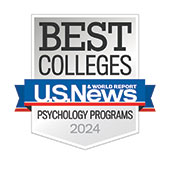 The psychology degree program at Seaver College teaches students to study human behavior and mental life using scientific methodologies. Psychologists explore such questions as: How do organisms learn? What are the effects of hormones on behavior? What is personality, and how is it measured? What motivates behavior? What is mental illness, and how should it be treated? What information is gained through scientific endeavor? Our faculty set demanding standards of excellence in written expression, especially in writing for scientific publication.
Psychology Degree
Our faculty provide psychology majors with a series of courses focusing on the foundations of psychological principles and methodology to prepare them for admission into graduate school or career entry as professional psychologists and therapists. Psychology majors may choose to enroll in courses, designed to enhance personal growth and improve interpersonal relationships.
Today industrial organizational (I/O) psychologists offer services through the scientist/practitioner model in settings that involve human resource management in both private and nonprofit sectors, government agencies, and the public policy field. Many offer services as professional consultants, managers, or evaluators.
What Psychology Grads Are Doing
Data collected from the 2022 class within six months of graduation.
48%
Employed Full-Time or Part-Time
24%
Admitted to Graduate School
75%
Total Settled Graduates
Why Pepperdine
Pepperdine Seaver College is consistently recognized among the top-ranked universities in California and the United States. We are a Christian university where students grow in knowledge and character. As a liberal arts institution, we focus on providing rich opportunities for intellectual and spiritual exploration for students with a diverse community.
13:1 Student-to-Faculty Ratio
80% of Students Participate in an International Program
Psychology Program
Possible Double Majors and Complementary Courses
Psychology and biology
Psychology and religion
Psychology and sociology
Psychology and communication
Psychology and criminology law courses: POSC 446, POSC 526, POSC 533, SOC 421, and SOC 436
Unique Aspects of the Major
In addition to broad academic offerings, a number of worthwhile fieldwork experiences are available. Students routinely work at a nearby detention facility for juvenile delinquents or in the local state hospital. A variety of other field placements are available with such agencies as those dealing with child abuse, adult mental retardation, drug abuse, educationally or physically handicapped children, and mental illness.
The faculty has developed expertise in assisting those students who desire to apply for admission to graduate school. When teaching specific areas, faculty emphasize the information needed to pass graduate school examinations. The faculty also counsels and assists psychology majors to select satisfying career goals in psychologically oriented fields or in other related settings.
Lastly, the faculty offers a few select courses that enhance understanding of the relationships between psychology, religion, and human values.
Career Opportunities
Recent graduates have found careers in industry, personnel, and research, and have worked as management trainees, counselors in various settings, and agencies educating children with special needs.
Psychology majors are often qualified to apply for state and county jobs in the area of corrections and welfare such as the Department of Children's Services.
Additionally, the industrial/organizational psychology minor allows undergraduates to take courses in the area of business management as partial fulfillment of their psychology requirements.
This way, students can incorporate both fields in pursuit of employment in an industrial career, which emphasizes psychological principles, such as personnel psychology.


Graduate School Admission Requirements
Requirements for admission to master's or doctoral programs vary greatly.
Master's programs—which include marriage and family counseling, industrial psychology, and clinical psychology—usually require a grade point average of 3.0 (B) or higher, and fulfillment of a core of undergraduate courses. Letters of recommendation are required.
Doctoral programs require a minimum grade point average of 3.3, completion of numerous psychology courses, and perhaps some other courses in physiology, chemistry and mathematics. In addition, students must perform above the median or higher in the three areas of the Graduate Record Exam (GRE): verbal, quantitative, and analytic. Some schools look for a high performance on the advanced GRE and on the Miller's Analogies Test (MAT).
Letters of recommendation from professors and other professionals are required, and it is very helpful if students possess some experience in related fieldwork.
Read the APA Graduate Study in Psychology book, and be prepared to take the GRE and the MAT in October the year before you hope to enter graduate school. Start applying for admission in November. Notification of acceptance arrives in April.
Honors Club
The Pepperdine chapter of Psi Chi and the Psychology Club provide excellent resources and opportunities for students. Psi Chi is the national honor society for psychology students. Its purpose is to encourage, stimulate, and maintain excellence in scholarship for individual members, and to advance the science of psychology. Membership is open to psychology majors who meet the national requirements. Guest speakers, movies, and parties are arranged for members.


Student Research and Publications
Our psychology students have worked with professors in their areas to publish and present their unique research in a variety of places.


Honors Research Program in Psychology
Psychology majors are encouraged to participate in the two-semester Honors Research Program, aimed at providing students with insight into how psychological scientists design research projects, collect and analyze data, and communicate their results to the scientific community. Students apply to the program in the fall semester of their junior year and are admitted to the program based on their grade point average, career goals, and successful completion of prerequisite psychology courses (PSYC 200 or 210, 250, 310, and enrollment in 442 during the spring semester of their junior year).
Students are selected by a committee in the fall semester of their junior year and are notified in time for preregistration for the spring semester of that same academic year. Upon acceptance into the program, students enroll in Research in Psychology: Advanced Research Seminar for two consecutive terms (three units each term).
During the first semester of the program, students will design an original experiment including the formulation of a hypothesis, completion of a literature review, and creation of a research design under the supervision of one of the psychology professors. Students will be required to present their research proposals formally to the psychology faculty and the other students in the class.
During the second semester of the program, students will collect and statistically analyze their data. In order to complete the program, they must present their research findings as a written manuscript for publication in APA format, as well as successfully complete an oral research presentation before the psychology faculty and students.
Upon successful completion of these research requirements, the psychology faculty will recommend that students' transcripts and diplomas be marked "Honors in Psychology." It is expected that the research will be presented at a local, regional or national professional psychological conference.
Psychology Student Testimonials
Take the Next Step
Reach out to us to learn more about Pepperdine's undergraduate programs.
Get In Touch
Learn more about how you can join the Pepperdine community.
Visit Our Campus
Explore Seaver College and connect with an admission counselor.
Start Your Application
Submit an application and be one step closer to becoming a Wave.
Contact Us
Social Science Division
Pepperdine University
24255 Pacific Coast Highway
Malibu, CA 90263
Office: AC 201