Seaver Reflections: A Community of Change Makers
They say you don't know what you have 'til it's gone. I think that adage applies to college, but for me, it does so with a twist. I returned to work at Pepperdine four years after graduating and realized I didn't know what I'd had. Being at my alma mater in a different capacity has shown me all the things I took for granted. How many things? Too many. Here's the biggest one.
Change Makers
You will find that the students at Pepperdine are uncommonly smart, warm, and fascinating. They are also uncommonly interested in exploring the countless ways in which they can make an impact. Some of my classmates from International Business 101 went on to start a California-style burger company . . . in Kuwait. Others used their marketing prowess to run a multimillion-dollar ad agency. They've founded orphanages in Guatemala, been cast members on Conan, and led National Geographic expeditions all over the world. Frankly, all this awesomeness is getting out of hand!
Here's the best part: sometimes you get to join in. After we graduated, my housemate Cameron Kruse ('12) led a National Geographic expedition and invited me to join. His mission? To tour the USA in a refurbished ice cream truck, serving free ice cream and exploring how our nation's kids view environmental conservation.
Did we eat ice cream for all meals? Yes. Did we ever have to sleep in the ice cream truck? Yes to that too. But in most cities we stayed with other Pepperdine alumni and shared the adventure (and a cone) with them. In Portland alone we met up with nine different Pepperdine friends at once! That's the cool thing about the tight-knit experience you get to have at Pepperdine: your alumni network is just so robust.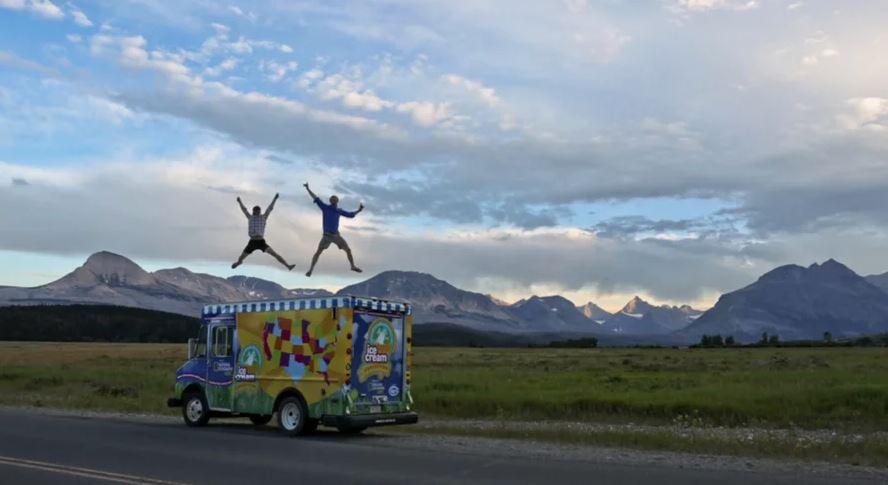 Long-Lasting Friendships
Today, I can't step out my door in Los Angeles without being reminded of someone from Pepperdine. Whether it's my freshman resident advisor as an ABC News anchor, my roommate's start-up in the New York Times, or literally running into a cardboard cutout of a friend standing in my barbershop window (true story).
The buddy who snapped all of our photos while studying abroad went on to film GoPro's promotional videos. And the cast of Entourage won't stop commenting on my suitemate's Instagram. But you know what's really cool? Each of the accomplishments above was something I watched a friend dream up at Pepperdine––or I dream up with them, just as they helped dream with me. And now our dreams are coming to life ––and so will yours.
So as you think about college, who do you want to be surrounded by? Who do you want to build a dream with? A community of uplifting, motivated, change makers is both hard to find and easy to take for granted. Don't. Enjoy every minute of it. And we'll keep an eye out for your name in film or in Forbes this time!