Seaver Spirit: Holiday Traditions
The holiday season is my favorite time of year. From classic movies, to secret santa gift exchanges, to holiday decorations, there is something special about the last few weeks of the year.
For college students, however, the holiday season also brings a not-so-magical gift: finals. Before students can travel home and enjoy the break, they must first get through late-night cram sessions and lengthy research papers.
To help students get in the holiday spirit, Pepperdine hosts multiple celebrations on campus that offer a reprieve from studying and bring together the Pepperdine community.

Christmas Chapel
Between the stress of shopping for loved ones, navigating overcrowded highways, and studying for finals, it's easy to forget what the Christmas season is truly about. To remind us all of the reason for the season, Pepperdine hosts a special Christmas chapel for students, staff, and faculty.
This year, attendees enjoyed a Christmas social prior to the start of chapel where they drank coffee, decorated Christmas trees, and sang Christmas carols. Afterwards, the chapel, led by Chaplain Sara Barton, reminded all of the true meaning of Christmas.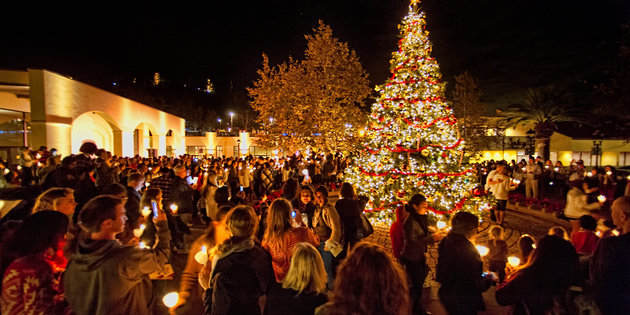 Christmas Tree Lighting and Concert
Bringing together the Pepperdine community for nearly a decade, the Christmas tree lighting ceremony is one of Seaver's most beloved holiday traditions. This year's festivities began with a Seaver first: a flash mobperforming Christmas classics in the newly renovated Payson Library.
Afterwards, students, staff, faculty, alumni, family, and friends enjoyed a special Christmas dinner held in the cafeteria. With a full stomach and a joyful heart, attendees made their way to the center of the Malibu campus at Mullin Town Square.
Celebrating the birth of Christ, the tree lighting ceremony included candle lighting, carol singing, and performances by the Pepperdine University Celebration Chapel Band, Chamber Choir, Concert Choir, and Orchestra.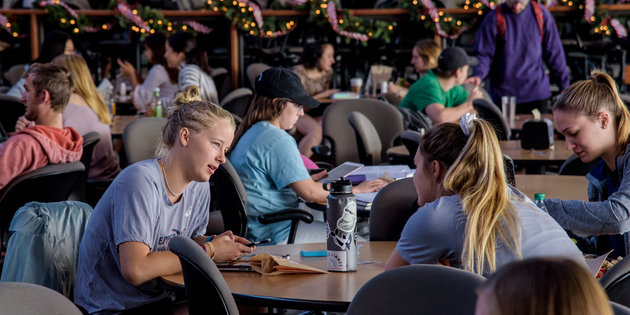 Breakfast at Midnight
Commonly referred to as "dead week," the week before finals is often characterized by a full library and incredibly high intakes of caffeine. The end of "dead week," though, marks a joyful holiday tradition.
On the Sunday before the start of finals week, Seaver students are invited to the cafeteria at midnight for breakfast served by faculty and staff. Surrounded by Christmas decorations and well-wishing faculty members, students enjoy a brief break from the chaos of studying and enjoy holiday karaoke classics sung by their fellow classmates.
Whether you attend a religious service, sing carols, or share meals with loved ones, my hope is that you make the time in these last few weeks of the year to embrace your own holiday traditions and spend time with those that matter most. If you would like to experience Seaver's holiday traditions next year with your fellow Waves, contact your admission counselor.