Keeping Parents Engaged During the College Application Process
It's November of my son's senior year in high school and the college application process is weighing heavily on his shoulders. As his mom, I can feel the heftiness of the emotions that come with what needs to be done, yet there's only so much I can do to help him complete the task. While I'm not wishing the time away, I will undoubtedly feel relieved when he clicks that last "submit" and this part of his year is complete.
Applying to college has always been serious business, but I don't recall the competition being so high and the pressure this intense when I was a high school senior in 1987. Parenting my child as he navigates this extremely important, yet potentially stressful process feels like tricky business. I want to be helpful, yet I don't want to wield too much influence, especially when it comes to choosing schools or writing essays. How can parents stay engaged in the process yet allow their kids to take ownership of the outcome when so much is on the line?"
Having already gone through the application process with my daughter, now a college junior, I have learned a few ways that I can be supportive without being too involved, provide guidance without taking control, and help my son feel like we are teammates, even though he's ultimately responsible for submitting the best application possible.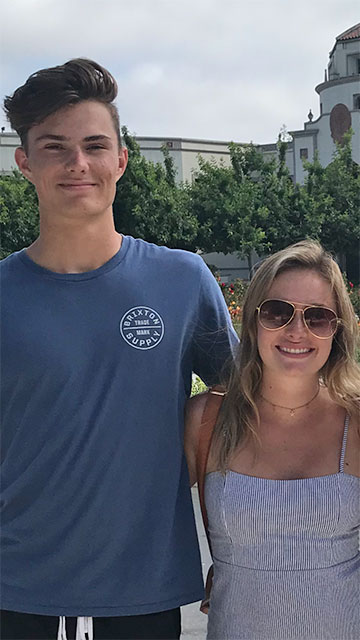 Prioritize and Plan
The first step is to work side by side with your student to prioritize tasks and draft a plan for what needs to be done. Start with some basic things like creating a list of schools they're applying to, registering for standardized tests, and procuring letters of recommendation. Talk the list through with your child to make sure it includes all requirements so that when it's application time, your student is ready.
Creating a plan is also beneficial because it helps reduce stress. Knowing that important details are written down and not floating around in your child's head, is crucial for feeling organized and in control. There will be times when your child's stress level starts to skyrocket. Directing them back to the plan will decrease their stress and help them to stay focused.
Create a Schedule
Part two of creating a plan, and another way to stay engaged with your student, is to help them create a schedule or timeline. It's important to include test dates and application deadlines, as well as designated time for your student to disengage from the pressure of regular schoolwork and essay writing, and enjoy the fun parts of their senior year. Acknowledging that there is time for both work and relaxation is critical in preventing these few months from feeling too overwhelming.
An extremely helpful scheduling idea that was passed along to me from my daughter's college counselor turned out to be one of the best pieces of advice I've received. She suggested that while working through this process, we establish weekly check-in meetings designated for talking about all things related to the application process, including my daughter's progress on the plan and her impending action items.
We both benefited from these meetings––they gave my daughter structure and an incentive to stay organized, and they helped me refrain from bombarding her daily with questions about the status of various correspondence, or a meeting with her counselor. This one practice brought a lot of peace to our family, especially during times of extreme anxiety and stress. I was always available for my daughter, but I avoided hovering over her every move.
Partnering with your high school senior as they navigate the college application process and decide where to spend the next four years is a very exciting yet daunting task for parents and children. I hope that by working with my son in these ways, he'll feel supported yet the unmistakable leader of our "team." I want him to know that I'm always available for help and guidance, but that my goal is for him to finish his college applications feeling empowered, successful, and ready for the future.