Exploring Seaver International Programs: Kenya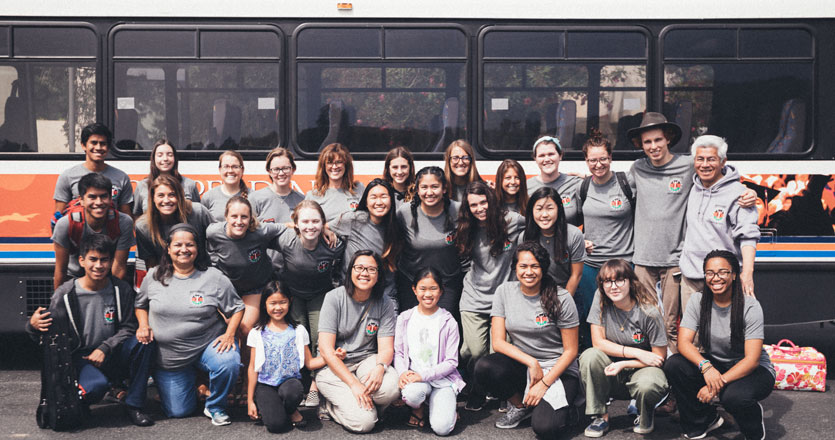 Seaver senior, Delaney Milton, interviews associate vice president and University registrar Hung Le and Seaver student Sydney Sauter about the study abroad program in Kenya.
How did Pepperdine become involved with the Kenyan organization Made in the Streets?
Made in the Streets (MITS) is a Christian organization that rescues children ages 11–18 off the streets of Nairobi. MITS' inner-city center is located in Eastleigh, adjacent to Mathare Valley, one of Kenya's largest slums. Pepperdine faculty partnered with the organization to offer students a study abroad experience focused on global public health and service. In 2013 the first group of students traveled to Kamulu, a village 45 minutes outside of Nairobi, Kenya. Since then, faculty leaders have returned every two years with new groups of Pepperdine students continuing to build on the longstanding relationship between the University and organization.
Hung Le, associate vice president and University registrar, helped forge the initial relationship between Pepperdine and MITS. Having witnessed the living conditions of the children in Eastleigh firsthand, he recalls it being one of the worst situations he has ever seen. Children in Eastleigh often live on the streets because they are victims of abusive situations and are abandoned by those meant to care for them. Le shares that children on the street "literally live on piles of garbage because they can scavenge through them and eat whatever rotting food they can find."
What does the MITS organization do?
MITS helps equip children with the skills needed to join the workforce and become self-sufficient upon adulthood. The organization ministers to children living in Eastleigh, offering various outreach programs as well as a boarding school in Kamulu for those serious about getting off the streets. Those who choose to attend the school are relocated and spend the first few years of the program learning basic subject matters such as math, reading, and English.
After completing their initial courses, students can then receive a certificate that recognizes the completion of primary school. In the last two years of the program, students try out different skills classes, eventually specializing in one skill for their final year. This period of specialization gives students the chance to graduate with expertise in a marketable trade in a range of industries including everything from catering to masonry.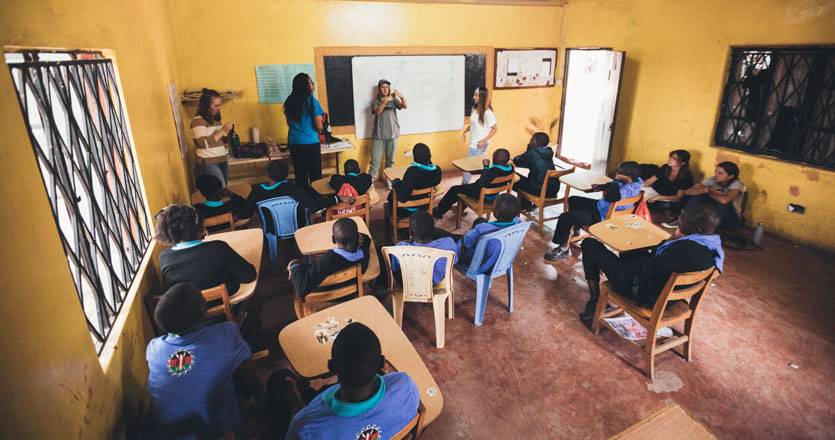 What do Pepperdine students participating in this program study?
Seaver College students that choose to participate in this international program enroll in either biology of malnutrition or nutrition issues in global health. Additionally, they are required to take a 1-unit class focused on enriching the international experience.
The program is condensed to four weeks. During the first two weeks, students participate in intensive lectures and labs at the Malibu campus to prepare them for the work they will be doing in Kamulu. Over the next two weeks, students travel to Kenya to participate in the MITS program. .
While in Kenya, what do the University students do?
Pepperdine students participating in the Kenya program share the findings of their research with MITS students and staff, providing them with new research and the practical application needed to combat malnutrition and its effects. Seaver junior, Sydney Sauter, researched vitamin A deficiency as a part of her study abroad experience. Having learned that being deficient in vitamin A is a consequence of malnutrition, Sauter educated the MITS catering students about incorporating foods rich in vitamin A into their recipes. In an effort to reduce the vitamin A deficiency most children rescued by MITS exhibit, Sauter recommended that the catering students increase the amount of vegetables they serve.
"Since so many of the students are malnourished to begin with, it is that much more important for them to become well nourished and to have the knowledge to remain so," Sauter shares. Beyond her meal recommendations, she taught MITS students and staff about different macronutrients, food groups rich in vitamin A, and how the deficiency manifests itself in the body.
In addition to sharing their research, Pepperdine students have the opportunity to attend chapel, work with catering students, build relationships, and learn about the various issues facing Kenya's street children. While in Kamulu, Pepperdine hosts two field days for children taking part in the outreach program. Unlike the students that are a part of MITS, outreach program participants are still living on the streets, and while some simply attend the field day for a meal, others take the opportunity to become a part of the MITS family.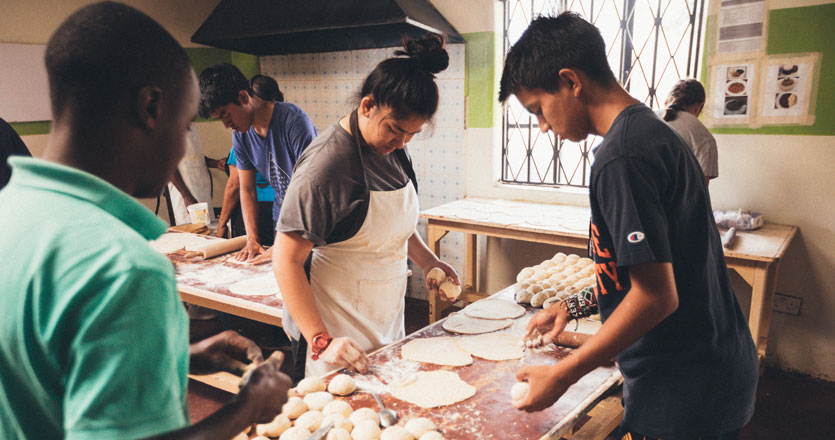 How does this program impact the lives of Pepperdine students?
This program provides Pepperdine students with a unique experience to learn, teach, and serve while living out the University's mission. Students become better global citizens, serving in ways that are meaningful and beneficial to the community beyond the two-week time frame of their trip.
Not only do students get to share their knowledge about malnutrition and offer solutions, but they also have the chance to build human connections, enrich their own lives, and find new ways to support the needs of the MITS program. Participating in this international program allows students like Sauter the opportunity to infuse goodness into a world that often feels broken.
"It's easy to be overwhelmed by the sadness and brokenness of the world," Le shares. "We can stand there, feel bad, and then walk away. But what I've learned is that we don't have to solve all the world's problems. Instead we can focus on one human being. Once you make that decision, it all becomes more possible."
(Photos provided by Matt Benton)