How-To Make the Most of Your College Years
When you ask most grads about their college experience, you'll probably hear that they can't believe how quickly their four years flew by and how much they miss the college life schedule (enjoy those naps between classes while you can).
Some grads might tell you they wished they majored in something else, studied abroad, became more involved, or studied harder. Whatever their thoughts might be, all grads have one thing in common: all they have left are the memories. As the days swiftly become years, it is important to make the most of your college experience. Here are my suggestions on how-to make your college years count.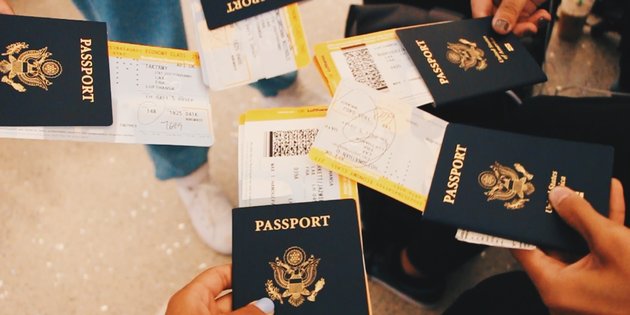 Live on the Edge of Your Comfort Zone
For many of you, college will be the first time you will live away from home. While, at times, you will face challenges, my hope is that you embrace your newfound independence and explore new opportunities. Go outside your comfort zone, try new foods and experiences, expand your thinking, take risks, and dare to be different. Discover who you are and who you want to be.
One of the easiest ways to expand your horizons is by studying abroad. By choosing to spend a semester across the nation or overseas, you will discover new cultures, learn new languages, and meet new people. At Pepperdine's Seaver College, you can choose to study for a semester or an entire year in Washington, DC, Argentina, Italy, Germany, Switzerland, China, or the United Kingdom.
The international program at Seaver College allows you to take advantage of exploring the world all while having the familiarity and comfortability of Pepperdine with you. Each international campus is Pepperdine owned and the courses are taught by visiting faculty members from the Malibu campus.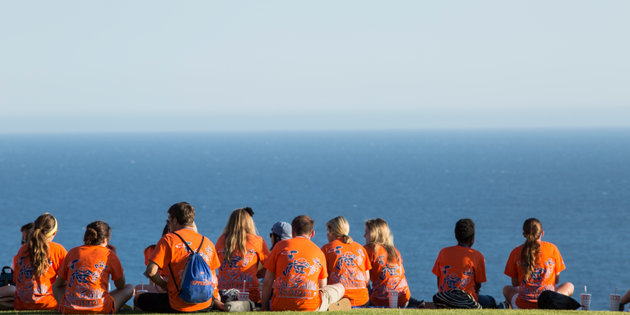 Find Your Tribe
Living somewhere new and being away from your family and friends can be difficult. Want my best tip for overcoming homesickness and the overwhelming feeling of change? Get involved!
Join a club, participate in the athletics department (intramurals count), go Greek, or volunteer. Who knows, you might discover a new passion, a new favorite past-time, or make lifelong friendships.
Discover your family on campus when you join Pepperdine's sisterhood or brotherhood. Eight national sororities and six national fraternities make up the Greek community[BROKEN LINK] at Seaver College. Live the Greek life to make lifelong connections and post those adorable "big" and "little" photos.
Are sports more your thing? Then you might want to consider joining one of Seaver College's club sports[BROKEN LINK]. With a range from golf, to rugby, to surfing, to ultimate frisbee, chances are there is a sport that matches your interests. If you are less competitive and prefer to just play for fun, consider joining an intramural team[BROKEN LINK] of flag football, volleyball, basketball, or soccer.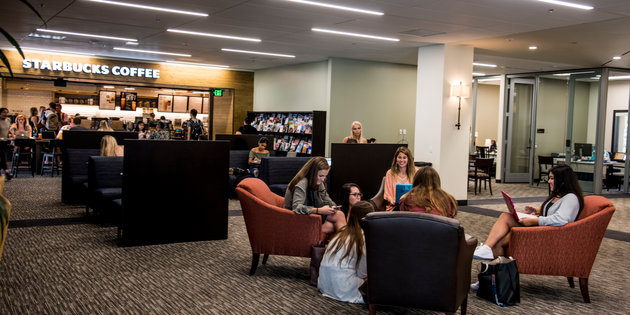 Push Yourself to Reach New Heights
Whether you enter college knowing exactly what your career will be or you have no idea as to what you want to major in, I challenge you to take a wide-range of classes. In doing so, you will not only become well-rounded but will also allow yourself to discover new interests and passions.
The small nature of Seaver College courses will allow you to connect with your peers and professors and engage in thought-provoking conversations. As you challenge your thinking and open your mind to new viewpoints, you are better preparing yourself for a post-college life.
While the long-term benefits of having an enriching education are endless, the process to reaching the finish line can feel overwhelming. To help combat those moments of stress and frustration, try finding a peaceful place on campus to do your work. From the newly redesigned Payson library, to the stunning views at the back patio of the Tyler Campus, virtually anywhere you choose to study at Seaver College will offer an ocean view.
No matter where you choose to study, my hope for you is that on graduation day you are able to take a moment to look around campus and have a memory for each spot you lay your eyes on. As you await for your name to be called and take your glory moment on stage, I hope you will fondly recall your time spent at Pepperdine and take comfort in the fact that you made the most of your college experience.