"Major" Decisions: Choosing a College Major
Once you decide which college you will be attending, a new, seemingly life-altering question awaits: What will you major in? While it's common to feel the need to enter college with a major already selected, it is not necessary. Seaver College, like other liberal arts institutions, does not admit students into specific schools or divisions, which allows you the opportunity to explore, decide, and declare the major of your choice.
How do I choose a major?
One of the perks of attending a liberal arts university is that you have the ability to take courses within a variety of subject matters. At Pepperdine, students are required to take classes within multiple divisions including humanities, fine arts, natural sciences, social sciences, and religion. With 45 majors to choose from, taking a variety of classes not only helps you become a well-rounded student but also allows you to explore multiple programs.
Starting college with an undeclared major doesn't have to impede your academic progress--because Pepperdine has a number of required general education classes to be taken during your first and sophomore year, you will have plenty of time to decide on your major. And being undecided on a major allows you to discover which of these classes align with your interests, passions, and strengths.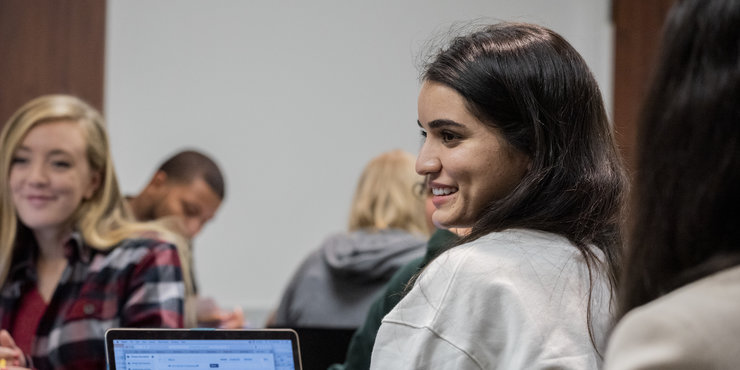 How important is my major?
It's important to understand that your choice of major will not determine your career for the rest of your life. However, you will be taking numerous classes in support of that major and will devote a lot of time to exploring that field. If you love what you're studying, chances are you will be more willing to fully engage in your classes and get the most out of your education.
If you're passionate about a subject, highly consider pursuing it as your major. Although many careers do not require a specific undergraduate major, some graduate programs will ask you to complete certain prerequisites before applying. Be mindful that your major should be something you enjoy that also aligns with your career goals.
Can I change my mind?
It is normal for students to change their major as they discover new passions and strengths. I, for example, started college thinking I loved biology but then took a psychology class that piqued my interest even more. My friend started as an international studies major and ended up switching to theatre as she discovered her passion for performing.
It's easy to declare or change your major as you are still completing the general education courses at the beginning of your college career. An advisor will be there for you to help select classes and design and adapt your individualized four-year plan. If you're not loving the major you chose, don't be afraid to take initiative and change it.